10 Best Deals for Men From Adidas' Memorial Day Sale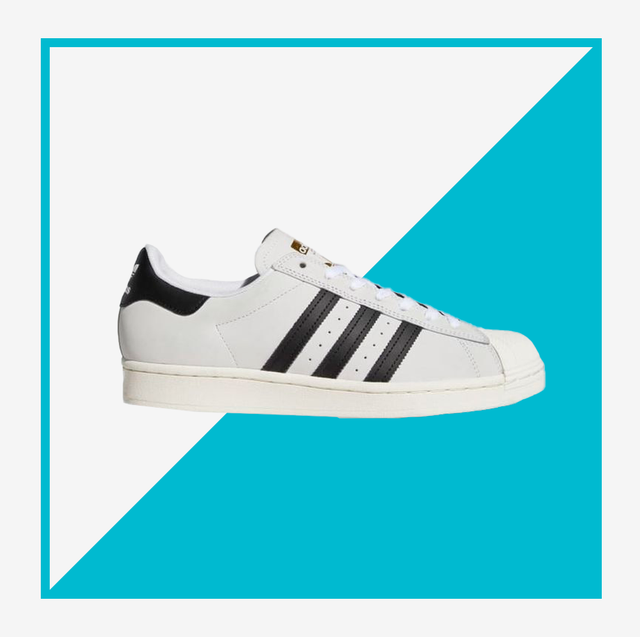 Adidas
Self-isolation has nothing on Memorial Day sales on the internet, and we are happy to reap the benefits. Especially when that sale comes from one of the brands that we buy full price year round anyway: Adidas. Adidas is having a major sale for the holiday weekend, marking items up to 50 percent off. Among those very good items? Some very good sneakers.
Where as some brands and items you might buy on sale just because they're cheaper, with Adidas, you're not skimping on quality in the slightest. They marked down some of our favorite shoes just because. We're talking everything from all-white Stan Smiths—which, if you don't own already, now is the time to scoop—to NMDs. It's really the perfect time to grab a pair (or two) that helps round out your wardrobe.
In the market for workout-specific sneaks? Adidas marked those down, too. There are bright white golf sneaks, fit for some socially distance rounds in the coming weekends. There are the classic Adipower weightlifting sneakers that keep your feet secure and your form in check. And, of course, there's a whole host of running sneakers for those (safely done) outdoor jogs, walks, and walks around the block. These are our 10 favorite on-sale sneakers to buy right now.
Advertisement – Continue Reading Below
Adidas Stan Smith Shoes
adidas.com
$80
$64
OK, well if you're going to go for any white sneaker, you can really never go wrong with a Stan Smith. And in all white, these look good with trunks, jeans, and even suits, should you ever have to wear one again. 
Adidas Superstar Shoes
adidas.com
$80
$64
It's always kind of fun to get a new sneaker for a new season, and we would suggest these Superstars for summer. They are a familiar shape, but in a cool color combination. 
Adidas Swift Run Shoes
adidas.com
$85
$68
You know Adidas wouldn't put a sale on sneakers without getting in some good running ones. This is a favorite for quick runs. 
Adidas Solarboost 19 Shoes
adidas.com
$140
$112
More of a long distance kind of runner? Solarboosts are made with a reinforced upper for maximum support, and cushioning that gives you a bit of boost back. 
Adidas NMD_R1 Shoes
adidas.com
$130
$104
If you're looking to expand your Adidas sneaker exposure, NMDs are a good place to start. They have a super athletic look but they're a favorite for casual style. We'd recommend them for those mental break walks. 
Adidas CodeChaos Golf Shoes
adidas.com
$150
$135
Golfing is one of those activities that might actually have some availability this summer, and it's worth celebrating with a fresh pair of shoes to go with. These are light, spikeless, and stylish. 
Adidas Adipower Weightlifting 2 Shoes
adidas.com
$170
$85
For the serious weightlifter, it's worth finding your perfect lifting sneaker for optimal training. The lace and strap combination keeps your midfoot in tight and the forefront is super stretchy for flexibility. 
Adidas Continental 80 Shoes
adidas.com
$80
$64
Adidas Continentals are the perfect warm weather shoe and nothing will convince us otherwise. They're simple, cool, and just a little bit different than everything else we own.
Adidas Nizza Slip-On Shoes
adidas.com
$60
$36
White sneakers are hard to keep clean, and we're not above getting a fresh pair for the season. And at 36 bucks, we might get two. 
Adidas Adilette Cloudfoam Slides
adidas.com
$25
$23
OK, fine. These are not sneakers. But Adidas slides are the perfect timeless sandals that don't look dorky and are perfect for pooling, beaching, and walking the dog. You'll wear them forever. 
This content is created and maintained by a third party, and imported onto this page to help users provide their email addresses. You may be able to find more information about this and similar content at piano.io
This commenting section is created and maintained by a third party, and imported onto this page. You may be able to find more information on their web site.
Advertisement – Continue Reading Below
Adidas and Allbirds Join Forces to Try to Create the World's Lowest Carbon Footprint Sports Shoe
The footwear competitors are partnering with a big goal and deadline of one year.
NEW YORK, United States — Footwear brands Adidas and Allbirds are …

Forty Five Ten's Future Is In Limbo After Cutting Staff and Closing Stores
The multi-brand retailer hasn't announced plans to reopen and is operating with a skeleton crew, weeks after the lockdown was lifted in its home …

Victoria Beckham's Cotswolds kitchen is even more gorgeous than you'd imagine


Chloe Best

Victoria Beckham's house in the Cotswolds features a rustic kitchen with exposed brick walls and bottle green cabinets

Victoria Beckham's kitchen became her home office on Wednesday, as she worked on her latest fashion collection at her house in the Cotswolds. The former Spice Girls star, who is isolating at her second home with her husband David and their children Romeo, Cruz and Harper, shared a look at her relatable work setup on Instagram – and became the envy of her fans in the process.
"My warm weather working from home wardrobe! Shorts & slippers. The dream," Victoria captioned the photo, which shows her perched at her kitchen island on a wooden stool while wearing a pair of tiny denim shorts and a sweatshirt.
Victoria Beckham shared a look inside her Cotswolds kitchen
While many followers were envious of Victoria's toned legs, others couldn't resist commenting on her gorgeous kitchen. "House goals! The stone flooring is amazing!" one wrote, while a second agreed: "Dream house."
RELATED: Inside David and Victoria Beckham's Cotswolds home
It definitely does appear like a dreamy kitchen setup, with stone flooring, exposed brick walls and a bottle green wooden island unit. Copper saucepans hang overhead, while a chandelier adds the ultimate luxurious finishing touch.
The rustic kitchen also has a pizza oven
A previous photo shared by Victoria has revealed another glimpse at the room, showing a large wood-fired pizza oven on one side, with chopped logs stacked underneath ready to cook. The aesthetic of the room ties in with the rustic feel throughout the rest of the house, which is a barn conversion located close to the celebrity haunt of Soho Farmhouse.
GALLERY: Inside the most beautiful celebrity kitchens
The property boasts beautiful gardens too, where the family can also enjoy barbecues together in the summer, play tennis on their own tennis court, and unwind in their log cabin that houses a sauna and steam room. There is even a plunge pool on the lawn to cool down afterwards. What more could they want?!
WATCH: 10 of the most stunning celebrity kitchens
Like this story? Sign up to our newsletter to get other stories like this delivered straight to your inbox.