13 best maxi skirts for women to buy now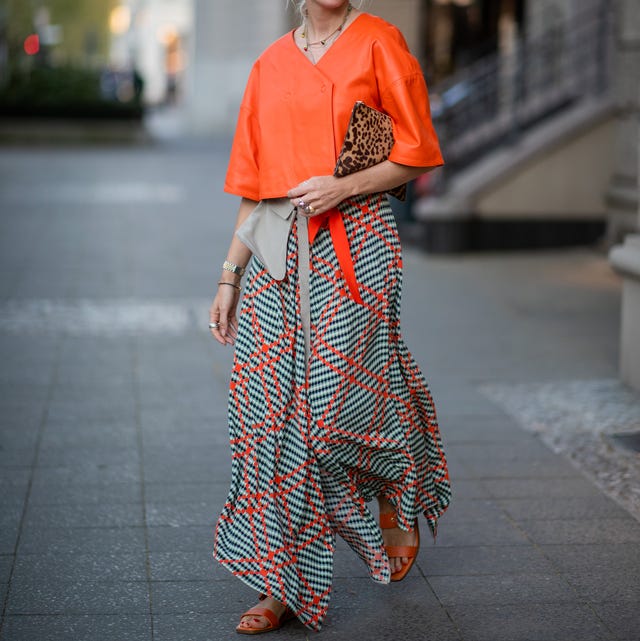 Christian Vierig
Gone are the days when maxi skirts were purely for boho looks. As midis became a wardrobe staple, hemlines dropped and designers experimented with longer lengths to create something altogether sharper. Which means, you can now wear a maxi skirt all year round.
How? We hear you ask. Well, heavier iterations look great teamed with knee high boots in the winter, while lightweight styles are truly trans-seasonal – all you need to do is make the swap from trainers to sandals as the weather warms up.
Right now, though, while we're all WFH, comfort is key. So invest in a maxi skirt that is easy to throw on in the morning, but make you feel instantly pulled-together. Jersey is an obvious choice due to its stretch, but this season's favourite tiered silhouette is so roomy and freeing you'd be mad not to invest (especially when H&M's version is just £14.99).
If you're not sure where to begin, let us inspired you with 13 of the best maxi skirts to buy now and wear all summer long.
1 of 13
Most flattering maxi skirt
Striped fluted maxi skirt
First up on our list is Phase Eight's maxi skirt, mainly because it is just so flattering. It's all thanks to the alternating stripes and bias-cut fabric which falls to create instant curves. 
2 of 13
Tiered drawstring maxi skirt
H&M
£14.99
With its drawstring waist and tiered silhouette, H&M's maxi skirt is the definition of easy chic. It costs less than £15, so we'll be adding the four other colourways (especially the versatile black) to our baskets too!
3 of 13
Best floral maxi skirt
Branwen Maxi Skirt
£75
hush-uk.com
Hush's ditzy floral maxi can be dressed up with heels and a camisole at summer parties (whenever they might be), or toned down with chunky sandals and flip flops. And when the weather cools down? Just throw on a cashmere jumper and ground with a pair of trainers for a trans-seasonal look.
4 of 13
Striped Lyocell-blend maxi skirt
Palmer//Harding
£445
London-based brand Palmer//Harding excel in two areas: shirting and maxi skirts. So, naturally, this hybrid of the two is impossibly chic. Wear it with a one of the brand's tailored blouses when you finally get back to the office but, for now, a tank top and sliders will look effortless.
Shop our edit of the best striped shirts here.
5 of 13
Best long maxi skirt
Flared poplin skirt
We know what you're thinking, aren't all maxi skirts long? But, sometimes all you want is floor-sweeping hemlines to create a dramatic look – and they're pretty hard to find on the high street. Mango's scarlet-red version is made from cotton poplin and tiered to create a full silhouette. Paired with the matching puff-sleeve crop top, it's feels like a modern take on Flamenco outfits.
6 of 13
Pleated maxi skirt
& Other Stories
£69
& Other Stories' sunny yellow skirt is a real wardrobe saviour: you can wear it with trainers in the spring, ankle boots in the autumn, knee highs in the winter and strappy sandals right now.
7 of 13
Ribbed-knit wrap maxi skirt
Le 17 Septembre
£230
If you prefer something with a sleeker silhouette, why not opt for a knitted maxi skirt instead? Paired with the matching tank top, this ribbed wrap style is a nod to '90s minimalism.
8 of 13
Editor's Pick
Gingham maxi skirt
Phase Eight's maxi skirt is made from monochrome gingham cotton and pleated to create a full silhouette. Buy the matching cami top and you've got three outfits in one.
9 of 13
Crochet-knit maxi skirt
£207
Theory
Theory's maxi skirt is made from crocheted cotton and cut in a timeless A-line shape. It's currently reduced on The Outnet by 55%, from £460, so we can't resist buying both the black and cream colourways.
10 of 13
Most comfortable maxi skirt
Jersey Maxi Skirt
Boden's maxi skirt is made from stretchy jersey and sits on an elasticated waistband, plus it has pockets for stashing your essentials in. It's an easy piece that's perfect for WFH in.
11 of 13
Best linen maxi skirt
Tiered linen maxi skirt
Another Phase Eight gem (there are three on here, the brand is killing it this summer), this cobalt-blue maxi made from lightweight linen and tiered from the drop-waist down.
12 of 13
Crochet-trim cotton-blend maxi skirt
Charo Ruiz
£314.41
For better, beachy days: we just had to include this white crochet-trim number in the edit. Buy it now and save it for your holiday in 2021.
13 of 13
Floral-print circle skirt
H&M
£39.99
H&M's maxi skirt is cut on a circle, so it'll create the most beautiful swishy effect every time your take a step. We love the peachy florals but it also comes in khaki and lilac hues too.
Advertisement – Continue Reading Below
This content is created and maintained by a third party, and imported onto this page to help users provide their email addresses. You may be able to find more information about this and similar content at piano.io
This commenting section is created and maintained by a third party, and imported onto this page. You may be able to find more information on their web site.
Turns out, stress and sense of smell are directly related
There's a reason why the wellness market is chock-full of lavender pillow sprays to help you fall asleep, and why so many of us keep bottles of peppermint essential oils on our desks to stay productive at work. The scent-brain connection is real, and legitimate research has shown that sniffing certain fragrances can have a major impact on your mood. But if your go-to calming scent concoction has suddenly stopped working, your stress levels could be to blame.
"Our sense of smell is intricately linked to our olfactory center of our brain—in fact our sense of smell is only one synaptic jump from our emotional brain which controls our stress response," says Amy Galper, co-founder of the New York Institute of Aromatic Studies. To get super science-y for a second, your sense of smell (or "olfactory neuroanatomy") is intertwined with the parts of your brain that control your emotions, including  the amygdala, hippocampus, and orbitofrontal cortex. When you sniff something, it has to get through all of these areas before it gets to the part of your brain that's able to process the scent, which is why we often have such strong associations between fragrance and emotions. (Can you smell Axe Body Spray without thinking of your high school boyfriend? Because I cannot.)
"Because of this, aromas can trigger emotional and subsequent physiological responses to external stress and visa versa," says Galper. "So if we are extremely stressed it can affect how our olfactory nerve cells respond to aromas." says Galper.  In other words, your stress levels can change the way you process certain scents. So if you've gone from loving the scent of patchouli to suddenly wanting to throw every patchouli-scented candle in the garbage, your anxiety is a likely culprit.
A 2013 study put this theory to the test, and scientists showed people stress-inducing text and images (think: car crashes and wars) to see if it would change their sense of smell. "After anxiety induction, neutral smells become clearly negative," Wen Li, one of the researchers behind the study, told Science Daily. "People experiencing an increase in anxiety show a decrease in the perceived pleasantness of odors. It becomes more negative as anxiety increases." And why is that? According to researchers, in a "normal" (aka low-stress) smelling situation, it's just the olfactory system that gets switched on, but when you start to get anxious, the emotional system also kicks into gear and becomes part of the processing stream.
While certain scents are considered to be universally calming, there's no "one size fits all" essential oil for keeping you calm—particularly in times of high anxiety. Essential oils like rosemary, chamomile, lavender, pine, clary sage, or  marjoram have been shown to lower nervous energy and trigger a resting response in your body, so if your usual calm-down candle has stopped working, try introducing one of these into your routine. Just be warned: it may stop working the next time you flick on the news.
Porsche Design Releases a Watch to Coordinate With the 911 Targa 4S – Robb Report
There's something about finely tuned machines that just always complement one another. Case in point: if you've ever wanted the kind of watch that can hold its own against one of the world's best cars, Porsche Design may finally have your answer.
Specifically created in conjunction with the marque's launch of the 911 Targa 4S Heritage Design Edition sports car, Porsche Design's newest chronograph also takes its inspiration from racing vehicles of the '50s and '60s. The first of four timepieces set for release, it was developed by Porsche Exclusive Manufaktur as a collector's item using colorways and patterns taken straight from the company's iconic cars.
Available exclusively to the lucky owners of the actual roadsters, every element was selected to mirror models from the vast archive. For example, the white second hand and green circles found on the dial are meant to evoke the 356's speedometer while the embossed leather strap is cut from the same plush leather used in the automaker's interiors.
The company chose titanium for the case material because of its light weight, corrosion-resistance and durability, not to mention the fact that it is often employed in race car engines for precisely the same reasons. It houses a WERK 01.100 movement which bears a chronometer certificate from the Swiss C.O.S.C.-Institute. Proving that no detail was considered too small to overlook, even the rotor was forged to resemble the Fuchs wheel, developed for the first Porsche 911. The limited-edition number that corresponds to the car is laser-engraved on the elaborate, largely transparent caseback.
Scheduled to go on sale this fall, the 911 Targa 4S Heritage Edition is a nostalgia-filled variant that draws from a bevy of sources in Porsche's history. The two-seater has a dark, metallic cherry red paint job with crisp white racing stripes trailing from its headlights and a vintage crest fixed to the hood and hub covers originally used in 1963.
Beginning this month, the $14,000 watch will be offered exclusively at Porsche dealerships worldwide to future owners of the Porsche 911 Targa 4S Heritage Design Edition.
Hawaiian Shirts Have Become an Unlikely Symbol of White Supremacy
this link is to an external site that may or may not meet accessibility guidelines.