27 Wedding Guest Jumpsuits – The Best Jumpsuits to Wear to a Wedding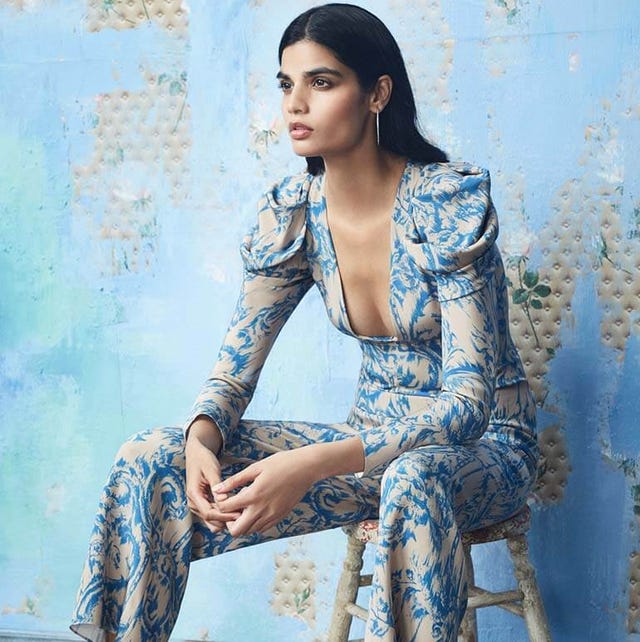 Courtesy of Cushnie Pre-Fall 2020
Wedding season may be upon us, but it's not likely that we'll be attending our usual jam-packed calendar of events this summer. With that in mind, shopping wisely for the few events still on the books (whether they be intimate and in-person or on Zoom) and planning chic outfits for when the time comes to travel again and celebrate those we love is how we suggest you spend your quarantine downtime. Enter a fashion girl dressing staple: the jumpsuit—trust us, it feels automatically effortless, comfortable, and cool in all the right ways. From intimate affairs to future events in far-flung destinations, these one-pieces will ensure you're on the best-dressed list for any wedding season circuit.
1 of 27
F.R.S For Restless Sleepers
net-a-porter.com
$2,210.00
Unique prints and bold tones are a great start for festive wedding dressing. Add a tie neck and accentuate your shape with a belted waist to take effortless dressing into fashion-girl territory. Wear this pajama-esque ensemble with a flat slide or slipper at home; amp it up with platform sandals and beachy waves for destination wedding dressing.
2 of 27
Brandon Maxwell
modaoperandi.com
$1,995.00
Turn up the volume on a traditional LBD with an asymmetrical sweetheart neckline and fine tailoring—in jumpsuit form. Punctuate the look with unique touches that bring a little shine to the mix. Modern extras—like minimal earrings, a sparkling collar, or a hand full of stackable rings will keep this look sleek and sophisticated, rather than feeling super-glam.
3 of 27
Zimmermann
If you fancy yourself a romantic, channel Victorian vibes with an ample dose of all things girly. Opt for a jumpsuit with less structure, and choose unique details like a corset-front bodice and ruffled straps. You'll want aspects that shows off your shape, like the corsetry of this bodice, to avoid the look going too sweet. 
4 of 27
Cloe Cassandro
Opt for an easy, breezy full-length jumpsuit in cool tones and pretty prints when dressing for warmer weather weddings—especially by the shore. To elevate this from daytime dressing to evening appropriate, opt for a platform sandal, a bold earring, a textured ponytail, and accent the look with poppy-toned lip.
5 of 27
Oscar de la Renta
modaoperandi.com
$2,990.00
Flirty frocks are sweet for daytime and classic gowns work wonders for black tie; but a guest with a bit of edge requires dressing outside-the-box. For a hint of '90s glam, try gold accents, one-shoulder silhouettes, and chain details to go the extra mile. A small dose of edgy accessories—like mis-matched earrings or an animal print extra—will take the look from basic to badass.
6 of 27
Emilia Wickstead
modaoperandi.com
$1,380.00
A bold red playsuit is immediately daring, chic, and sophisticated—all at the same time. Treat a red jumpsuit just as you would any little red dress; pair with sleek accessories, and if you're looking to go bold, don a lip color to match.
7 of 27
Halpern
matchesfashion.com
$3,500.00
There's nothing more festive than a shimmering metallic, but a two-tone set in a rich chartreuse and pastel sequins (that's actually an all-in-one showstopper) makes this look feel fresh and fun. Accessorize minimally and opt for sleek hair and makeup to keep this statement piece from going costume.
8 of 27
Nanushka
As the seasons change and social distancing becomes the norm in our daily lives, expect to be invited to countless events outdoors—and eventually, in warmer destinations abroad. From beaches to backyards, a neutral color palette in beige and camel will look elegant with any laid-back vibe. To turn it up a notch, take this color palette and make it fashion via a head-turning animal print. 
9 of 27
Cushnie
modaoperandi.com
$1,695.00
Cocktail and formal attire doesn't require a gown—if you know how to up the ante on a jumpsuit made for evening. Add accessories that feel special to elevate the look, and don't skimp on the sparkle.
10 of 27
Marc Jacobs
matchesfashion.com
$900.00
There's no reason to skip out on your favorite florals, even when cold temperatures are expected. Opt for a blooming motif in complementary colors—like this indigo and burnt orange stunner— to bring new life to any look. When styling, accessorize with luxe extras that feel like an amped-up ode to mother nature.
11 of 27
Jonathan Simkhai
Go bold with your choice of color and silhouette—like this look that is undoubtedly best-dressed-guest material. With a ruched, plunging V-neck bodice, this tangerine hammered satin suit is sleek—with summer vibes.
12 of 27
Alexis
If donning bright colors and patterns aren't for you, tap into the natural tones of the season—from neutral sands and grassy greens, to soft, ocean blues. Have fun with add-ons: Choose eclectic earrings, a hand full of rings, and super-sexy strappy sandals.
13 of 27
Retrofête
Get into a festive mood with New Years Eve-worthy metallics, statement sleeves, and a cinched waist that will shimmer in even the dimmest of evening settings.
14 of 27
Costarellos
modaoperandi.com
$1,755.00
Can someone say Grecian goddess? Draped jumpsuits that cinch at the waist are flattering from all angles (especially in jewel tones) and make for easy dressing in any temperature. Cap off the look with bold earrings and sexy heels. 
15 of 27
Silvia Tcherassi
modaoperandi.com
$1,700.00
Take black tie to '70s-inspired heights with a plunging neckline, tie-at-the-waist, and bell bottom trousers. To keep it formal, pair it with sleek accessories like hoop earrings and metallic platform sandals that transition easily from summer to fall. Up the ante with a textured ponytail for a little extra drama.
16 of 27
Staud
A bold color, super-wide leg, and semi-sheer silhouette automatically exudes island vibes. With a look that's sure to have all eyes on you, don't go overboard when it comes to accessories. When it comes to looks that are sheer from the mini-length down, it's all about the shoes: opt for a shoe silhouette that lengths legs, like an ankle-wrap style in a nude or metallic shade.
17 of 27
Self-Portrait
matchesfashion.com
$285.00
Think outside the box when it comes to holiday party dressing, like this romantic cropped jumpsuit in lace with sheer details, crystal embellishments, Victorian-inspired puff sleeves, and a tie back. This head-to-toe look feels festive, but also ultra-femme.
18 of 27
Zimmermann
matchesfashion.com.uk
£530.00
Channel the love in the air with bold shades of scarlet that speak to the heart emojis you've likely been using in your captions about the couple. There's no need for this look to immediately go pin-up girl sexy; it can be flirty, too—with a nod to retro flare. 
19 of 27
Adriana Degreas
matchesfashion.com.uk
£1,010.00
When it comes to formal affairs in hot climates, breathable fabrics are your fashion best friend. Extra points earned for gorgeous prints, statement sleeves, and the super-flattering affects of a peplum that defines the waist. Accessorize with a sleek pointed-toe pump, evening clutch, and sparkling earrings. 
20 of 27
Alexandre Vauthier
modaoperandi.com
$5,145.00
Take Victorian-inspired details and interpret them in a modern way. Pair this collared black-and-white printed one-piece and pair it with black, edgy accessories for a look that walks the fine line between ladylike sophisticate and sultry siren.
21 of 27
Camilla
Dressing for warm weather weddings puts florals and fun prints on the brain, but there's no need for said looks to be…predictable. Instead, opt for blooming motifs that come in unexpected color-ways, graphic prints, and asymmetrical cuts.
22 of 27
Amur
Embrace beach wedding vibes without losing the luxe factor. Prints that feel fresh—like this silk pleated floral print piece—finished off with neutral or metallic accessories drive home an effortless yet festive feel.
23 of 27
Isabel Sanchis
You can't go wrong with all black—especially when it has an unexpected, yet playful, edge. Opt for a dramatic one shoulder jumpsuit loaded with feathers; add a bit of color or sparkle with your accessories to take your look from siren to celebratory.
24 of 27
Alex Perry
Wearing white is out of the question–unless the bride specifically requests it—but a light pink or blush look is chic for any formal affair. Keep it simple with a textured clutch and embellished sandals for a look that is understated and elegant. Bring in drama with unexpected details, like these over-the-top caped sleeves.
25 of 27
Cushnie
For casual style with a hint of glamour, this celery green, strapless suit is daring, yet easy-to-wear. To level up this look, style with accessories that drive home the vibe: eccentric and island-appropriate. 
26 of 27
Valentino
Don't be afraid to mix prints—from head to toe. Accent this look with pastel in summer, or black and bold tones in the fall. Trust us, you won't regret fashion-forward choices that take just the right amount of risk. This look is case in point.
27 of 27
Melissa Odabash
Dazzle on the dance floor in flirty metallic silhouettes that feel celebratory year round. To avoid the look going too Gatsby, opt for sleek black accessories; skip anything ivory to steer clear of looking more like the bride than a guest. 
Advertisement – Continue Reading Below
This content is created and maintained by a third party, and imported onto this page to help users provide their email addresses. You may be able to find more information about this and similar content at piano.io
Black Fashion Influencers, Editors, Stylists, Models and More to Follow Right Now
As a fashion and beauty publication, the very least we can do is use our platform — today and everyday — to amplify the voices of the many talented Black people who make this industry what it is. 
In addition to continuing to tell their stories individually, we're sharing a list of Black fashion editors, bloggers, influencers, designers, stylists and models that we think should be on your radar, if they aren't already. Follow them, listen to their stories, amplify them, support their projects, tell your colleagues and employees about them and hire them, if you can. We'll be updating this list continually.
Editors
Alexis Bennett, @_alexisbennett 
Chioma Nnadi, @nnadibynature 
Chrissy Rutherford, @chrissyford 
Danielle Prescod, @danielleprescod 
Edward Enninful, @edward_enniful 
Gabriella Karefa-Johnson, @gabriellak_j 
Gabby Prescod, @gabbyprescod 
Ib Kamara, @ibkamara 
Jessica Andrews, @dressupwithjess 
Justin Fenner, @justinfenner
Khalea Underwood, @letsbekhalear 
Leah Faye Cooper, @leahfayec 
Lindsay Peoples Wagner, @lpeopleswagner 
Maya Allen, @mayaalenaa 
Mecca James-Williams, @meccajw 
MoAnA Luu, @moanaluu 
Mobolaji Dawodu, @mobolajidawodu 
Naomi Elizée, @naomielizee 
Nana Agyemang, @itsreallynana 
Nikki Ogunnaike, @nikkiogun 
Rajni Jacques, @rajni_jacques 
Robin Givhan, @robingivhan
Samira Nasr, @samiranasr 
Sydney Gore, @cozy.spice
Tahirah Hairston, @tahairy 
Tiffany Reid, @tiffanyreid 
Bloggers
CeCe Olisa, @ceceolisa 
Chastity Garner Valentine, @garnerstyle 
Christy and Shelcy Joseph, @nycxclothes 
Ellie Delphine, @slipintostyle 
Freddie Harrel, @freddieharrel 
Gabi Gregg, @gabifresh 
Karen Blanchard, @karenbritchick 
Kellie Brown, @itsmekellieb 
Kelly Augustine, @kellyaugustineb 
Monroe Steele, @monroesteele 
Natasha Ndlovu, @natashandlovu 
Nneka Ibeabuchi, @africanjawn 
Patricia Bright, @thepatriciabright 
Tamu McPherson, @tamumcpherson 
Creatives
Amanda Frezar, @amandafrezar
Amy Sall, @amy_sall 
Arlissa, @arlissa
Aysha Sow, @aysha.sow
Brandice Daniel, @brandicedaniel
Candace Marie, @marie_mag 
Candace Molatore, @hey.candace
Coco Bassey, @cocobassey 
Dominique Drakeford, @dominiquedrakeford 
Elaine Welteroth, @elainewelteroth 
Ericka Hart, @ihartericka 
Evelyn Escobar-Thomas, @evemeetswest
FlexMami, @flex.mami 
Hanita Stoudemire, @hanitamarie
Isabella, @isabella
Jourdana Elizabeth, @jourdanaelizabeth
Kimberly Drew, @museummammy 
Kiitan A., @kiitana
Kristen Noel Crawley, @kristennoelcrawley 
LaTonya Yvette, @latonyayvette
Marjon Carlos, @marjon_carlos
Melissa Chataigne, @chataignestyle
Micaéla Verrelien, @micaelaverrelien
Onyi Moss, @mossonyi 
Riley Banks, @rileyblanks
Shelby Ivey Christie, @bronzebombshel 
Temiloluwa Otedola, @temiotedola
TyLynn Nguyen, @tylynnnguyen 
Whitney R. McGuire, @whitneyrmcguire 
Designers
Anifa Mvuemba, @anifam
Aurora James, @aurorajames 
Azede, @azede
Carly Cushnie, @carlycushnie 
Christopher John Rogers, @christopherjohnrogers 
Dapper Dan, @dapperdanharlem 
Duro Olowu, @duroolowu
Fe Noel, @feism_
Kerby James-Raymond, @kerbito 
Kimora Lee Simmons, @kimoraleesimmons
Laquan Smith, @laquan_smith
Martine Rose, @martine_rose
Maxwell Osbourne, @maxwellosbourne
Tracy Reese, @tracy_reese 
Victor Glemaud, @glemaud 
Virgil Abloh, @virgilabloh
Stylists
Ade Samuel, @adesamuel 
Georgia Medley, @georgmedley
Ian Bradley, @iancogneato 
Jaheel Weaver, @illjahjah 
Jason Bolden, @jasonbolden
Jason Rembert, @jasonrembert
Julia Sarr-Jamois, @jarrsamois
June Ambrose,  @juneambrose
Kesha McLeod, @kmcme17
Law Roach, @luxurylaw
Matthew Henson, @henson 
Scot Louie, @scotlouie 
Shiona Turini, @shionat
Solange Franklin, @solangefranklin
Wayman + Micah, @waymanandmicah
Yashua Simmons, @yashuasimmons
Zerina Akers, @zerinaakers
Models
Adut Akech @adutakech
Alek Wek, @msalekwek 
Anok Yai, @anokyai 
Aaron Philip, @aaron___philip
Aweng Chuol, @awengchuol
Bethann Hardison, @bethannhardison
Chloe Vero, @chloevero
Cindy Bruna, @cindybruna 
Duckie Thot, @duckiethot 
Ebonee Davis, @eboneedavis 
Grace Mahary, @gracemahary 
Iman, @the_real_iman 
Imani Randolph, @champagnemani
Jasmine Tookes, @jastookes 
Joan Smalls, @joansmalls 
Jourdan Dunn, @jourdandunn
La'shaunae, @luhshawnay
Leomie Anderson, @leomieanderson
Naomi Campbell, @naomi 
Paloma Elsesser, @palomija 
Philomena Kwao, @philomenakwao 
Precious Lee, @preciousleexoxo
Riley Montana, @loveme_rileym
Salem Mitchell, @salemmitchell
Ugbad Abdi, @iamugbad 
Photographers
Adrienne Raquel, @adrienneraquel
Andre D. Wagner, @photodre
Arielle Bobb-Willis, @ariellebobbwillis
Awol Erizku, @awolerizku
Bukunmi Grace, @bukunmigrace
Campbell Addy, @campbelladdy
Collins Nai, @collinsnai 
Dana Scruggs, @danascruggs
Micaiah Carter, @micaiahcarter
Miranda Barnes, @mirandabarnes
Myles Loftin, @mylesloftin
Nadine Ijewere, @nadineijewere
Quil Lemons, @quillemons
Renell Medrano, @renellaice
Ruth Ginika Ossai, @ruthossaistudio
Stephen Tayo, @stephen.tayo
Tyler Mitchell, @tylersphotos
Never miss the latest fashion industry news. Sign up for the Fashionista daily newsletter. 
25 Cute Striped Shirt Outfits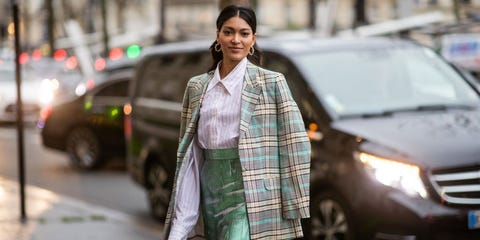 Getty Images
On your list of closet essentials should be a striped shirt, whether it's a classic stripe button-down or a Brenton stripe top (a favorite of Kate Middleton's). The reason? It's an agreeable and wearable print you can layer with other designs like florals for summer or plaid for winter. Striped shirts can be exciting too, especially if you choose color block options or a stripe sweater that mimics the color of the rainbow. Since the stripe top is likely a piece everyone already has in their closet (if not, we have plenty of shopping recs, ahead), we rounded up 25 different ways to style it—just in case you need some fresh ideas. Let the street style ahead reignite your excitement for your favorite stripe shirt.
•••
For more stories like this, including celebrity news, beauty and fashion advice, savvy political commentary, and fascinating features, sign up for the Marie Claire newsletter (subscribe here).
Advertisement – Continue Reading Below
This content is created and maintained by a third party, and imported onto this page to help users provide their email addresses. You may be able to find more information about this and similar content at piano.io
This commenting section is created and maintained by a third party, and imported onto this page. You may be able to find more information on their web site.
Fashion Shows Get High Tech—and Socially Distant
Fashion insiders are tackling a mammoth creative challenge: transforming the runway show for the post-pandemic era and beyond.
Coronavirus halted the extravaganzas, where dozens of guests would perch shoulder-to-shoulder for a peek at new collections. Even as lockdowns lift, social distancing and safety protocols have designers and producers discussing shows that combine video, artificial intelligence and virtual reality with real models and physical locations. The new formats play to audiences watching online, rather than…