Affirm Offers Payment Plans for Your Favorite Brands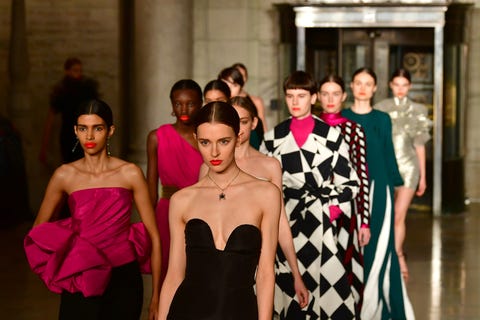 Slaven VlasicGetty Images
Sweats, loungewear, and the newly minted biz-leisure have become the standard modes of dress for many in lockdown. It makes sense considering the state we are in, with orders to social distance and stay at home. But there will be a time when some degree of normalcy will emerge, when we can get gussied up and revel outdoors. And thanks to Affirm, we don't have to stress too heavily over the cost.
The company has partnered with nearly 900 fashion brands and retailers to offer shoppers financial plans, allowing them to pay for their favorite frocks in monthly installments. From Khaite, David Yurman, and Tamara Mellon to LuisaViaRoma, La Garçonne, and Moda Operandi, select apparel and accessories on these e-commerce platforms already have Affirm's structure embedded into their virtual checkout counters, with more coming on board, including Oscar de la Renta.
"At Oscar de la Renta, we're committed to innovation and strive to adopt any technology that enhances the shopping experience for our customers," said Alex Bolen, CEO of Oscar de la Renta, in a statement. "We're excited to partner with Affirm to offer the modern payment option and the best end-to-end shopping experience."
According to a study conducted by Affirm, 38 percent of Americans, particularly millennials and Gen Zers, are making an effort to eschew fast fashion for wares that are expertly crafted and directional. Still, many of the collections that luxury brands produce are cost prohibitive—hence why Affirm's flexible payment solution makes sense for them.
"By working with iconic partners like Oscar de la Renta, we're giving these younger consumers the opportunity to buy the styles they've always wanted in a responsible way," said Silvija Martincevic, Affirm's chief commercial officer. "We are thrilled to partner with Oscar de la Renta to help more shoppers get their dream looks today—whether that's a dress for their wedding, a gift for their child, or a new outfit or accessory."
Purchasing pieces in installments also allows shoppers to support brands that they love without it causing a deep dent in bank accounts. So when the day of lifted quarantine orders comes, we will all have, to varying degrees, a cost-effective way to get our hands on the latest designer items guilt-free.
This content is created and maintained by a third party, and imported onto this page to help users provide their email addresses. You may be able to find more information about this and similar content at piano.io
Amazon Kimono Cardigan Lets You Layer While Staying Cool
Us Weekly has affiliate partnerships so we may receive compensation for some links to products and services.
While we couldn't wait to finally put our snow boots and heavy down coats away, we have to admit that summer fashion — no matter how fun it can be — sometimes feels like it's missing something. Layers! The thing about layers is they are not solely about keeping you warm. They can really add some serious style to an ensemble as well!
In summer, though, we're often just wearing a tank top and shorts — and that's it. Anything else on top would leave us sweaty, uncomfortable and unhappy. It might look cute for about two minutes after we put it on, but the heat often shows no mercy. That's why we need to be smart with our layering and keep things breezy, lightweight and breathable with a piece like this kimono-style cardigan!
Get the PINKMSTYLE Floral Print Kimono Loose Cardigan starting at just $10 at Amazon! Please note, prices are accurate at the date of publication, June 4, 2020, but are subject to change.
This soft, semi-sheer cardigan has an open front, its flowy fabric draping beautifully and allowing cool air to travel in and out so it can graze your skin. It has a high-low hemline to further emphasize its waterfall-like quality, and loose three-quarter sleeves to drive the kimono inspiration home, all the while keeping you comfortable!
There are over 15 variations available of this cardi. You'll find plenty of florals, fitting easily with piece's style as it practically floats on your body like petals in the wind. There are also some leaf and animal print options too though, so if floral isn't your thing, make sure to check the rest out!
Get the PINKMSTYLE Floral Print Kimono Loose Cardigan starting at just $10 at Amazon! Please note, prices are accurate at the date of publication, June 4, 2020, but are subject to change.
You may have never thought of a cardigan as a go-to piece for hot summer days, but this one is definitely going to change your mind. In fact, you might even have to stop yourself from wearing it every single day — not that we think anyone would blame you!
Try layering it over a simple tank top and denim shorts, or even a cami with biker shorts and sneakers. It's also very popular with reviewers as a cover-up for the beach and pool. Even more versatility is added when you throw a belt around your waist, should your outfit call for it. You don't need Us to style you though. We already know this piece is going to look fabulous with just about anything hanging in your closet!
Get the PINKMSTYLE Floral Print Kimono Loose Cardigan starting at just $10 at Amazon! Please note, prices are accurate at the date of publication, June 4, 2020, but are subject to change.
Not your style? Check out more from PINKMSTYLE here and shop all of Amazon's Daily Deals here!
Check out more of our picks and deals here!
This post is brought to you by Us Weekly's Shop With Us team. The Shop With Us team aims to highlight products and services our readers might find interesting and useful. Product and service selection, however, is in no way intended to constitute an endorsement by either Us Weekly or of any celebrity mentioned in the post.
The Shop With Us team may receive products free of charge from manufacturers to test. In addition, Us Weekly receives compensation from the manufacturer of the products we write about when you click on a link and then purchase the product featured in an article. This does not drive our decision as to whether or not a product or service is featured or recommended. Shop With Us operates independently from advertising sales team. We welcome your feedback at ShopWithUs@usmagazine.com. Happy shopping!
Turns out, stress and sense of smell are directly related
There's a reason why the wellness market is chock-full of lavender pillow sprays to help you fall asleep, and why so many of us keep bottles of peppermint essential oils on our desks to stay productive at work. The scent-brain connection is real, and legitimate research has shown that sniffing certain fragrances can have a major impact on your mood. But if your go-to calming scent concoction has suddenly stopped working, your stress levels could be to blame.
"Our sense of smell is intricately linked to our olfactory center of our brain—in fact our sense of smell is only one synaptic jump from our emotional brain which controls our stress response," says Amy Galper, co-founder of the New York Institute of Aromatic Studies. To get super science-y for a second, your sense of smell (or "olfactory neuroanatomy") is intertwined with the parts of your brain that control your emotions, including  the amygdala, hippocampus, and orbitofrontal cortex. When you sniff something, it has to get through all of these areas before it gets to the part of your brain that's able to process the scent, which is why we often have such strong associations between fragrance and emotions. (Can you smell Axe Body Spray without thinking of your high school boyfriend? Because I cannot.)
"Because of this, aromas can trigger emotional and subsequent physiological responses to external stress and visa versa," says Galper. "So if we are extremely stressed it can affect how our olfactory nerve cells respond to aromas." says Galper.  In other words, your stress levels can change the way you process certain scents. So if you've gone from loving the scent of patchouli to suddenly wanting to throw every patchouli-scented candle in the garbage, your anxiety is a likely culprit.
A 2013 study put this theory to the test, and scientists showed people stress-inducing text and images (think: car crashes and wars) to see if it would change their sense of smell. "After anxiety induction, neutral smells become clearly negative," Wen Li, one of the researchers behind the study, told Science Daily. "People experiencing an increase in anxiety show a decrease in the perceived pleasantness of odors. It becomes more negative as anxiety increases." And why is that? According to researchers, in a "normal" (aka low-stress) smelling situation, it's just the olfactory system that gets switched on, but when you start to get anxious, the emotional system also kicks into gear and becomes part of the processing stream.
While certain scents are considered to be universally calming, there's no "one size fits all" essential oil for keeping you calm—particularly in times of high anxiety. Essential oils like rosemary, chamomile, lavender, pine, clary sage, or  marjoram have been shown to lower nervous energy and trigger a resting response in your body, so if your usual calm-down candle has stopped working, try introducing one of these into your routine. Just be warned: it may stop working the next time you flick on the news.
Porsche Design Releases a Watch to Coordinate With the 911 Targa 4S – Robb Report
There's something about finely tuned machines that just always complement one another. Case in point: if you've ever wanted the kind of watch that can hold its own against one of the world's best cars, Porsche Design may finally have your answer.
Specifically created in conjunction with the marque's launch of the 911 Targa 4S Heritage Design Edition sports car, Porsche Design's newest chronograph also takes its inspiration from racing vehicles of the '50s and '60s. The first of four timepieces set for release, it was developed by Porsche Exclusive Manufaktur as a collector's item using colorways and patterns taken straight from the company's iconic cars.
Available exclusively to the lucky owners of the actual roadsters, every element was selected to mirror models from the vast archive. For example, the white second hand and green circles found on the dial are meant to evoke the 356's speedometer while the embossed leather strap is cut from the same plush leather used in the automaker's interiors.
The company chose titanium for the case material because of its light weight, corrosion-resistance and durability, not to mention the fact that it is often employed in race car engines for precisely the same reasons. It houses a WERK 01.100 movement which bears a chronometer certificate from the Swiss C.O.S.C.-Institute. Proving that no detail was considered too small to overlook, even the rotor was forged to resemble the Fuchs wheel, developed for the first Porsche 911. The limited-edition number that corresponds to the car is laser-engraved on the elaborate, largely transparent caseback.
Scheduled to go on sale this fall, the 911 Targa 4S Heritage Edition is a nostalgia-filled variant that draws from a bevy of sources in Porsche's history. The two-seater has a dark, metallic cherry red paint job with crisp white racing stripes trailing from its headlights and a vintage crest fixed to the hood and hub covers originally used in 1963.
Beginning this month, the $14,000 watch will be offered exclusively at Porsche dealerships worldwide to future owners of the Porsche 911 Targa 4S Heritage Design Edition.