As COVID-19 Cuts Indoor Shopping, Luxury Mall Moves Shops To Garage
I guess you'd say Prada can't wait. When the COVID-19 pandemic forced South Coast Plaza, the massive, luxury mall in Orange County, California, to close its indoor spaces, it didn't just shut down. It converted a section of its parking garage into open-air shopping suites for its high-end retailers.
Opened this month, the Pavilion at South Coast Plaza provides an indoor-outdoor shopping experience, complying with California's strict coronavirus safety measures. Luxury suites in the mall's garage allow customers to make appointments with dozens of high-end boutiques. The brands read like an A to (almost) Z of world-leading fashion (Alexander McQueen and Ann Taylor to Valentino, Versace and Vuitton and, yes, Prada), handbags and luggage (Coach to Rimowa), jewelry (among them Baccarat, Bulgari, Harry Winston, Mikimoto and Van Cleef & Arpels), watches (A. Lange & Sohne, Piaget, Porsche Design, Rolex, Tourneau, etc.) and more.
Though it may be in a garage, with this pedigree, it's no garage sale. Puh-lease. The Pavilion's 14 suites are decked out in chichi style, from the coffered ceilings to bright white walls, Persian carpets, designer furniture, mirrored displays and table tops, potted plants and fresh orchids. All the while, the garage walls are open to the California sunshine, and a heating and cooling system can kick in as needed.
"It is a natural extension of our indoor spaces and the amenities that guests have come to expect," says Debra Gunn Downing, South Coast Plaza's Executive Director of Marketing, while allowing "our guests an option for shopping in person safely in an open-air setting."
Here's how it works: Clients call individual boutiques and request to see items, and boutiques schedule appointments inside the Pavilion (suites are shared among the retailers in one-hour increments). On arrival, guests are met at a reception area and escorted to the scheduled suites. Staff and visitors alike wear masks and practice social distancing, and the Pavilion provides hand sanitizer. Once a guest leaves a suite, it's sterilized before the next appointment.
The results so far are "overwhelmingly positive," Gunn Downing says. "From mid-week to the weekend, the suites are fully booked."
"Our boutiques have communicated to us that The Pavilion has enabled them to connect with and provide new and long-time customers with a personalized shopping experience," she says.
She adds that the Pavilion appeals chiefly to "intentional shoppers."
"These are guests who come to us because there is something they definitely want to buy, and they want to make that purchase after seeing the merchandise in person."
South Coast Plaza, in city of Costa Mesa, is the largest mall in the western United States, so big that it calls itself a "shopping destination." In normal times, 250 shops and 30 restaurants operate under its roof. While indoor shopping is closed due to the pandemic, in addition to the Pavilion some retailers with exterior entrances remain open, as do many of its restaurants with open-air seating.
Billie Eilish Posts Nike Sneakers Version of 'The Dress'
Billie Eilish divided the internet this weekend when she posted her own version of The Dress on her Instagram Story. Eilish had been doing a fan Q&A when she was asked about the original dress image. She said she saw gold and blue and posted an IG Story of the image as proof. Then she shared an optical illusion of her own, recalling her dad incorrectly saw her Uptempo Nike shoes as pink and white. He wasn't the only one though who saw those colors, thought, and Eilish wasn't having it.
This content is imported from Twitter. You may be able to find the same content in another format, or you may be able to find more information, at their web site.
This content is imported from Twitter. You may be able to find the same content in another format, or you may be able to find more information, at their web site.
The shoes are actually mint and white, although in warmer indoor light, the white on the "Air" photographs as light pink. Eilish posted several images of the shoes against other sneakers with pink and white in them and then took them outside, where the mint and green are more clearly visible.
This content is imported from Twitter. You may be able to find the same content in another format, or you may be able to find more information, at their web site.
At one point, Eilish had her mother look at them, and her mom told her she saw pink and green.
"Yeah, so I've come to the conclusion that you guys still don't know your sneakers at all because the people that agree with me, because they know what the fuck the shoe looks like, are all people who are sneakerheads that know what the fucking Uptempo mint green shoes look like," she told her Instagram followers, exasperated. "I don't care what you think they look like; I care what they are!"
"Calm down," Eilish's mom said off camera.
"No dude, I'm still pressed about this. Because the whole internet is gaslighting me!"
"There are bigger problems in the world…" her mom replied.
Eilish laughed: "You've got me there."
This content is imported from Twitter. You may be able to find the same content in another format, or you may be able to find more information, at their web site.
Eilish then took the shoes outside, posted videos of them against other pink and white shoes, then went back inside and told the internet to let her have this.
This content is imported from Twitter. You may be able to find the same content in another format, or you may be able to find more information, at their web site.
"So we all know that I'm right here even if you see something else. You know that I'm right underneath it all, right?" she said. "And real quick: before you keep arguing or whatever the fuck, the entire internet's been calling me fat for a week, so let me have this." (Eilish is referring to trolls' response to paparazzi photos taken of her wearing a camisole and shorts. In response to that, she reposted a TikTok saying people need to normalize real bodies.)
This content is imported from Twitter. You may be able to find the same content in another format, or you may be able to find more information, at their web site.
This content is created and maintained by a third party, and imported onto this page to help users provide their email addresses. You may be able to find more information about this and similar content at piano.io
Harry Winston's Kaleidoscope Collection Bursts with Colored Gems – Robb Report
Known for its rock-size white diamonds, Harry Winston introduced an explosion of colored gemstones in its new high-jewelry this season. The collection is decked with pink-red spinels, aquamarines, tanzanite, rubellite, pink morganite and blue sapphires. The inspiration was a gold and diamond malachite kaleidoscope pendant, topped off with malachite from the jeweler's archive, which contains a multitude of colored stones beneath a magnifying glass that move when the piece is turned—just like a child's toy but somewhat more expensive. The original piece, which dates back to the mid-90s, was sold this month at Sotheby's "Magnificent Jewels" collection in Hong Kong for HKD 252,000 (approximately $32,514). Other one-off iterations have been created, like this 18-karat yellow gold kaleidoscope in diamonds, sapphires and Paraiba tourmalines, which comes topped off with a detachable timepiece, have since been created by the house, but this year Harry Winston took a less literal approach using the patterns of colored stones on palm-size pendants and delicate jewelry watches.
"The Harry Winston Kaleidoscope Collection is an extraordinary example of the house's collaborative efforts," Nayla Hayek, CEO of Harry Winston told Robb Report. "From dynamic designs, to extraordinary colored stones and masterful techniques in gem-setting and craftsmanship, each piece embodies the enduring spirit of the House through a more modern, and playful interpretation." The collection is comprised of 32 pendants, two of which have already sold to a single collector through the New York flagship on Fifth Avenue. The client is said to have bought one for herself and one for her mother. They come in small, medium or large sizes on long chest-length 30-inch chains that can be doubled to wear closer to the neck.
Robb Report reviewed some of the collection via a private appointment at the Fifth Avenue boutique and can report that the pictures here do not do them justice. Each pendant is an incredibly vibrant cluster of colors—an effect achieved using the minimum amount of platinum to set the stones in order to achieve maximum sparkle.
"One of the aspects that make the fine jewelry pendants so spectacular is the way they're set," says Hayek.  "Each stone is arranged in a three-dimensional pattern, with no gaps or spaces, in order to maximize the light returned, resulting in a pendant that's full of brilliance and life."
Eleven watches accompany the pendants: five high-jewelry pieces and six Premier models. Beneath the sapphire crystal, each dial of the 36 mm Premier timepieces reveals a 3D explosion of shapes and patterns of stones set against a mother-of-pearl backdrop. They come in 18-karat gold cases with alligator-leather straps and house an automatic mechanical movement.
The high-jewelry watches, perhaps more suitable for a black-tie gala or red-carpet affair, are set in platinum cases with the gems encircling the dials on the outside of the case. Each comes with 71 brilliant-cut diamonds and are mixed in spiraling patterns in a variation of tsavorites, orange sessartites, aquamarines, rubies and blue, pink and yellow sapphires. Each houses a quartz movement and comes on a satin strap set with a clasp accented in 29 brilliant-cut diamonds.
The pieces are price upon request, but a handful are currently on display in Harry Winston's New York City boutique (until October 23rd).
Clogs Shoes Are More Popular Than Ever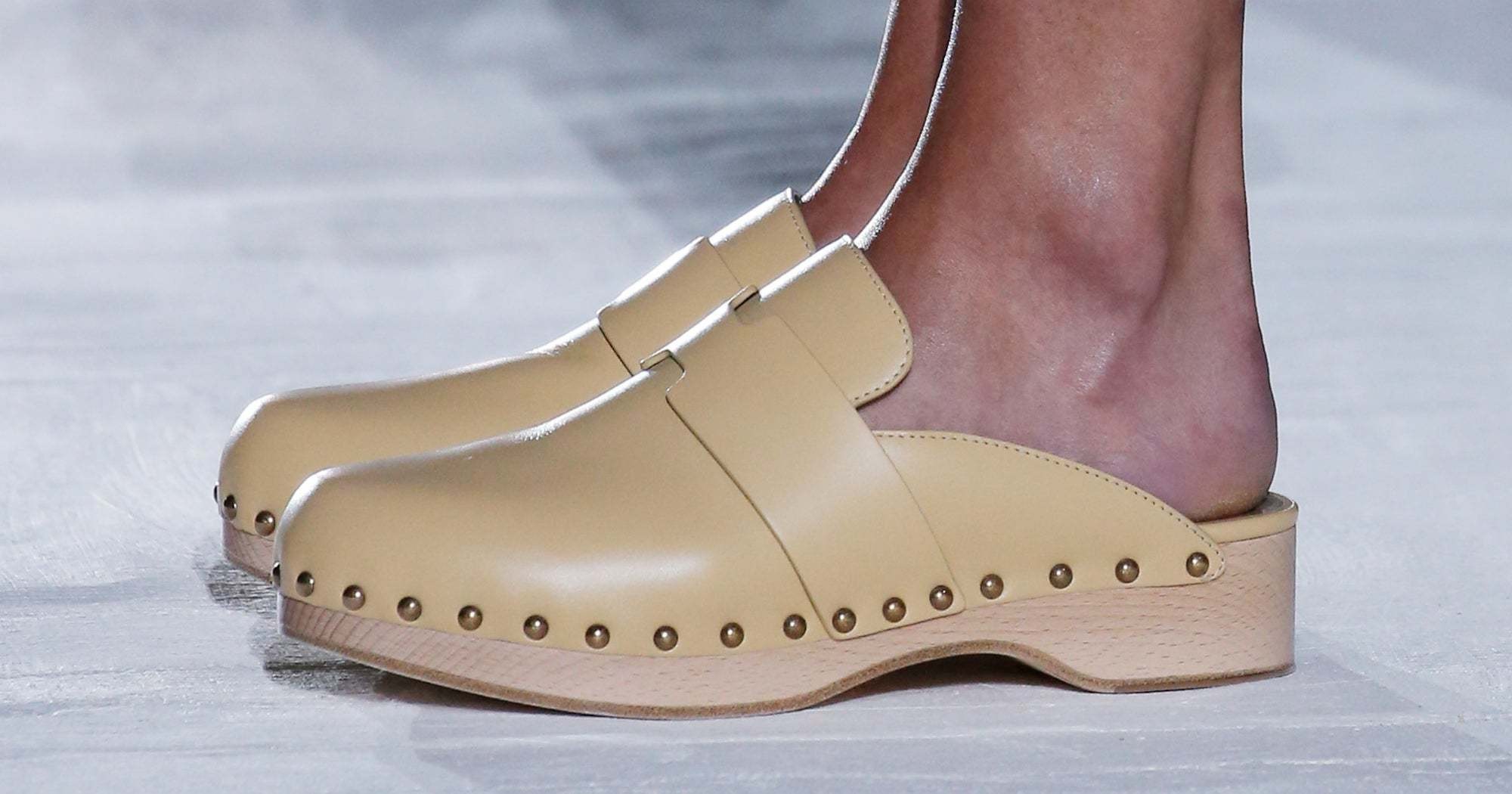 Again, clogs aren't a 2020 phenomenon. The clog's turn for the fashionable has been talked about ever since the aforementioned Crocs runways. It was solidified when, in 2018, Maria Grazia Chiuri sent out a clog on the Dior runway — for the first time since 1954, according to
Paper
. But, as the Lyst report suggests, clogs may be at their fashion peak now — thanks to us being in a time when a customers' needs intersect with the designers' openness to make
comfortable fashion
. In addition to providing comfort that's fitting for the lockdown age, which has no end in sight (thus, no limit to how many clogs you can buy), there is also a nostalgia associated with the shoe. A reminder of a simpler time, filled with gardening and hiking in clogs, which we have taken up again; and emblematic of the cottagecore aesthetic that has been prominent at the beginning of the pandemic, when at-home activities like
baking bread
and stocking up on
houseplants
were also at their peak popularity. When speaking about the new Hermès' new collection, the brand's creative director, Nadège Vanhee-Cybulski, told
British Vogue
that it was all about "resurrection": "You rest; you feel better; you recalibrate; you rediscover the most essential things."