BLACKPINK How You Like That Live on Tonight Show
Following the release of its high fashion-filled music video, K-pop supergroup BLACKPINK has given their debut performance of new single "How You Like That" on Jimmy Fallon's The Tonight Show.
In an at-home edition of the late-night talk show, Lisa, Jennie, Jisoo and Rosé pulled out all the stops for the live broadcast. Styled in matching crop tops and skorts inspired by the traditional Korean attire, hanbok, the four-piece group performed its high-energy choreography as the members sing and rap to the memorable chorus: "Look at you, now look at me/ How you like that."
Marking BLACKPINK's highly anticipated comeback, "How You Like That" is the first pre-release single from the group's upcoming full-length album, set to release this September. Attracting 82.4 million views within the first day since its premiere, the song has quickly broken YouTube's 24-hour viewing record. According to Variety, the previous record-holder was BTS, whose track "Boy With Luv" featuring Halsey rocketed to 74.6 million views during the initial one-day period in April 2019.
At the time of publishing, the "How You Like That" music video was on the No. 3 spot of YouTube's U.S. Trending page, while the group's performance on The Tonight Show landed second place on the chart. Watch the video above.
Kim Jones embraces diversity with Dior's first all-Black fashion show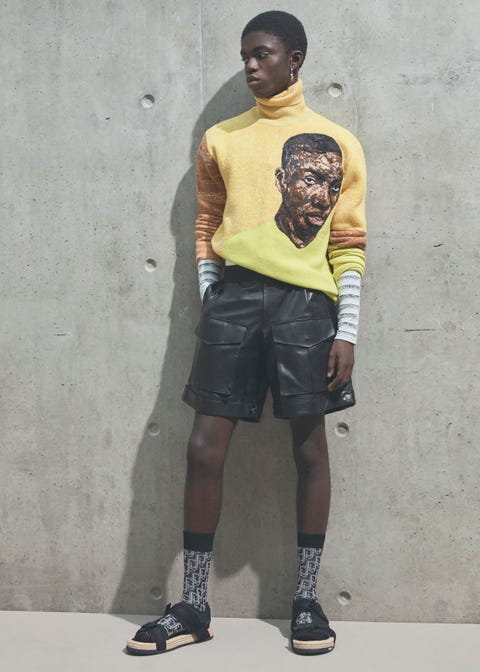 Courtesy of Press OfficeImaxtree
With physical fashion shows still on hold for the moment, men's fashion week is currently taking place in Paris through a digital lens – and yesterday saw Kim Jones present Dior's latest collection, a collaboration with Ghanian artist Amoako Boafo through a series of videos, which confronted issues of diversity on the catwalk by featuring only Black models.
"It's not political: we started this back in December," the menswear designer told The Guardian. "But one of the things designers can do is [reflect] the time they are in. For me, diversity is a natural thing; a reflection of the wider world."
The collection was presented through a series of films, one which was partly shot in London (where Jones is based) and partly in Boafo's studio in Ghana, while another followed more of a traditional catwalk setting.
The collection is entitled 'Portrait Of An Artist' and the designs directly reflect Boafo's paintings, with some of his work printed onto the clothes.
"I really, really, really love his work and I wanted to work with an African artist for a long time because I grew up in Africa and African art is something that has always been important to me," Jones explains in the film of Boafo, while the artist says that what he found most interesting about the project was "how they were able to transfer [his] finger painting technique onto clothes".
"You have a Breton stripe underneath an Amoako print so it's a French, Ghanaian, Dior, Amoako vibe, all existing together," Jones told British Vogue. "It's an exchange. I think people need to educate themselves as to who their consumers are, and realise that people from all different parts of the world can create something much more exciting,"
This content is imported from Instagram. You may be able to find the same content in another format, or you may be able to find more information, at their web site.
Jones' digital presentation is not the first virtual fashion week outing for the House of Dior, who last week – under womenswear artistic director Maria Grazia Chiuri – released its autumn/winter 2020 haute couture story by way of a fashion film, Le Mythe Dior.
In need of some at-home inspiration? Sign up to our free weekly newsletter for skincare and self-care, the latest cultural hits to read and download, and the little luxuries that make staying in so much more satisfying.
This content is created and maintained by a third party, and imported onto this page to help users provide their email addresses. You may be able to find more information about this and similar content at piano.io
This commenting section is created and maintained by a third party, and imported onto this page. You may be able to find more information on their web site.
Inside A-Cold-Wall x Dr Martens 1460 Collab
Let's get one thing straight: boots are good. I am in no way critical or contemptuous of the good men that choose to wear them. For they are robust, and weatherproof, and make us feel like we're in the misleadingly cheerful conscription adverts of WWII with our smiling faces and shiny, shiny leather shitkickers. But that whole sect of menswear– the classic, olde worlde "oi mista, that's farv' shillins" thing – just isn't my thing. I'd rather be in the Eighties. Or Blade Runner. Or dressed for a suspiciously lucrative property sale in downtown Miami (cash only, of course).
That means my boot options are lacking. Laced-up beauties, with their intricate broguing, don't sit so well with my other Nice Things. I look weird in Chelsea boots. And often, options on the left-field are just a bit, well, much. I'm all for a touch of futurism, but still not cool (or confident) enough to effectively don knee-high black boots made of a monster truck tyre. I opted out. You can't have everything.
But you can! You can have everything! Almost, anyway. And for that I can thank A-Cold-Wall's latest collab with big bad bootmaker supreme Dr Martens: the 1460. As part of the wider Remastered series, which sees ascendant designers remould the classic silhouette for its 60th anniversary, this is, unequivocally, a workers boot. Though instead of munitions factory boot in 1943, this is any given worker's boot in 1984 (the Orwell sort), just without the constant threat of arrest for having a good think on a Sunday afternoon.
It's also very in-keeping with what A-Cold-Wall does best. First launched in 2015 by Virgil Abloh protégé Samuel Ross, the London-based outfit focuses on workwear classics with a functional, almost dystopian edge. Suits are deconstructed, and buttressed with pockets and paint splatters and parachute-like materials. It's enduring, too: not a sportswear flash in the pan during the Age of Hype, but one that earns the nomination of the prestigious LVMH designer's prize in 2018, and grail-like status in menswear-y circles.
All of that lends itself well to the collab in question. The solid boot is angular, panelled with uncompromising leather that juts out to the front in lieu of eyelets. A zipper closure is more practical than laces, and yet courts unorthodoxy – but it does so very quietly. This is no 'traditional' boot, but it's not wildly untraditional either: simply the standard issue of the not-so-distant future.
Speaking of the crossover, Ross says that "the 1460 is placed right in the middle of 20th Century cultural crosshairs. It's incredible." And by remaking a staple in his own image, he's also pushed it into the 22nd Century, too – and onto my feet.
Available to pre-order now at a-cold-wall.com priced £229, with a wider release on 25 July at drmartens.com and select stockists
Like this article? Sign up to our newsletter to get more delivered straight to your inbox
Need some positivity right now? Subscribe to Esquire now for a hit of style, fitness, culture and advice from the experts
This content is created and maintained by a third party, and imported onto this page to help users provide their email addresses. You may be able to find more information about this and similar content at piano.io
This commenting section is created and maintained by a third party, and imported onto this page. You may be able to find more information on their web site.
Graffiti or art? You be the judge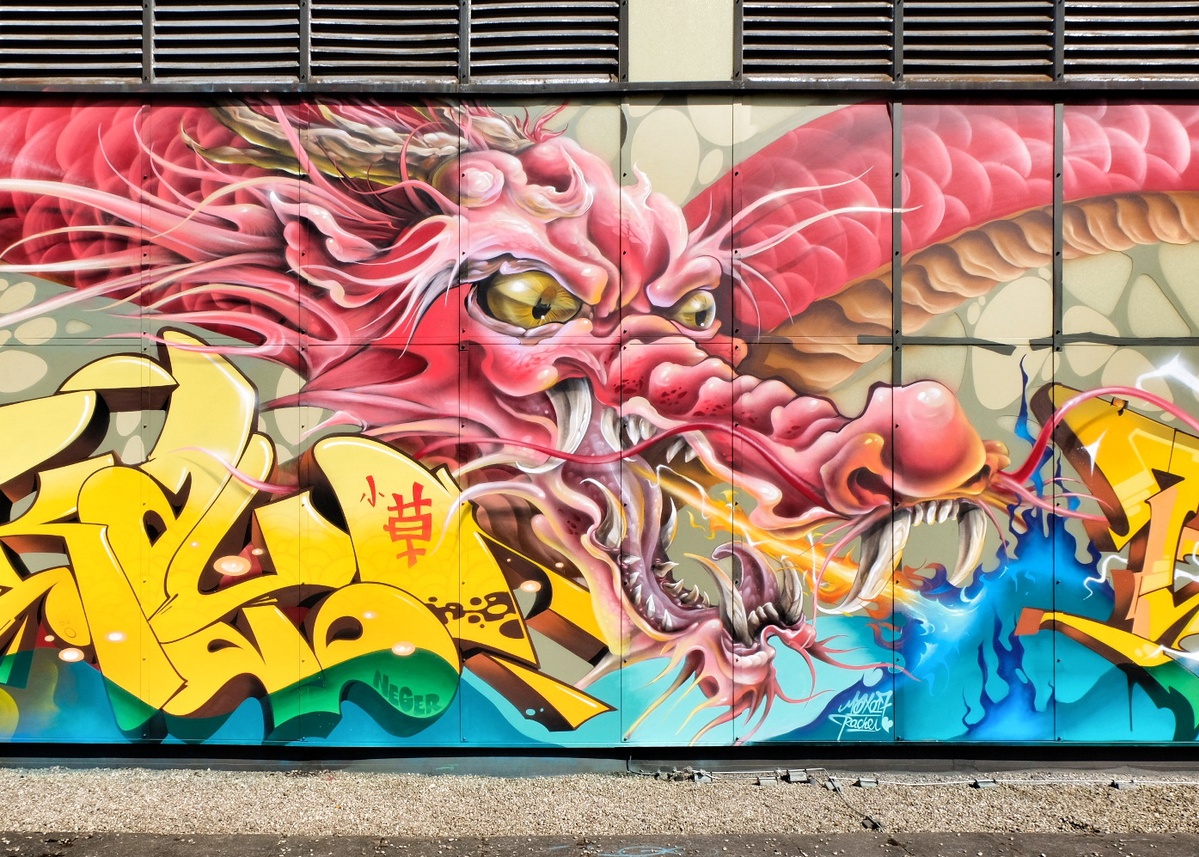 One person's graffiti is another person's high public art. Ma Xiao subscribes to the latter theory.
The public artist went viral recently, after a number of his works were released online.
The 30-year-old from the Ningxia Hui autonomous region became interested in outdoor public art in 2006. Back then he was more of a graffiti artist who could only make simple, quick drawings on shabby walls. Public outdoor art had not been accepted in cities at that time.
It was not until 2010 that Ma got the chance to create trendy art. And in 2017, he engaged his first major business project when a large shopping mall in Yinchuan, Ningxia, invited him to help create a large work of art on the walls outside one of its buildings.