Cant visit a Gucci store? Gucci Live will bring personalised online shopping to you : Luxurylaunches
You can't bring yourself to a Gucci store? Then bring the Gucci store to you! Gucci's latest tech bet has it recreating the personal experience of in-store shopping through Gucci Live. No one goes anywhere; not the potential client nor the executive making the sale. The only thing that will make a move is a lot of money and an exceptionally good-looking handbag right from the safe comforts of your humble abode. It works with an impeccably dressed client-advisor showing you the latest offerings of the luxury brand from what can be called a 'faux luxury store'. It is a space created with cameras and TV-style lighting for the new "remote clienteling" as Gucci dubs this first-of-its-kind service. The staff communicates with shoppers on their mobiles or laptops from the 2,300-square-metre client services hub, Gucci 9 in Florence. Let's not be fooled by images of long beelines outside luxury stores. The sales are still badly affected and these lines alone won't salvage the losses. This is why such innovations are the need of the day not just to amp businesses but to get the esteemed consumer what they desire to purchase. A large number of potential and interested clients are still unable to visit stores but require the personal service associated with luxury.



Marco Bizzarri, Gucci president and CEO, said in a statement when Gucci 9 opened, "The mission of our Gucci 9 global service centre is to provide our customers around the world with a direct connection to the Gucci community that is a seamless, always accessible, personalized experience," Gucci is currently appointing only a handful of client advisors in the six Gucci 9 centres in New York, Tokyo, Singapore, Sydney, Shanghai, and Florence.
[Via: Vogue Business]
Lavish & Squalor has closed after 13 years in Toronto
Queen West's fashion destination for distressed denim and cabin-like goods has closed after 13 years. 
Lavish & Squalor, which set up in the old 19th-century undergarment factory on tourist-friendly Queen Street in 2006, announced that the brand and coffee shop has left its location at 253 Queen Street West. 


The store was forced to close in March for the province-wide lockdown, and due to a rent increase, has been unable to pick itself back up since then.
"Running an independent business in Toronto already has [its] challenges with constant rent and overhead increases," said owners Anne Middleton and Sandro Martino. 
"…We were, like many small businesses, concerned when we had to close due to Covid19. With great sadness, we were not able to endure the one week, two…. one month, two… closure. We have lost our beloved home at 253 Queen Street West."
"But we can't disappear," they said. 
Middleton and Martino have started a Gofundme campaign with the goal of raising $25,000 from the community. 
In total, they say they'll need $55,000 to secure and rebuild in a new location, hire back their employees, and "tie up some loose ends." 
The brand continues to sell its goods online but hopes to acquire a new store sooner rather than later. Since leaving the space in May, Lavish & Squalor has only raised $473 of their $25K goal. 
DJ Khaled's 'Snipes' sneaker brand to open store opposite Barclays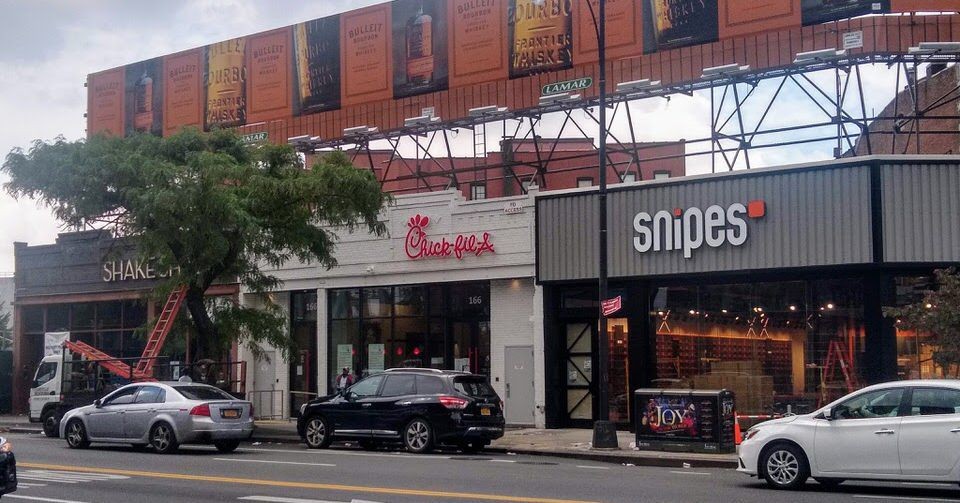 Norman Oder, who's been chronicling the Nets move to Brooklyn for more than a decade, reports that Snipes, the German sneaker brand, is opening a new "concept store" across from Barclays Center. DJ Khaled is the brand's chief creative officer.
As Oder, often a critic of the move and the overall Pacific Park project, reports…
Well, Chik-fil-A and Shake Shack, high-volume fast-food places on Flatbush Avenue opposite the Barclays Center, are getting a new neighbor this coming Thursday, a sneaker retailer with a facade that wraps around a piece of Pacific Street.
The location, across from the arena, was initially promoted as prime retail opportunity but didn't fill up as fast as projected. Shake Shack didn't open until two years after the arena and Chick-fil-A didn't move in until last September. Prior to the arrival of Barclays Center, the building housing the three outlets had been home to a furniture store as well as small shops catering to computer and video game users.
According to the German company, they were attracted to the location because of its proximity to the "cradle of sneaker and streetwear culture."
"We couldn't be more excited to introduce the game-changing Snipes 2.0 store concept to our U.S. customer," said Snipes chief executive officer Sven Voth. "And where better to start than right across from Barclays Center in the heart of Downtown Brooklyn, cradle of sneaker and streetwear culture!"
The company added that it has "synergy" with the Nets and will have "access to the oculus and atrium at Barclays and players will be close by for store appearances — when the NBA returns," Women's Wear Daily reported.
The store had been planned for a March opening, but was delayed by the pandemic. To promote the new opening date, DJ Khaled, named creative director last will raffle off prizes virtually on Thursday, "appearing on a truck LED screen outside" the store.
Snipes has nearly 400 stories globally, with 94 in the U.S., of which 76 are now open. According to WWD, Snipes "plans to add 10 new stores this year and convert more existing stores into 2.0 locations."
This Affordable Japanese Home Goods Brand Takes Design Cues From WWII • Gear Patrol
Purchasing products through our links may earn us a portion of the sale, which supports our editorial team's mission. Learn more here.
We recently reported how outdoor gear brands are repairing and reselling used gear, saving millions of pieces of clothing from landfills. One Japanese brand takes that a step further, turning trash into vibey vintage treasures for your home.
Puebco, launched in 2007, takes old, unwanted materials and fashions them into long-lasting objects for everyday use. Take its apron ($42), for example, which repurposes used cotton-nylon trousers. Puebco's take on the functional cooking accessory takes design cues from the covetable fashion brand Engineered Garments, but at a fraction of the price. Its steel toolbox, an essential for every person's home, looks like it came straight out of World War II. Puebco has the design aesthetic of a military surplus store, and is covetable enough to be stocked by high-end lifestyle brands like Burke Decor.
The brand is sold at select US retailers, like Huckberry and Knickerbocker. Besides homeware, Puebco also makes apparel, travel gear and other lifestyle essentials. The products are durable, reliable and incredibly cool — you'll be hard-pressed to find these pieces in the trash bin any time soon.
Note: Purchasing products through our links may earn us a portion of the sale, which supports our editorial team's mission. Learn more here.