Cindy Crawford Wore a Comfortable Flowy Top While Shopping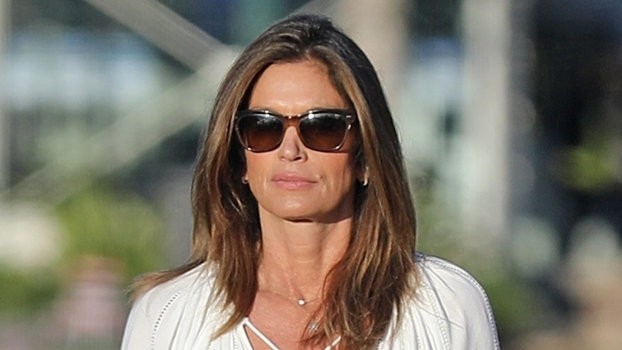 These days, it's all about the statement sleeve. When Adele wore a ballon-sleeve dress the other week, she broke the internet. But Cindy Crawford is here to remind us all of an oldie but a goodie. While out shopping, Crawford was spotted wearing a flowy blouse (Shop similar: $40; freepeople.com) that's reminiscent of what most concert goers would wear in the '70s. It's definitely less structured than the options that are trending right now but is infinitely more comfortable for lounging around. Now all we need is for someone to convince Crawford to record a new series of her iconic old school workout videos while wearing it.
Inside The New Economy Where People 'Buy Nothing' and Give Everything
Lorie Gassie misses the library. Since the pandemic shut down her local branch, the Queens resident has a pile of overdue books in her apartment that she cannot return.
That's what brought Gassie to my stoop last week. I met her on Facebook, where we are both members of a Buy Nothing group aimed to create a little gift economy among its roughly 1300 members.  
My midnight bout with spring cleaning led me to post a few things on the page, including a coffee table book about the Met Gala. Gassie thought it would be good inspiration for her work as a costume designer; I wanted more space for my new money tree.  
Where To Buy The Best Second-Hand Designer Bags
All products are independently selected by our editors. If you buy something, we may earn an affiliate commission.
The pull of a designer bag is legendary. There have been totes we've yearned for more than our sixth form crush. It's totally legitimate to fall in love with an inanimate object, right? But even if you're not about to pledge allegiance to a handbag, you've got to admit there is magic in a designer bag in the way that clothes can't quite incite.
If you're searching for a little something to treat yourself to, post lockdown (or even as something to make your house-bound hours more exciting) there's nothing better than a new bag to beat the blues. Except it doesn't have to be new. Resale sites are one of the fashion industry's fastest growing categories and a second-hand bag is a brilliant way to save money. As we all try to shop more consciously, its also a brilliant way to shop sustainably. There is nothing more sustainable that something already in existence.
Some vintage bags are also proving to be safer investments than stocks and shares because bags are the accessory that appreciate fastest. Vintage preloved handbags have risen in value by an average of 8% per year over the last decade and also outperformed the price of gold. Kerching.
Despite those figures, if you're looking to get involved with your favourite brand, preloved is still the way you can do so, at a bargain price. Designer bags play on the brand's style signatures, which can make them easy to fake but on closer inspection you'll be able to see what is real or not. Check the hardware, leather, stitching, authenticity cards and serial numbers and ask the seller to provide more pictures or more detailed history.
Charlotte Staerck is co-founder and retail director of Handbag Clinic, which restores worn bags (everything from styles chewed by dogs or burned in fires) and also runs a resale platform. She advises, "Ask the year they bought their handbag and check the digits in the serial number correspond to the production year.
From Chanel and Bottega Veneta to Loewe and Louis Vuitton, these are the best designer handbags to invest in this season
If it's outside of that, it's definitely a fake. The hardware colour should match the logo colour on the inside of the handbag. Also, quilted Chanel handbags have 10 stitches per inch. It can sometimes be ever so slightly outside of that, but never by much, so if you count seven stitches, you know it's not authentic."
These are our favourite sites to browse designer bag bargains:
vestiairecollective.com – The biggest hitter in the preloved market with thousands of new items listed every week. Charlie Collins, founder of creativewardrobe.co.uk has tips to get the best bargains, "Use the app to set up an alert on your favourite bag and try the offer system to float up to 30% off with the seller. The longer items are on the site, the more you will benefit from reductions so create a wishlist to track your favourite items."
VC arrange pick ups and anonymous listings for the French Vogue team, apparently, and offer thorough authentication services before your purchases are sent to you.
handbagclinic.co.uk – All of the bags here will have had a vigorous zhuzh at the in-house restoration clinic before going on sale to ensure they completely pristine. You could find bargains with up to 83% off. Charlotte Staerck also revealed that the original Prada Nylon bags are in demand. "We sell vintage 90's small nylon Prada bags for around £150 – £350." We'll race you…
xupes.com – Founded almost a decade ago, and originally specialising in watches and jewellery, xupes.com have been selling bags since 2015 and date them all to the year of manufacture. At the time of writing there was a denim Dior saddle bag on the site for £299…
farfetch.com – As well as collating the coolest independent boutiques around the world, FarFetch.com also launched a resale channel last year, where verified designer bags from a handful of major names are up for sale online. Sellers get store credit and you get to save a bag from landfill. Win win.
bagista.co.uk – Specialising in designer bags, this is the site to browse if you're a bargain bagaholic. In season finds are listed with their current selling price point, so you can see how much of a discount you could score.
uk.designerexchange.com – With discounts of up to 85% this site has over 100 designer brands and more than 5000 items for sale but they also have bricks and mortar stores around the UK (although currently closed die to Covid-19) which you can visit for an IRL encounter with any potential purchase.
With its technicolour palette, the fabled opal enchants designers who deploy their talents to do justice to its magnificent lustre.
The rainbow of iridescent hues has, for generations, been enthralling jewellery designers, including Victoire de Castellane. It is her favourite stone – ideal for one of the finest colourists in the business.

Opals have featured in nearly all her Dior Joaillerie collections over the past 20 years because, as she explains: "It's a very poetic stone; an invitation to a fairy tale, to magic. When I look at it, I see the earth from afar, the oceans, the archipelagos, and the reflections of stars on the waves."
Equally captivated by the opal's qualities is Hong Kong jeweller Wendy Yue. "The characteristics of the stones provide endless amazing opportunities for me to create, nothing seems impossible or too far-fetched," she says.
At David Morris in London, opals are one of Jeremy Morris' favourite stones; as soon as he finishes a new piece it sells instantly. Opals are also the heart of Chopard's floral jewellery, and a stunning 26.44-carat black opal ring (with blue-green flashes) circled by tiny yellow sapphire daisies, is being made in its atelier as part of the Exceptional Stones collection. Spectacular black opal specimens are set in Les Ciels de Chaumet's collection as well, surrounded by diamond shooting stars.
Unlike other gemstones, the opal is non-crystalline and is formed from hardened silica gel that collects in the crevices of rocks or replaces organic material in fossilised wood, shell and bone. Its prismatic qualities fire off a myriad of colours that suddenly catch the eye.
They are also porous and quite fragile; the water in the stones makes them sensitive to dramatic temperature changes, and to see a carved white opal in the form of a coiled snake resting on a chunky gold ring in Gucci's debut high jewellery collection Hortus Deliciarum (Garden of Delights) is rare.
Gucci's creative director Alessandro Michele chose each of the stones for the collection, and many of the designs feature Gucci's favourite mythical bestiary – tigers, lions and serpents.
Cartier uses a lot of the black and fragile white opal in its high jewellery, but a rare, large and spectacular matrix opal was a highlight of its 2019 Magnitude collection.
A polished earthy brown pebble, the stone's veins flash with a tantalising pattern of blue and purple light, which Cartier enhanced with blue and purple sapphires.
The matrix opal is found in Queensland, northern Australia, and is a type of boulder opal attached to ironstone. Although 90 per cent of the world's opals are sourced from Australia, only 2 per cent of that total is made up of boulder opals, which are considered the second most precious after the black opal.
It is not the first time Cartier has used matrix opal: a pendant in the 2014 L'Odyssée de Cartier collection had the pattern of reptile skin. As Pierre Rainero, the brand's director of image, style and heritage, pointed out at the launch of Magnitude last year, the house has used ornamental stones since the early 20th century in its decorative objects.
"At Cartier, stones are part of a greater vocabulary that is not limited to just ornamental or precious," Rainero said. "We transcend that nomenclature by combining them in our designs."
Victoire de Castellane became riveted by them at the age of six, when she saw her grandmother, the aristocratic Silvia Rodriguez de Rivas, wearing a black opal surrounded by diamonds given to her by the heiress Barbara Hutton.
De Castellane describes them as "the strangest of stones with their different designs and ever-changing colours".
Her Dior et Moi collection, unveiled in January, juxtaposes black opal with emeralds, red spinels and green lacquer, accentuating the opal's iridescent colours in pendants and earrings.
Wendy Yue is similarly drawn to the unlimited shapes, colour and size of each individual stone whether black opal, pink opal or boulder opal. They have always been part of her design vocabulary.
"I am fascinated by how their play of fire interacts with other stones around it, bringing out their features and adding a new dimension to the piece," she says. Her Owl of the Galaxy cuff blends black and shimmering milky-blue opals, while the Rosemania ring features the milky pink opal. "I like to focus on the colour and shape of each individual stone, creating pieces with a unique character and story behind it."
The pink opal – milky or opaque pastel – is a more accessible hard stone, appearing in fine jewellery collections such as Louis Vuitton's B Blossom and Fred, and in one of a kind pieces by Fei Liu and Brazilian designer Fernando Jorge.
Fire opals, meanwhile, are very different. They are an unusual variety of opal from Mexico, and a favourite of independent jewellers such as Eugenie Niarchos of Venyx, Lydia Courteille and Ornella Iannucci. Their colours range from yellow to rich orange and red, and are transparent enough to be faceted.
Welo opals from Ethiopia, discovered in 2009, feature an extraordinary inner flame. They are another example of why opals are some of the world's most enthralling stones.
Note: This story was originally published on SCMP and has been republished on this website.