Common Ace Is a New One-Stop Online Shop for Women's Sneakers
This month, Common Ace—a new online marketplace—launched with the aim of providing women a uniquely curated opportunity to "access and shop seamlessly" thanks to a more targeted approach to the usual model of online shopping.
Common Ace was founded by leading streetwear community voice and global advisor Sophia Chang and Romy Samuel, an avid collector who currently works for a top retailer. 
Among the solutions the Common Ace experience promises for the modern shopper are a curated marketplace that connects retailers and consumers through content and commerce, the largest online selection for women to shop from, a focus on women living outside of major cities who lack access to the usual way of procuring coveted fashion pieces, and more. Additionally, Common Ace is aiming to be the site to beat when it comes to women's sneakers.
"We want to empower the female sneaker and streetwear community to be able to shop and make it easy and less of a headache," Chang told Nylon in an interview published surrounding the site's launch last week. "That's what really what women want, they want to know they're included in this industry, they're included and thought of when it comes to the purchasing power."
To try out the site, which sets up the shopping experience as one more akin to an aggregated flights database, click here. You can also shop by designer filters including Adidas, Acne Studios, Off-White, and more.
"A More Inventive Product": Alessandro Michele Outlines Gucci's Radical New Fashion Model
"I am no anarchist. I want to share my idea with others," Alessandro Michele said on a video call from Rome on Monday afternoon (25 May). On the previous weekend, in a poignant lockdown diary, Michele had announced Gucci's departure from the traditional show cycle in favour of a seasonless approach to collections. Embracing a post-pandemic appetite for "the essential", Gucci is replacing its current structure of five separate women's, men's and cruise shows with just two annual presentations.
"I have designed a future for this company by also looking to the past. I'm convinced that moving forward also means going back to the origins of this wonderful industry," Michele said, acknowledging that his new vision for the industry has a lot in common with its old structure, before there were pre- and capsule collection shows several times a year. "We will update it, but we will have to restore what we had in the past, and maybe show you a more inventive product. To do that we need more time."
Gucci's decision will no doubt impact the fashion landscape beyond the brand's own borders. As an industry leader (with a global power base demonstrated by a revenue close to €10 billion, or £9 billion), a move like this could be interpreted as a blueprint for other brands to follow. Since Covid-19 hit Europe and America in March – making this summer's cruise, men's and haute couture shows impossible – many in fashion have been eyeing an opportunity to slow down and reform the industry's incessant production cycle.
"We are a big brand, so we have a responsibility to take care of our industry. We need to give it the time that's needed. The things we make have a longer life than what we have allotted to them in the past," Michele said, backdropped by the carved, coffered ceilings of his Renaissance apartment. "We all agree that fall and spring are the most appropriate [time frames] to show our work, but I hope that other brands will follow us so we can have an open dialogue to arrange new dates."
In expressing his desire to reorganise the existing fashion week schedule through industry effort, Michele deflated rumours that Gucci will leave fashion week altogether. As for this September's fashion weeks, still up in the air, he said Gucci wasn't counting on presenting a collection. "I don't think we will meet in person next time. We have been shut down for a long time so I don't think we will have a regular calendar for September. I want to recover a new kind of time – real and practical – so we'll choose another date."
In recent weeks, a number of initiatives fronted by independent designers and fashion councils have proposed new season structures. But, until now, conglomerate-owned brands like Gucci, which comes under the umbrella of Kering, as well as the councils that control the all-important Paris and Milan fashion weeks have largely remained silent. In April, Saint Laurent, also owned by Kering, proclaimed its withdrawal from the unconfirmed Paris Fashion Week in September, disclosing that "the brand will lead its own rhythm" going forward.
Gucci's news, however, marks the most momentous move made in fashion as a result of the coronavirus. Backed up by Michele's manifesto-like lockdown diary (which is worth the read), it isn't merely business but a philosophy for a new age of awareness in fashion. "I hope that the choices we do make will respect the actual timing of fashion and factories, and the people who work there," he said on Monday. By reducing the industry's output, Michele wants to increase the sustainability of the fashion we buy.
"I haven't got enough space for myself here," he smiled, gesturing at his princely domestic surroundings. "There are clothes everywhere. They deserve love and care, and if they stay in our care for longer, that will be much better." A seasonless structure is suitable for Michele's vision, which evolves unhurriedly within a highly established creative universe he once called "Renaissance street style". A gift to retail, it has created a Gucci shopping realm that already feels seasonless: a candy store of diverse product provided in a steady stream that rarely looks as if any particular piece belongs to one collection or the other.
In that sense, while it doesn't necessarily serve as an ideal blueprint for brands that sell themselves on more radical shifts in direction every six months, Michele's seasonless revolution is a perfect fit for Gucci. Many are united in the belief, however, that post-pandemic fashion will be about creating a more humane and sensible take on the traditional seasonal fashion cycle. Asked how he is going to meet the revenue of five annual collections with just two, Michele smiled: "Since I started working for Gucci I have always had this dialogue. I am looking forward to being surprised once more."
For the 48-year-old designer, the current situation seems cathartic. He spent his life as an anonymous team designer until his 360-degree proposal for a new Gucci won him the promotion in 2015 and turned that life upside-down. In five astronomically successful years at the helm of Gucci, Michele has become a fashion superstar, business visionary and retail wizard, with a relentless schedule to match his ever-increasing responsibilities. He has made no secret of the pressures that come with that kind of success.
In January, Gucci returned to individual men's shows after seasons of co-ed presentations, effectively adding a show to Michele's schedule. A month after, he staged a meta women's show that brought the backstage area to the runway as an illustration of the nonstop fashion cycle he inhabits. "I asked myself, why am I repeating this ritual time and again? I'm exhausted after a fashion show. It's really tiring," he said at the time. "Being in the fashion world is like being an isolated nun. We travel around the world, always saying, 'One day we'll give up and do something else'. But that day never comes. Fashion is very powerful."
Michele's words perfectly captured fashion's ambivalent relationship with itself: a passionate and incessant hamster wheel of desire and ambition. With its new initiative – the practicalities of which will be decided through industry dialogue – Gucci sets out to humanise that wheel by halting it and restarting it, with more sustainable fuel, at a speed less furious. "I had time available I never had before," a kaftan-clad Michele said of the lockdown, occasionally fanning himself with a large black fan. Now, he teased, "I feel like a horse ready to start a race."
More from British Vogue: 
How to Remove Stains From a White Shirt: Tips For Removing Wine, Chocolate, and Tomato Sauce Stains
this link is to an external site that may or may not meet accessibility guidelines.
Everyone Is A Combo Of 1 Pixar And 1 Disney Character – Which Are You?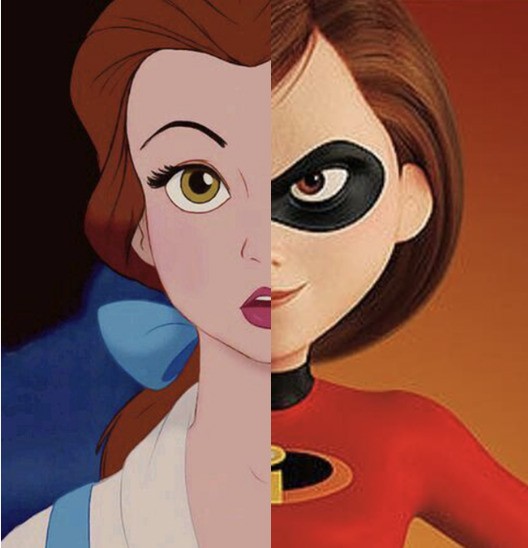 Image: Via Frazer Harrison/Getty Images for The Recording Academy Chrissy Teigen
Image: Via Disney Channel The Suite Life of Zack and Cody