Crocs Are Back in Style for Men, and Celebrities Love Them, Too
A few weeks ago, Succession star Nicholas Braun posted an Instagram story; in it, he expressed a strange new desire that had suddenly awoken within him. He needed to own Crocs. Now, as he is a celebrity and Crocs is a brand, it may not shock you to learn that a few days later he followed up with another Instagram story of him enthusiastically unboxing a large assortment of Crocs and Jibbitz (the little charms you pop in them) gifted to him. And we can infer that he liked them, seeing as he chose to wear a pair of Crocs to the 72nd Emmy Awards this past Sunday.
Full disclosure: I am of the belief that Nicholas Braun would look good in anything (fuller disclosure: the man is 6 feet and 6 inches tall). But even still, his choice to finish his Paul Smith suit with a pair of Crocs for this year's socially distant Emmy Awards is a bold one, and is one that has been noted by many, including The Cut and Harper's Bazaar. Braun's Emmy Crocs even featured personalized Jibbitz that spelled 'Antibodies,' the title of his virus-punk summer single. And though he certainly brought Crocs into The Discourse this week with his Black Tie Croc (free wedding dress code idea!) look, the Crocs renaissance was well underway before Braun stepped into a pair.
This content is imported from Instagram. You may be able to find the same content in another format, or you may be able to find more information, at their web site.
But you can't tell a renaissance story before the origin—let's go back to 2002. It's a simpler time. Ben Affleck is People's Sexiest Man Alive; Michael Jackson's baby balcony dangle incident is the biggest news story for actual weeks on end. Most importantly, Crocs are born. They are all-purpose camping/boating/gardening clog-like foamy shoes that come in an array of bright colors and are covered in holes. The consensus is that they are exceptionally ugly. And yet, by 2006, they are all the rage. George W. Bush makes headlines in 2007 after he's spotted in a black pair. My first pair was turquoise (you never forget your first pair).
By 2016, high fashion had co-opted the goofy-looking, cumbersome shoe. Christopher Kane hit first, and then in 2017 Balenciaga's head-turning chunky boi version came clomping down the runway, Jibbitz and all (you can get a used pair for $795 on the RealReal right now). Since then, Crocs has done lucrative collabs almost as well as the king of the disproportionately beneficial collaborations, DJ Khaled. Just a sampling: Post Malone, Takashi Murakami, Luke Combs, and Ruby Rose have all designed limited-release Crocs drops. Brand collaborations include releases with PLEASURES, Chinatown Market, Madewell, and BEAMS. You have to hand it to the good people at Crocs—they have the streetwear-heads wrapped around a pinky finger made of limited edition Croc foam, consistently asserting the relevance of Crocs among young, hip consumers whether they like it or not.
I must also take a moment to note the sheer genius of Crocs' food collaborations this year, which I will not hesitate to call wearable contemporary art. The stupidly adorable Crocs x PEEPS Easter launch? The KFC collab which included chicken-scented Jibbitz (you just never know when those might come in handy) that sold out in less than half an hour? Is everyone having a bad 2020 except for Crocs? My entire Instagram feed at the end of the summer was disposable camera footage of people's COVID-travel camping trips, and if you took a shot every time you spotted a pair of Crocs in one of those carousels you might need to seek out medical attention.
This content is imported from Instagram. You may be able to find the same content in another format, or you may be able to find more information, at their web site.
Truthfully, Crocs is just the headliner of a big summer for ugly statement water shoes on the whole. Other players in the space include the Yeezy Foam Runner and the Merrell Hydro Moc, both sort of evolutionary post-Croc shoes. The Wall Street Journal and The New York Times among others covered the Hydro Moc's swift emergence onto the Fashion Boi scene this summer, and the NYT calls the shoes—which look like a toddler took two contrasting colors of Play-Doh and mushed them together into one strange sculpture—a "Croc gone wild." Ugly shoes being trendy isn't new, but six months into quarantine, perhaps we have pivoted to water shoes simply because they are comfortable. Maybe it's because nothing really matters anymore. Whatever the reason, the Croc and Croc-adjacent renaissance is underway.
As it turns out, Nicholas Braun's Emmy night Crocs (along with his Paul Smith suit) are up for auction for the next week, with the proceeds going to When We All Vote, a non-profit dedicated to increasing voter participation. If you want to buy them for me, feel free to reach out directly. I am moving this weekend and could use a new Size 13 coffee table art piece/Nicholas Braun shrine as a housewarming gift. It's for a good cause!
This content is created and maintained by a third party, and imported onto this page to help users provide their email addresses. You may be able to find more information about this and similar content at piano.io
Harry Winston's Kaleidoscope Collection Bursts with Colored Gems – Robb Report
Known for its rock-size white diamonds, Harry Winston introduced an explosion of colored gemstones in its new high-jewelry this season. The collection is decked with pink-red spinels, aquamarines, tanzanite, rubellite, pink morganite and blue sapphires. The inspiration was a gold and diamond malachite kaleidoscope pendant, topped off with malachite from the jeweler's archive, which contains a multitude of colored stones beneath a magnifying glass that move when the piece is turned—just like a child's toy but somewhat more expensive. The original piece, which dates back to the mid-90s, was sold this month at Sotheby's "Magnificent Jewels" collection in Hong Kong for HKD 252,000 (approximately $32,514). Other one-off iterations have been created, like this 18-karat yellow gold kaleidoscope in diamonds, sapphires and Paraiba tourmalines, which comes topped off with a detachable timepiece, have since been created by the house, but this year Harry Winston took a less literal approach using the patterns of colored stones on palm-size pendants and delicate jewelry watches.
"The Harry Winston Kaleidoscope Collection is an extraordinary example of the house's collaborative efforts," Nayla Hayek, CEO of Harry Winston told Robb Report. "From dynamic designs, to extraordinary colored stones and masterful techniques in gem-setting and craftsmanship, each piece embodies the enduring spirit of the House through a more modern, and playful interpretation." The collection is comprised of 32 pendants, two of which have already sold to a single collector through the New York flagship on Fifth Avenue. The client is said to have bought one for herself and one for her mother. They come in small, medium or large sizes on long chest-length 30-inch chains that can be doubled to wear closer to the neck.
Robb Report reviewed some of the collection via a private appointment at the Fifth Avenue boutique and can report that the pictures here do not do them justice. Each pendant is an incredibly vibrant cluster of colors—an effect achieved using the minimum amount of platinum to set the stones in order to achieve maximum sparkle.
"One of the aspects that make the fine jewelry pendants so spectacular is the way they're set," says Hayek.  "Each stone is arranged in a three-dimensional pattern, with no gaps or spaces, in order to maximize the light returned, resulting in a pendant that's full of brilliance and life."
Eleven watches accompany the pendants: five high-jewelry pieces and six Premier models. Beneath the sapphire crystal, each dial of the 36 mm Premier timepieces reveals a 3D explosion of shapes and patterns of stones set against a mother-of-pearl backdrop. They come in 18-karat gold cases with alligator-leather straps and house an automatic mechanical movement.
The high-jewelry watches, perhaps more suitable for a black-tie gala or red-carpet affair, are set in platinum cases with the gems encircling the dials on the outside of the case. Each comes with 71 brilliant-cut diamonds and are mixed in spiraling patterns in a variation of tsavorites, orange sessartites, aquamarines, rubies and blue, pink and yellow sapphires. Each houses a quartz movement and comes on a satin strap set with a clasp accented in 29 brilliant-cut diamonds.
The pieces are price upon request, but a handful are currently on display in Harry Winston's New York City boutique (until October 23rd).
Clogs Shoes Are More Popular Than Ever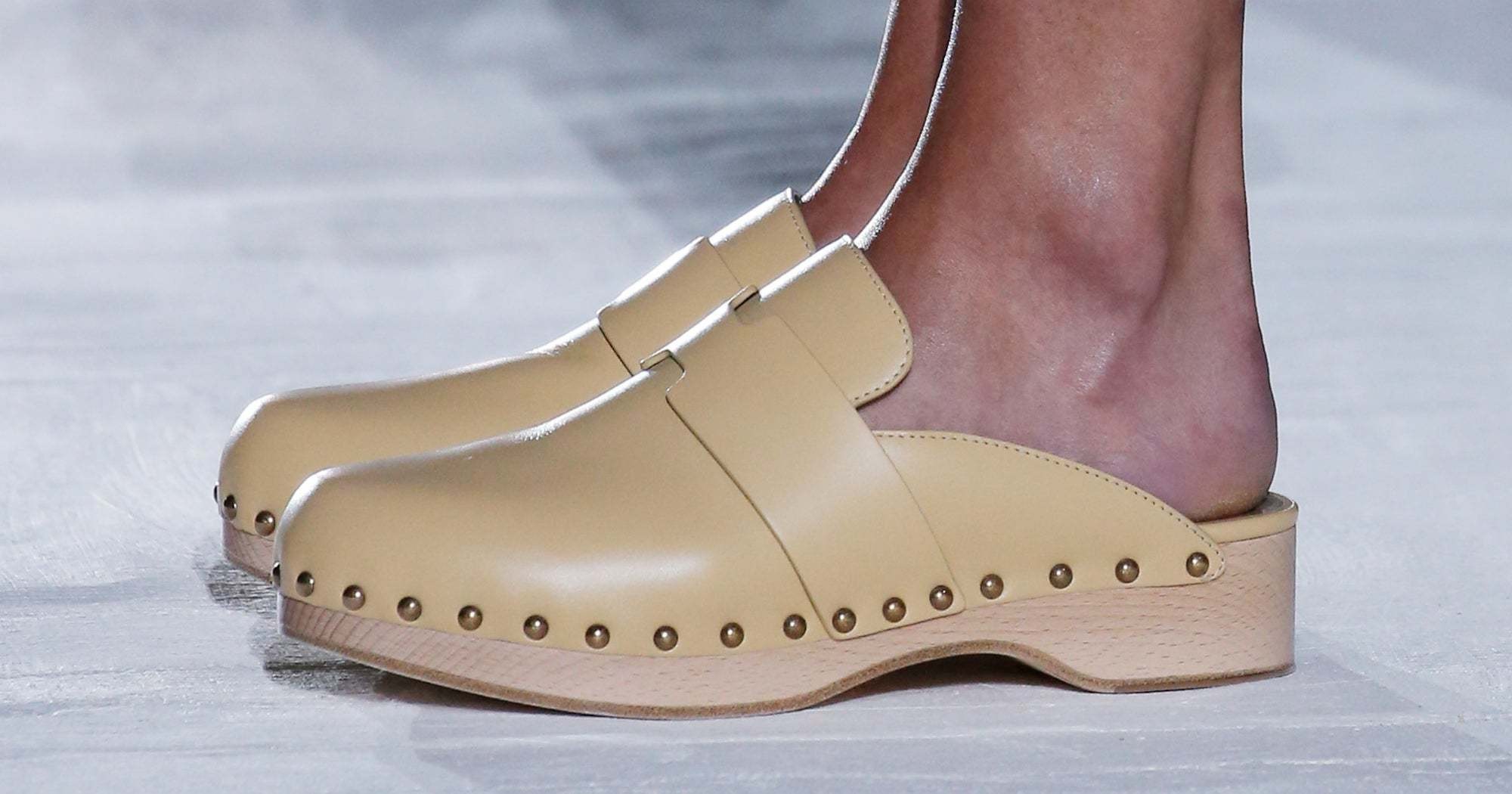 Again, clogs aren't a 2020 phenomenon. The clog's turn for the fashionable has been talked about ever since the aforementioned Crocs runways. It was solidified when, in 2018, Maria Grazia Chiuri sent out a clog on the Dior runway — for the first time since 1954, according to
Paper
. But, as the Lyst report suggests, clogs may be at their fashion peak now — thanks to us being in a time when a customers' needs intersect with the designers' openness to make
comfortable fashion
. In addition to providing comfort that's fitting for the lockdown age, which has no end in sight (thus, no limit to how many clogs you can buy), there is also a nostalgia associated with the shoe. A reminder of a simpler time, filled with gardening and hiking in clogs, which we have taken up again; and emblematic of the cottagecore aesthetic that has been prominent at the beginning of the pandemic, when at-home activities like
baking bread
and stocking up on
houseplants
were also at their peak popularity. When speaking about the new Hermès' new collection, the brand's creative director, Nadège Vanhee-Cybulski, told
British Vogue
that it was all about "resurrection": "You rest; you feel better; you recalibrate; you rediscover the most essential things."
Why Are Plus-Size Boots For Women So Hard To Find?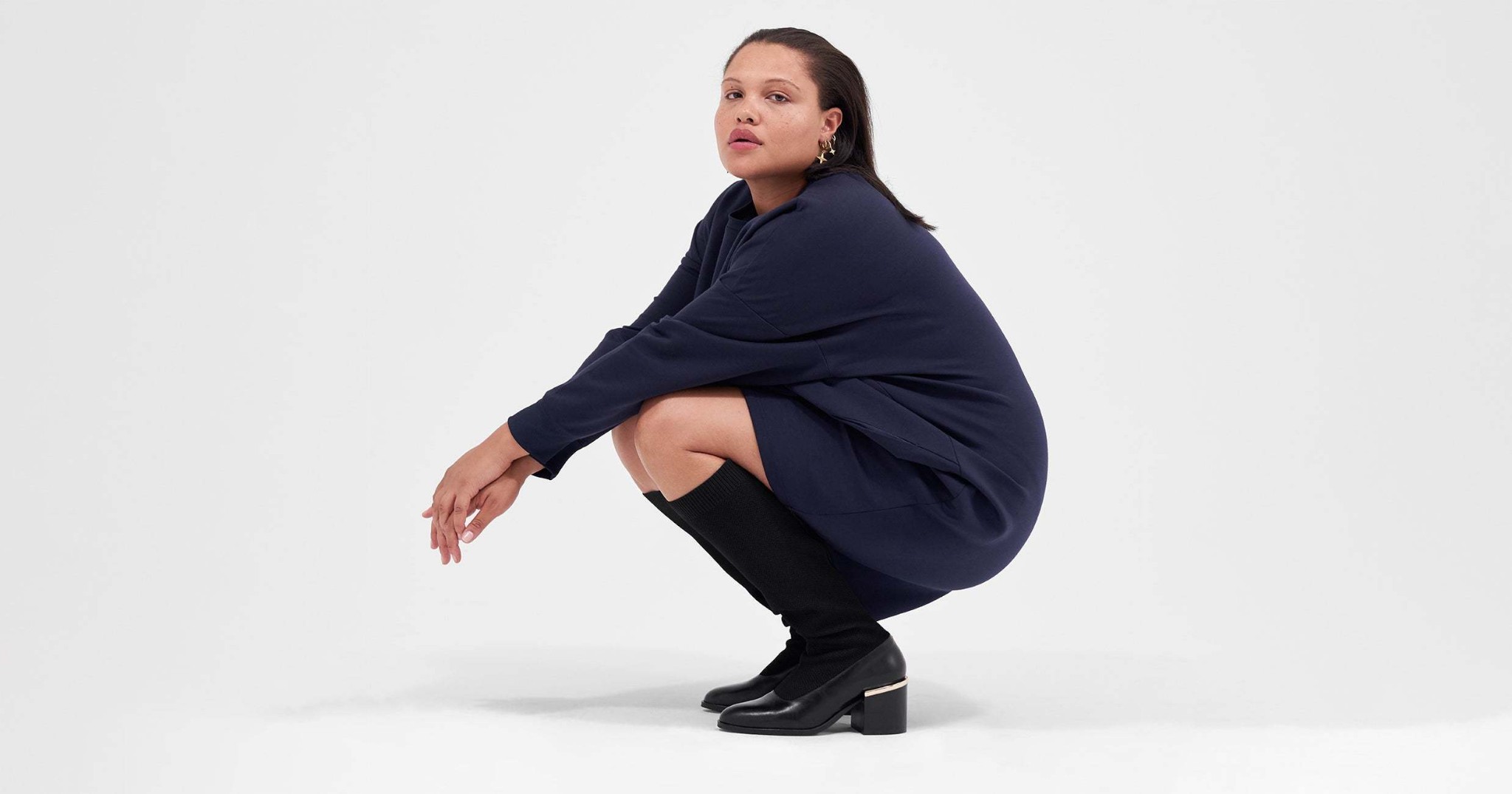 This is hardly news for the plus-size community. One look at Twitter, and the topic is much discussed. "Can plus-size companies be more creative with their boots this year? Can we have thigh-high boots? Not over the knee, but legitimately thigh high," asked
EMM Fashion
, a fashion consultant. "Can we get different styles, colors, and prints this year? Different heel styles? Lastly, can we get thick padding, as well? Thanks!"
@Oveeoexxo
tweeted
: "Why is it so hard to find thigh-high boots for plus-size women? I'm so frustrated!"
Tamara
shared her frustration, too, and took to the platform to ask for suggestions: "Who sells ankle boots that fit plus-size legs? Can't say I'm surprised but it seems a bit of a tough one." Despite shoppers openly asking for options to buy, and plus-size boot collections known to sell out immediately, apart from a few one-off releases, the community continues to go under-served in the boot department. Why is that?