Daphne Guinness On Bringing Her Surreal Style to TikTok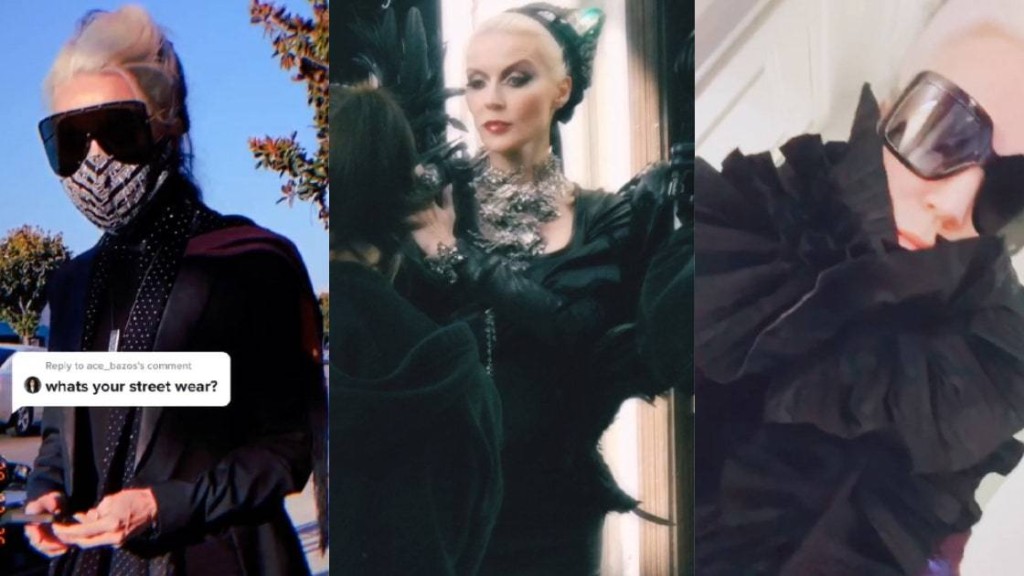 Daphne Guinness has been captivating audiences with her dramatic, inimitable wardrobe long before there was such a thing a "doing it for the 'gram." A street style icon, producer, musician, and muse of Alexander McQueen and Karl Lagerfeld, Guinness developed a cult following for that iconic black-and-white hair and surreal wardrobe, which is full of rare couture and Alexander McQueen pieces in particular. Recently, she's taken her dark, glamorous aesthetic to a new platform: TikTok. 
Having joined the app in October last year, Guinness documents her otherworldly fashion for 83,000 fans. On her page, you won't find crop tops or chokers favored by e-girls: instead, Guinness showcases structural capes, shapely bouffants, and death-defying footwear. She often offers her followers a behind-the-scenes look at fittings or the various photo shoots she is doing, infusing the app with a dash of over-the-top glamour in the process. "You get to see a side of me on TikTok you won't see anywhere else," Guinness tells Vogue of these more-candid moments. 
But since this is TikTok, the land of viral challenges, Guinness also puts her high-fashion twist on the app's trending songs or videos. She's partaken in the Euphoria challenge, the "Wipe It Down" challenge, and many others, showcasing that playing into an Internet-y moment can still be super chic. (Her Gen-Z followers often compare her style to Schitt's Creek's Moira Rose, a comparison that Guinness has acknowledged and embraced.) Below, Guinness discusses how TikTok inspires her creativity, what her favorite TikTok of all time is, and if—and how—her style changed during lockdown. 
1. What made you want to start creating on TikTok? 
I signed up because, in the beginning, no one was on TikTok and it was fun to have a secret account. My first TikTok was a picture of a penguin I took in Antarctica.
2. What's your process for creating your TikToks? 
I'm very inspired by the people on the app. Some of the most brilliant, talented creators are on TikTok. I also love using  the "reply in video" feature. It's a genius way to stay engaged.
3. There's a big appreciation and fascination around your wardrobe. Did your style change at all during lockdown?
During lockdown, I wore my uniform and switched out my platforms for trainers. But I miss dressing up, that's why making "Heaven" [her new music video and single, which she teased on TikTok] was so fun.
4. What's the most special piece in your closet? 
I have a few pieces I love. The Alexander McQueen x Givenchy kimono is a standout.
5. TikTok is obsessed with your shoes. Where did your love of sky-high platforms begin? What's your favorite pair? 
I like being able to stand really tall. My go-to pairs at the moment are the Noritakas, in the black and white jewels.
6. Many of your videos feature your own music. Do you create TikToks around your songs, or does this happen organically? 
The platform is a great marriage of visuals and sound and I love seeing how creators interpret music differently. Once in a while I create TikToks around my songs, but it happens organically. 
7. How does fashion and something like TikTok make you exercise creativity differently? 
You get to see a side of me on TikTok you won't see anywhere else. I share a lot of "behind the scenes" and it's a great space that allows one to be creative, engaging, vulnerable, and sometimes silly. 
8. What is your favorite TikTok you've ever made? 
"My heart went oops" video was really fun to make. It has over 1.5 million views.
Clogs Shoes Are More Popular Than Ever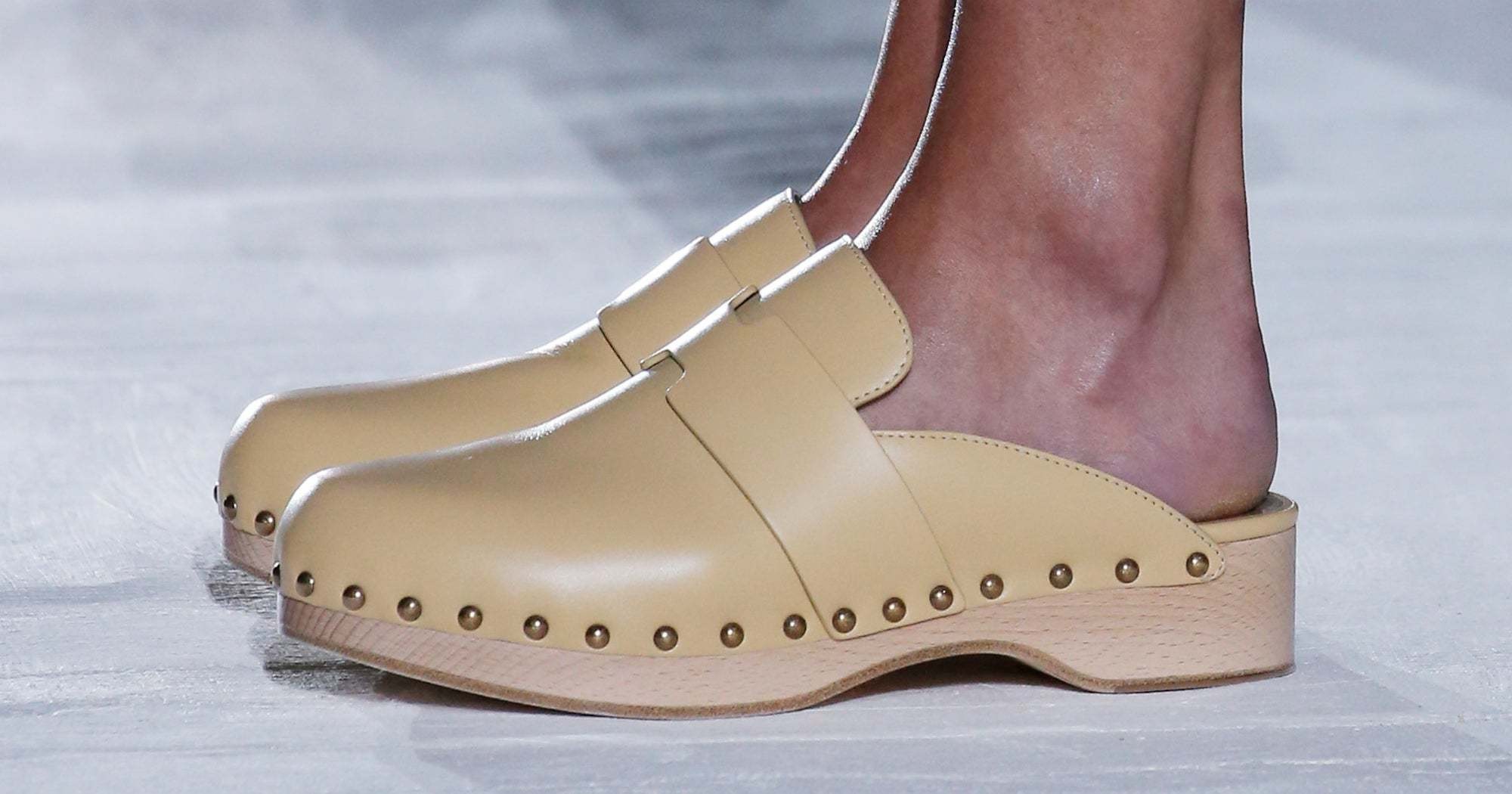 Again, clogs aren't a 2020 phenomenon. The clog's turn for the fashionable has been talked about ever since the aforementioned Crocs runways. It was solidified when, in 2018, Maria Grazia Chiuri sent out a clog on the Dior runway — for the first time since 1954, according to
Paper
. But, as the Lyst report suggests, clogs may be at their fashion peak now — thanks to us being in a time when a customers' needs intersect with the designers' openness to make
comfortable fashion
. In addition to providing comfort that's fitting for the lockdown age, which has no end in sight (thus, no limit to how many clogs you can buy), there is also a nostalgia associated with the shoe. A reminder of a simpler time, filled with gardening and hiking in clogs, which we have taken up again; and emblematic of the cottagecore aesthetic that has been prominent at the beginning of the pandemic, when at-home activities like
baking bread
and stocking up on
houseplants
were also at their peak popularity. When speaking about the new Hermès' new collection, the brand's creative director, Nadège Vanhee-Cybulski, told
British Vogue
that it was all about "resurrection": "You rest; you feel better; you recalibrate; you rediscover the most essential things."
Billie Eilish Posts Nike Sneakers Version of 'The Dress'
Billie Eilish divided the internet this weekend when she posted her own version of The Dress on her Instagram Story. Eilish had been doing a fan Q&A when she was asked about the original dress image. She said she saw gold and blue and posted an IG Story of the image as proof. Then she shared an optical illusion of her own, recalling her dad incorrectly saw her Uptempo Nike shoes as pink and white. He wasn't the only one though who saw those colors, thought, and Eilish wasn't having it.
This content is imported from Twitter. You may be able to find the same content in another format, or you may be able to find more information, at their web site.
This content is imported from Twitter. You may be able to find the same content in another format, or you may be able to find more information, at their web site.
The shoes are actually mint and white, although in warmer indoor light, the white on the "Air" photographs as light pink. Eilish posted several images of the shoes against other sneakers with pink and white in them and then took them outside, where the mint and green are more clearly visible.
This content is imported from Twitter. You may be able to find the same content in another format, or you may be able to find more information, at their web site.
At one point, Eilish had her mother look at them, and her mom told her she saw pink and green.
"Yeah, so I've come to the conclusion that you guys still don't know your sneakers at all because the people that agree with me, because they know what the fuck the shoe looks like, are all people who are sneakerheads that know what the fucking Uptempo mint green shoes look like," she told her Instagram followers, exasperated. "I don't care what you think they look like; I care what they are!"
"Calm down," Eilish's mom said off camera.
"No dude, I'm still pressed about this. Because the whole internet is gaslighting me!"
"There are bigger problems in the world…" her mom replied.
Eilish laughed: "You've got me there."
This content is imported from Twitter. You may be able to find the same content in another format, or you may be able to find more information, at their web site.
Eilish then took the shoes outside, posted videos of them against other pink and white shoes, then went back inside and told the internet to let her have this.
This content is imported from Twitter. You may be able to find the same content in another format, or you may be able to find more information, at their web site.
"So we all know that I'm right here even if you see something else. You know that I'm right underneath it all, right?" she said. "And real quick: before you keep arguing or whatever the fuck, the entire internet's been calling me fat for a week, so let me have this." (Eilish is referring to trolls' response to paparazzi photos taken of her wearing a camisole and shorts. In response to that, she reposted a TikTok saying people need to normalize real bodies.)
This content is imported from Twitter. You may be able to find the same content in another format, or you may be able to find more information, at their web site.
This content is created and maintained by a third party, and imported onto this page to help users provide their email addresses. You may be able to find more information about this and similar content at piano.io
Harry Winston's Kaleidoscope Collection Bursts with Colored Gems – Robb Report
Known for its rock-size white diamonds, Harry Winston introduced an explosion of colored gemstones in its new high-jewelry this season. The collection is decked with pink-red spinels, aquamarines, tanzanite, rubellite, pink morganite and blue sapphires. The inspiration was a gold and diamond malachite kaleidoscope pendant, topped off with malachite from the jeweler's archive, which contains a multitude of colored stones beneath a magnifying glass that move when the piece is turned—just like a child's toy but somewhat more expensive. The original piece, which dates back to the mid-90s, was sold this month at Sotheby's "Magnificent Jewels" collection in Hong Kong for HKD 252,000 (approximately $32,514). Other one-off iterations have been created, like this 18-karat yellow gold kaleidoscope in diamonds, sapphires and Paraiba tourmalines, which comes topped off with a detachable timepiece, have since been created by the house, but this year Harry Winston took a less literal approach using the patterns of colored stones on palm-size pendants and delicate jewelry watches.
"The Harry Winston Kaleidoscope Collection is an extraordinary example of the house's collaborative efforts," Nayla Hayek, CEO of Harry Winston told Robb Report. "From dynamic designs, to extraordinary colored stones and masterful techniques in gem-setting and craftsmanship, each piece embodies the enduring spirit of the House through a more modern, and playful interpretation." The collection is comprised of 32 pendants, two of which have already sold to a single collector through the New York flagship on Fifth Avenue. The client is said to have bought one for herself and one for her mother. They come in small, medium or large sizes on long chest-length 30-inch chains that can be doubled to wear closer to the neck.
Robb Report reviewed some of the collection via a private appointment at the Fifth Avenue boutique and can report that the pictures here do not do them justice. Each pendant is an incredibly vibrant cluster of colors—an effect achieved using the minimum amount of platinum to set the stones in order to achieve maximum sparkle.
"One of the aspects that make the fine jewelry pendants so spectacular is the way they're set," says Hayek.  "Each stone is arranged in a three-dimensional pattern, with no gaps or spaces, in order to maximize the light returned, resulting in a pendant that's full of brilliance and life."
Eleven watches accompany the pendants: five high-jewelry pieces and six Premier models. Beneath the sapphire crystal, each dial of the 36 mm Premier timepieces reveals a 3D explosion of shapes and patterns of stones set against a mother-of-pearl backdrop. They come in 18-karat gold cases with alligator-leather straps and house an automatic mechanical movement.
The high-jewelry watches, perhaps more suitable for a black-tie gala or red-carpet affair, are set in platinum cases with the gems encircling the dials on the outside of the case. Each comes with 71 brilliant-cut diamonds and are mixed in spiraling patterns in a variation of tsavorites, orange sessartites, aquamarines, rubies and blue, pink and yellow sapphires. Each houses a quartz movement and comes on a satin strap set with a clasp accented in 29 brilliant-cut diamonds.
The pieces are price upon request, but a handful are currently on display in Harry Winston's New York City boutique (until October 23rd).