Figs Scrubs Controversy Medical Terms for Dummies Video Apology – WWD
Doctors are not reacting well to a video that medical apparel maker Figs put out.
The video, promoting a hot pink style of comfort scrubs that the Los Angeles-based brand is known for, shows a young woman in the scrubs and glasses, who is not only reading "Medical Terminology for Dummies," but doing so with the book upside down. Figs also makes and sells activewear and recently designed a sneaker with New Balance. It's billed itself as a "disruptor" in the medical apparel space and grown fast since its founding in 2013. The company has raised $75 million in funding, $65 million of that coming in 2018 in a Series B round.
Hundreds of doctors, nurses and medical students, men and women alike, took to social media Tuesday to express their outrage at a company, founded by two women, for promoting what many pointed out is a negative stereotype of female doctors and medical professionals being less educated or incompetent.
"As a current [doctor of osteopathic medicine] and a future physician, the disrespect for female physicians exhibited in this ad is unforgivable," a woman wrote on Twitter. "I will not be supporting Figs and I encourage all those who purchase scrubs to join me."
The company removed the video from Instagram and posted an apology on social media, saying: "A lot of you guys have pointed out an insensitive video we had on our site — we are incredibly sorry for any hurt this has caused you. Figs is a female-founded company whose only mission is to make you guys feel awesome. We dropped the ball and we are so sorry."
As a female and a DO student, how would I ever "feel awesome" about myself knowing that this is how you view me??? And how you want others to view me???

Women and DO's have fought stereotypes way too long for you to go ahead and put this out there.

Do better. pic.twitter.com/qPf51a6EAd

— miss med student 🎃👻🕸 (@missmedstudent) October 13, 2020
But that apology didn't appear to have much of an effect for those unhappy with the video. "Medical Twitter" has become a group of its own on the platform and gained even more of a profile during the ongoing coronavirus pandemic.
In response to the apology post, a woman doctor wrote, "I hope [Figs] apologizes for being sexist and insulting the intelligence of women physicians rather than hurt feelings." She also noted the use of the book and it being held upside down was obviously what was intended for the video. "How could that book even make it to the photo shoot without intention."
Another woman doctor said simply, "This is not an apology. You're sorry for how people feel? How about you apologize for your lack of sensitivity."
As for Figs pointing out within its apology that it was founded by two women, that didn't sit well with the doctors and medical students either.
"Women can be biased against women," one woman doctor wrote. "You don't get a pass."
And this led to other complaints about the brand and its current and past marketing efforts. One doctor said "internalized misogyny is rampant in your marketing." Another noted how all Figs models are "real thin" and "super young." Another mentioned that the brand had some of its ambassadors utilize quotes from Supreme Court Justice Ruth Bader Ginsberg on social media, right after her death, "to push scrubs."
A representative of the company could not be immediately reached for comment.
Billie Eilish's Green Nike Air Uptempo Sneakers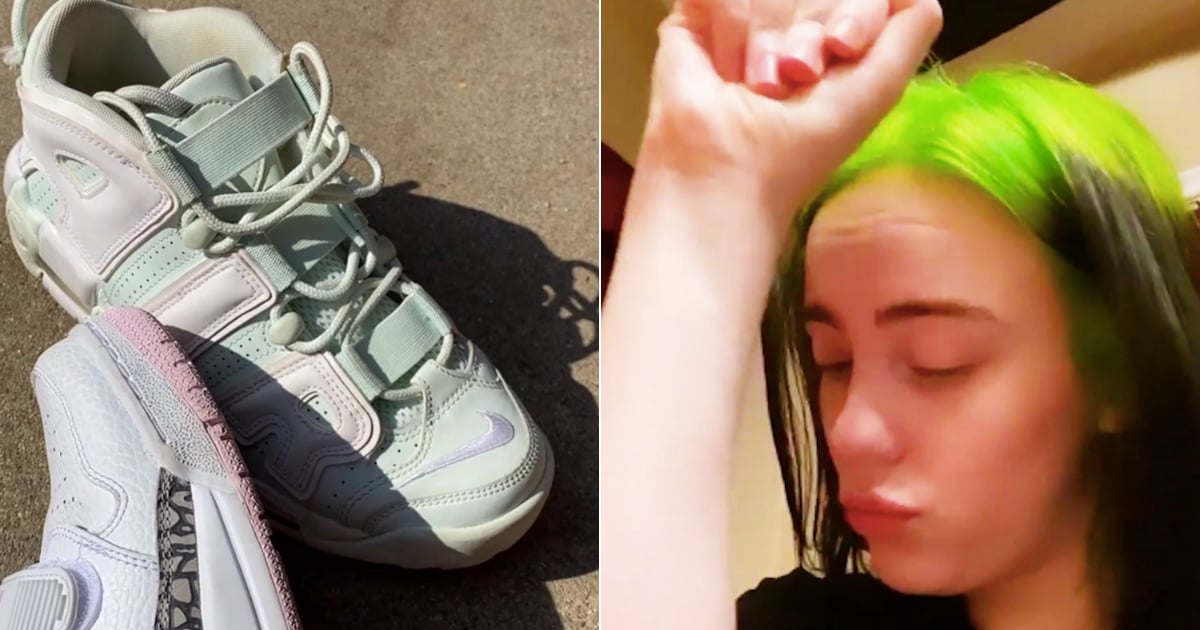 Billie Eilish has a serious issue to take up with the internet and her fellow sneakerheads: what color are the Nike Air Uptempo sneakers? Billie gave us all a sneak peek into her shoe closet (spoiler: this place is sneaker central), trying to convince everyone that the Uptempos are mint green and an off-white, though it seems some people feel the off-white shade has a pinkish tone.
"So I've come to the conclusion that you guys just don't know your sneakers at all. Because the people that agree with me — because they know what the f*ck the shoe looks like — are all people that are sneakerheads that know what the f*cking Uptempo Mid Green shoes look like," Billie said, clearly stressed over the issue, though she does acknowledge that there are bigger problems going on in the world, and we agree with her there.
Suffice it to say, as fellow fashion people, we totally feel Eilish's frustration, and girl, we've been there. We have to hand it to Billie: most descriptions of the Uptempos that she owns do not describe the outer leather as pink whatsoever. So yes, Billie, you can have this one!
Unfortunately, if you're now eyeing the trainers as we are, they're sold out in most places, but available for resale on sites like Vestiaire Collective and Poshmark. Read ahead for another glimpse at Billie's comparison shots, then pick up her shoes, which we're sure she'll wear on some virtual red carpet or for a performance soon. Clearly, they deserve the spotlight just as much as Billie does.
Shop Prada, TNF & More at 80% Discount in The Macy's Sale
Founded in 1858, Macy's has been doing its thing for more than 150 years. Over this time it has perfected the physical location — all 546 of them, as of 2015 — and the online offering is growing by the day. With a catalog spanning from Nike and adidas' classic sportswear right the way through to luxury Italian fashion from Prada Linea Rossa, you can shop for all occasions, and with the Lowest Price of the Season Sale on now, it's the perfect time.
It can be daunting to see that a sale has a four-figure item count, but Highsnobiety curators dived in anyway to see what was on offer. From Barbour to Ray-Ban, this selection is proof that a quick search can reap a ripe reward.
The details
What: Up to 80 percent discount, plus $20 off select purchases over $50
When: Until 25 October
Code: Click here to shop the sale, and enter code 'LPOS50' at checkout for $20 discount
Our designated Selects section features products that we love and want to share with you. Highsnobiety has affiliate marketing partnerships, which means we may receive a commission from your purchase.
Comme des Garcons x Nike Air Force 1 Mid Release Date F/W 2020
Japanese label Comme des Garçons and Nike have another collaboration in the works, with images from Paris Fashion Week offering a first look at a new CDG x Air Force 1 Mid.
Spotted on the runway of CDG's Fall/Winter Women's Show over the weekend, the shoe features a deconstructed white leather upper, with stitched Swoosh branding along the quarters and CDG embroidery on the ankle straps. It also appears to be highly susceptible to creasing—not much different from any Air Force 1.
There is no word on pricing or when the pair may release, but keep it locked to Sole Collector as news develops.
UPDATE (10/19): After debuting at Comme des Garcons' Fall/Winter runway show in March, the release info for the CDG x Nike Air Force 1 Mid collabs has been announced. Dover Street Market has confirmed that the two monochromatic black and white makeups are releasing on its website this Friday for $270 each.