Get To Know New York Lingerie Label Taryn Winters
For delicate, dreamy lingerie and bespoke nightwear, Taryn Winters is the brand to know.
And it all started with a trip to see a production of The Nutcracker, and the intricate, elegant costumes combined with distinct movement stuck with Taryn.
It stayed with her so much so that she took a course in Intimate Apparel at the Fashion Institute of Technology in New York. After graduating this designer built up a clientele, all wanting in on her lingerie line, and by 2017 she had a full collection on offer.
Still inspired by form, lines and movement today, Taryn's collection is made up of lingerie, bodysuits and nightwear that combine classic designs with the finest of materials. The result? A very stylish coming together of Italian tulle, Chantilly lace and embellishments in the form of hand appliquéd embroidered stars and hand-beaded detailing for that personal touch.
Felicity Carter: What was your first memory of fashion?
Taryn Winters: My first memory of fashion is actually a costume from the ballet studio I attended as a child. The tutu for the Spanish dancer in The Nutcracker was the most beautiful, intricate, red and black costume covered in embroidery, beading, tulle and lace. I just thought, "If only I could wear that". 
FC: How, when, why did you get into the industry?
TW: After graduating from FIT where I specialized in Intimate Apparel, I wanted to do something different than what the industry had to offer. So I kept my bartending job and started doing freelance design work that gave me time to take a step back and really figure out what I wanted to do. At the same time I was working in floral design and event planning, where I met my photographer and close friend, Becky Siegel. Becky has always understood and shared my aesthetic for building this brand since we met and shot on her rooftop in Queens years ago. I continued to create custom pieces for clients and stylists where I developed the connections and clientele who were looking for bespoke, special, and made-to-order lingerie. In 2017 I developed my first full collection and started showing it to anyone and everyone who would look at it. At the time, Journelle had an emerging designers class every year and my lookbook fell into the right hands. They placed an order for my Kharis bespoke line, in which each piece was personally hand beaded, allowing me to expand my brand into a mainstream store. 
FC: How would you sum up the aesthetic?
TW: Taryn Winters lingerie is foremost feminine. The fabrics are soft and sheer but the designs are structured and based on classic lingerie designs, allowing me to strike a balance between delicacy and boldness. Although I often work with French lace, which by nature is extremely feminine, I try to choose and create modern designs and palettes that defy any trend. 
FC: What is luxury to you?
TW: Luxury is something that makes you feel special. That could be from the feel of fine fabrics and the materials that compose the garment. Or from owning a limited piece that is not released to a saturated market. But even more than that, luxury is knowing where and who made what you are purchasing. Being able to connect with a person and love everything about what you are spending your money on, from process to product.
FC: Who is your customer?
TW: My customer is someone who loves to celebrate their femininity. And that starts with what's closest to their skin. They find the importance of value over quantity and look for pieces that make them feel beautiful. A lot of our styles are sheer, which can be perceived as very sexy, and that's great! But the shapes are classic and natural and my customer isn't looking for a pre-determined breast shape. The pieces are designed to be supportive and that's why they all have structure, but all the pieces are about one person and their body.
FC: What is it about lingerie that you love?
TW: I love that lingerie is something everyone has emotions about. And they don't always need to be incredible at first. But finding the right piece that makes you feel even the slightest bit different, a little more lifted, sexy, comfortable, excited, feminine, empowered, whatever it is, I love that lingerie can do that. And that it's completely personal.
 FC: Where do you find your inspiration?
TW: It varies all the time! In general my inspiration comes from dance and movement. I've learned so much from dance about creating lines and beauty that speaks volume through the use of space. More specifically once I have the shapes and outlines, I fill them with color. Some collections are bright and play with contrasting colors and textures while others are subtle and layered with softer palettes that hold just as much weight. And finally I find inspiration in fabrics and sourcing beautiful laces that can sometimes dictate the entire design process.
FC: Tell us about the process from sketch to sell…
TW: Once I've sketched the collection and decided on fabrics and trims, I start with a prototype. Existing shapes are always easier because I know they work, but any new shape requires a couple of fittings with our fit model for any adjustments needed. Once the collection is ready, I start planning the photoshoot. This is where the collection really comes to life, giving it a body and mood. From that I create a lookbook for my wholesale clients who get to see the collection first. Being small, I really have to base my production off of what my stockist wants. After production and delivery to our wholesalers, the collection is released to our website!
FC: What are the long-term goals for your company?
TW: I want to employ other designers and artists in a company that produces responsibly, with garments made in New York, and that actively supports the garment district here. I hope to continue promoting a unique approach to beautiful lingerie and the female form. My vision is to have a serious space in the lingerie marketplace.
Learn more about the brand on the Taryn Winters website.
Thanks to the rise of the normcore and '90s trends, scrunchies are having a moment again — and it doesn't seem to be dying down anytime soon. Hair experts, for their part, couldn't be more thrilled: After all, traditional hair elastics are known to be majorly damaging to our hair. If you're eager to get in on the trend, or if you're simply looking to expand your existing scrunchie collection, take your pick from any of scrunchies featured ahead. But keep in mind that the best scrunchies are made of super soft materials that won't snag your hair (like silk), and they won't contain too-tight elastics that can contribute to breakage.
Some other ways to help prevent hair breakage? Try to take breaks from wearing your hair up, and when you do pull your hair back, opt for loose styles rather than tight, high ponytails and buns. (If you're looking for inspiration, check out these ways to wear scrunchies that feel modern and fresh). Also, try to switch up the location of your ponytail as often as possible. This will help prevent one area of your hair from becoming overly damaged.
And of course, if you are going to wear your hair back, opt for a scrunchie whenever possible. With picks as cute as the ones featured on this list, you won't be tempted to go back to rubber elastics anytime soon.
We only recommend products we love and that we think you will, too. We may receive a portion of sales from products purchased from this article, which was written by our Commerce team.
Lisa Falkner poses in beautiful bedroom wearing the prettiest summer dress


Jenni McKnight

Lisa Faulkner stunned fans with her latest summer purchase – but many have been left disappointed…

Lisa Faulkner was so excited by her new summer dress, she put it on as soon as it was delivered – and it's not hard to see why.
The TV star won rave reviews from her social media followers after she posed in what appeared to be her bedroom, wearing a pretty, oversized cotton print midi tunic from London boutique Through The Trees.
MORE: You'll be obsessed with Lisa Faulkner's enchanting floral pyjamas
WATCH: Lisa Faulkner LOVES Mrs Hinch's bedsheet hack
Sharing a photo on Instagram, Lisa wrote: "Off to work in my gorgeous @throughthetrees_boutique dress! I ordered last week and it arrived just now and I HAD to wear it straight away!!!"
Needless to say, her fans filled the comment section with compliments about Lisa and the dress. One wrote: "Oh it's VERY lovely." A second added: "Gorgeous Lisa. I love that frock!" And a third penned: "Looks cute and comfy, kaftan vibes."
The summer-ready dress comes in one size, to fit 10 – 16, and has a price tag of £45. But when fans enquired about how to purchase the frock, they were left disappointed to discover it has sold out.
Fans adored Lisa Faulkner's gorgeous summer dress
MORE: Inside John Torode and Lisa Faulkner's enviable home
Thankfully, according to the East Dulwich store's owner, there will be a "new delivery soon" but you can reserve a dress now by contacting them on their Instagram page.
Since Lisa put her photo up, the brand has been inundated with queries about purchasing the dress, so if you want to get your hands on one, we suggest you act fast!
According to the brand's Facebook page, Through The Trees is "an exclusive and independent women's clothing boutique, for the cool and the fashion-conscious".
Like this story? Sign up to our newsletter to get other stories like this delivered straight to your inbox.
UFC inks apparel deal with Venum that will begin in 2021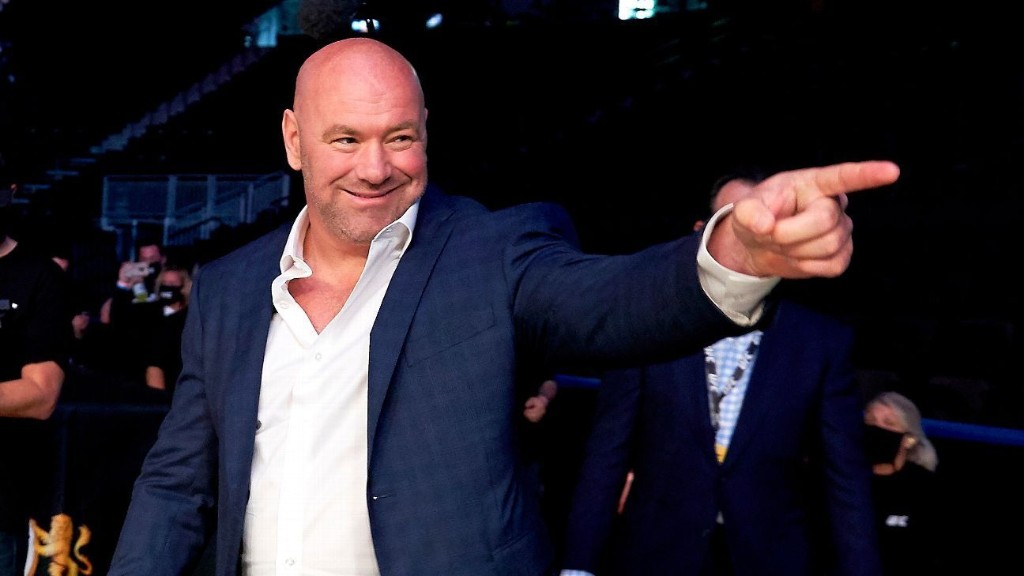 The UFC's oft-criticized apparel deal with Reebok is coming to a close next year.
Venum will take over as the UFC's apparel partner beginning in April 2021, the promotion announced Friday. The UFC's apparel deal with Reebok runs through March 2021, but the company will stay on as the UFC's official footwear brand through the end of next year, according to a release.
Unlike Reebok, Venum is a company that has focused mainly on combat sports and martial arts since it was founded in France in 2006. Before the relationship between the UFC and Reebok, many fighters had Venum as a sponsor.
"Everything in life is about timing, and this Venum deal couldn't come at a more perfect time," UFC president Dana White told reporters Friday after UFC 251 weigh-ins in Abu Dhabi. "This weird place we're in right now, in the entire world, with sports and business and everything going on, these guys were the right people at the right time. It's so weird how this stuff works out. You see some of the monsters, without saying names, who are trying to pull back deals with sports leagues, this is what Venum does. This is the business Venum is in. I just think the timing on this thing couldn't have been any better, they're a great company, they've invested in this, and I love it."
Sources told ESPN that the Venum contract is shorter and not as lucrative as the previous one with Reebok. The majority of the money from the deal will go to the fighters, sources said. Per the release, fighters will see an "across the board" increase in pay compared to the Reebok deal, beginning in April 2021.
The UFC signed a six-year, $70 million deal with Reebok in 2014. The money in the contract was not all cash — it included the value of the products Reebok provided.
The UFC partnering with Reebok six years ago was a significant change in aesthetics and finances for fighters, who previously were able to wear their own gear with their own sponsors in the Octagon. Under Reebok, fighters had a uniform, were not allowed their own in-cage sponsors and were paid through a tiered system (based on tenure) by the UFC via money from the Reebok contract.
Reebok represented a major name brand affiliated with the UFC, which at the time was striving for mainstream acceptance. But it was a rocky relationship. The initial rollout featured extremely generic looking fight gear, rife with the misspellings of athletes' names. Fighters and managers were critical of the amount of money athletes stood to lose without sponsor patches on fight gear. On top of that, there was concern that every fighter wearing the same uniform would strip the sport, which has its fair share of over-the-top characters, of its individuality.
The dynamic between the UFC and Reebok did improve over time. The UFC desired a cleaner look and presentation on television and pay-per-view and in that aspect Reebok was viewed as a success. The guaranteed, consistent money that came from Reebok became more welcome to some fighters — especially the ones not at the top of the card — compared to having to scratch and claw for sponsors every fight.
"Listen, I know there was a lot of negativity surrounding the uniform thing, but it's been nothing but positive," White said Friday. "These guys have all made money, they'll continue to make money. It's a good thing for everybody."
Venum will provide MMA and performance apparel designed specifically for UFC fighters, which will include "second-skin-feel" fight shorts with "thermo-bonded" and "extra-flat" elastic waistbands and a side slit, for which Venum is known.
"Joining UFC as their official outfitting and apparel partner means a great deal to the Venum team," Franck Dupuis, Venum's Founder and CEO, said in a statement. "Venum is a brand that has grown alongside the sport of MMA as it has exploded in popularity around the world. We are both proud and grateful, as this agreement signifies the success of our journey over the past fifteen years. At Venum, we are ecstatic to write the next chapter in our history."