Iris van Herpen Imagines a Fashion Future in Which Clothes Are Only Made on Demand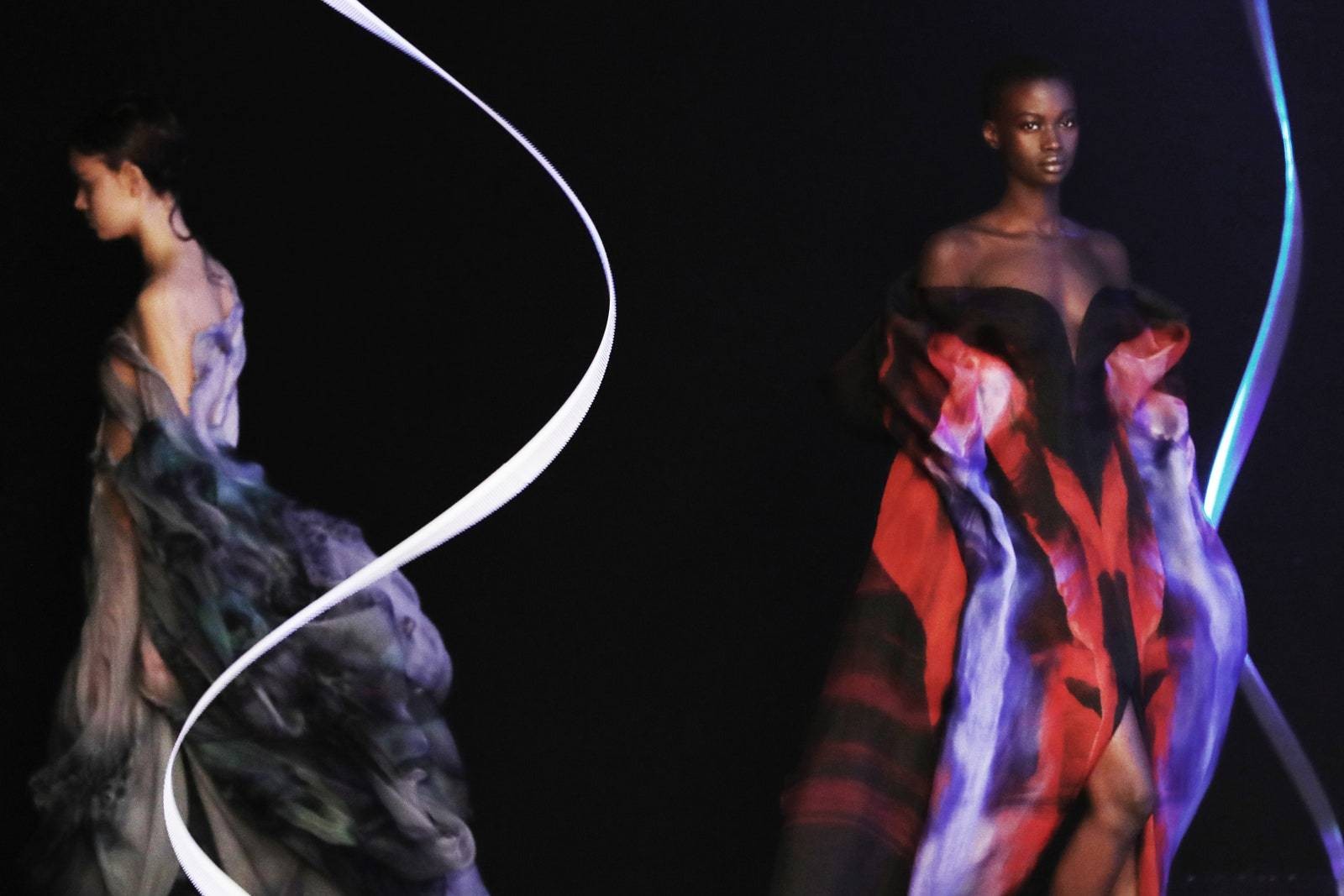 So why would we keep holding on to a system that is purely focused on pre-production? That is the big chunk of waste that is being created every season. I don't know the facts, because I haven't checked them myself, but they say more than half of all the garments that are being produced are being thrown away even before going into someone's closet. That is insane when we think about that—and that is happening every single season again.
We are a slow fashion company and we are pretty lucky with customers who give us the time to develop and put effort into innovation and the sustainability of the materials. Making a special product just really takes time. The fastness of communication, like online social media platforms, is really challenging for brands to keep up with [in terms of] production. I think couture is a very beautiful example of almost the opposite of the speed of the world that we're in today; it's like art. I've always seen fashion as art, and couture as the ultimate example of where art and fashion meet. The couture system is really pure and simple; that's what attracts me to it. We only create on demand, so every piece that we make in the atelier is ordered and there is no overproduction. I think that is ultimately the system that also can happen for ready-to-wear when we embrace innovation and technology.
My hope is that we're becoming a world that embraces both live and virtual show formats. I don't think we should stop with all fashion shows at once; they are creating a really magic moment for the few lucky ones that can be at that show. When I think of my own design parameters the thing that is most important to me is actually the movement itself, the interaction between the body, the texture, and materiality. When you are seeing that garment in full movement, on a life-size scale, I think that's a completely essential experience. Most of the detailing, and even most of the dimensionality, cannot be seen on a mobile device so the work loses so much of the emotion and the integrity that goes into it.
But a medium like VR [virtual reality] really does have advantages, because a lot more people [than can attend a runway show] are able to embrace or see the work up-close in an extreme amount of detail, but also within three-dimensionality and within a world that I created from scratch. As an artist, I think that's a really beautiful blank canvas, and it's even a much freer canvas than with a fashion show because there are so many rules within a fashion show. Also my work is very collaborative—I work with artists and scientists and architects—and a lot of it is not really possible to bring into that box of a fashion show, so VR really has a lot of possibilities and can create a lot of freedom within creativity. That said, there is a magic to people coming together and celebrating the work of a live person in a live setting, and I don't think VR will be able to replace that. It's very important that there are still shows, but again you have to see them as very special moments, like an exhibition that you're going to and not something that you consume on a daily basis.
For me, the ultimate goal within technology is to use it to collaborate with nature. The current systems within a lot of industries—not only fashion—are built in a way that we abuse the resources of our planet. There are much smarter ways to work and to create. Ultimately all the innovations that we are looking at and we should be embracing are technologies that can actually bring us closer to nature and to make us collaborate with our planet.
This interview has been edited and condensed for clarity.
Amazon's 'Big Style Sale' Aims to Boost Retailers Impacted by COVID-19
(Photo by Kevork Djansezian/Getty Images)
Amazon Prime Day may be postponed this year, but Amazon is still planning to hold a summer sale this month for those retailers hit by the COVID-19 pandemic.
According to a memo sent to sellers, and viewed by CNBC, Amazon will host a "Fashion Summer Sale Event" starting June 22. Expected to run for seven to 10 days, the digital spree aims to "drive excitement and jump-start sales," the document said.
Less than three weeks ahead of the affair, details are still being finalized. Amazon is working on landing pages and has reportedly asked sellers to submit deals with a discount of at least 30 percent, CNBC said. It's unclear whether items will be reduced for all shoppers or only Prime members.
"The 'Big Style Sale' is slated to take place later this month and will include seasonally relevant deals from both established and smaller fashion brands," an Amazon spokesperson told PCMag in an emailed statement. "We are delighted to help brands connect with our vast global customer base for this event."
The novel coronavirus is wreaking havoc across the world, bringing chaos and disorder to the health, education, and business sectors. Everyone from local Mom-and-Pop stores to global conglomerates have felt the effects of this pandemic. Amazon's annual Prime Day shopping event, normally held in July, appears to be postponed until later this year, according to Reuters.
The e-commerce giant, flooded with online orders, has been prioritizing those for essential goods like groceries, cleaning items, and medical supplies. Shipping times for purchases have slipped to five days or longer, even for Prime subscribers. Despite trying to hire an additional 100,000 workers, some warehouses have reported cases of employees contracting coronavirus. The risk of infection, along with staff protests, has prompted Amazon to distribute face masks and conduct temperature checks.
All of which suggests that holding Prime Day during a crisis would be a logistical nightmare for the already overstretched company. (Last year's event sold a record-breaking 175 million items to members worldwide.) How Amazon will handle a summer sale instead remains to be seen.
Further Reading
Shopping Reviews
Four simple games that will keep your unruly kids entertained for at least 20 minutes
It's been a long time since lockdown started. For some of us that's meant weeks of mindless TV-watching and worrying about the future. For anyone with kids, it's been hectic, busy, chaos, juggling jobs with being a parent and teacher 24/7. Don't fear if you've run out of ideas for fun things to do. We got Mike Rampton, author of new kids' games book 'Open in Case of Emergency' (Pop Press, £9.99), to reveal four you can play with minimal effort, minimal mess and minimal outside. 
1. Beasts in the tundra
A bit of preparation the night before and everyone becomes an archaeologist.
Age Four and up
Players Two and up (dependent on freezer space).
What you need One plastic box and one toy per player or team, a freezer.
How to play Freeze the toys in water in the plastic boxes the night before. Action figures or dinosaurs are ideal, and you can consider adding food colouring to the water to make it that bit wackier. Players then have to release their creatures from their frozen slumbers – just like Captain America – before their opponents do. Breathing heavily on to the ice, rubbing it or wrapping it up might all work, or (with adult supervision) heat and gravity can work wonders…
2. Blow football
A huffing, puffing, indoor version of the world's most popular sport.
Age Five and up.
Players Two.
What you need Two straws, a ping-pong ball and something for goals: margarine tubs, books, whatever works.
How to play Mark out a pitch (or use something that already has two ends, like a rug or a table) using tape if needed. Work out where the centre line is, and go for it [blowing the ball through the straws], trying to score goals against your opponent. If anyone touches the ball with their hands, the other player gets a penalty from the centre line. The first to five goals wins.
Or blow skiing
Make a slalom course around a table using whatever is to hand – clumps of Blu-Tack with toothpicks sticking up out of them and a little paper flag make very nice ski gates, for instance. Take it in turns to do time trials [blowing the ball] around the course, with a ten-second penalty for every flag hit and a 30-second penalty if the ball falls off the table.
3. The great sock hunt
A scavenger hunt that makes up in ease for what it lacks in glamour.
Age Five and up.
Players Two and up.
What you need As many different pairs of socks as you wish.
How to play Hide one sock from every pair around the house, then present players with a pile of odd socks. Within a time limit (which depends on how big the house is, how many socks you've hidden, how good at hiding socks you are, and how good at finding socks they are – start with five minutes and experiment), and never carrying more than one sock at a time, can they reunite all the pairs?
Or super secret sock search
Hide the odd socks apart from one, which, instead of being hidden somewhere around the house, goes in your pocket. Players take it in turns to spend one minute each searching for socks, with each one they find eliminating one option as to what your pocketed 'secret sock' could be. The player who correctly describes that sock wins.
4. Five pence hockey
Air hockey tables cost a fortune. This alternative costs less than anything.
Age Seven and up.
Players Two.
What you need A table, tape, two 2p coins, one 1p coin.
How to play Don't play on a table that is likely to get scratched – that'll make the game a lot more expensive. Use the tape to mark out equally sized goals. Then stand one at either end and play hockey: slide your 2p around with your middle finger, using the penny as a puck. First to ten goals wins.
In homeschooling hell? An expert reveals how to make things as good as they can be.
What to stream if you're in lockdown with kids.
Share the story
Amazon announces its 10-day summer fashion sale Video