Len Lye artists in residence to work from home
In a nod to the times, the three artists chosen to be the Govett-Brewster / Len Lye Centre's 2020 Artists In Residence programme – will work from home.
Sorawit Songsataya, Meg Porteous and Yona Lee have been chosen from 160 applicants and will take up four-week residencies from their own studios or homes for the 'In Residence' project, which is supported by Creative New Zealand.
Artists were asked to apply for the programme during the Covid-19 lockdown when the New Plymouth District Council-run gallery decided to allow applicants to undertake the residencies in their own homes.
The artist residencies will be followed by the presentation of their work across a range of platforms later in the year.
Sorawit Songsataya's video-installation practice explores the many tangents that connect and redefine our understandings of subjectivity and ecology. Critical reviews and essays on the artist's work have been published in Matter Journal, Art News New Zealand, Art and Australia, Art New Zealand and Artnews America.
Winner of the Molly Morpeth Canaday Award 3D (2020) and National Contemporary Art Award (2016), Songsataya has held artist residencies with Enjoy Contemporary Art Space, Wellington; McCahon House, Auckland; and the International Artists Studio Program, Stockholm.
Recent exhibitions include: The Interior, Auckland Art Gallery (2019); Offspring of Rain, Enjoy Contemporary Art Space (2019); Jupiter, Te Uru Waitakere Contemporary Gallery (2019); Soon Enough: Art in Action, Tensta Konsthall (2018).
Songsataya is based in Pōneke, Wellington.
Meg Porteous is a Tāmaki Makaurau Auckland-based artist working primarily in photography and film, employing a mix of analogue and digital processes.
Her practice considers common tropes in photography's history – in particular documentary, surveillance and self-portraiture – focusing on the tension between truth and fiction that exists in the medium.
Porteous holds a BFA (Photography) from Ilam School of Fine Arts, University of Canterbury and a MFA from Elam School of Fine Arts, The University of Auckland. Her recent exhibitions include Uncomfortable Silence, Christchurch Art Gallery Te Puna o Waiwhetū (2020); Tears in rain, Hopkinson Mossman (2019); ʎʇǝıɔos, Mercy Pictures (2019); Tilt, Hopkinson Mossman (2018).
Yona Lee's practice includes sculptural objects and installations that combine elaborate linear structures of stainless steel tubing with everyday objects of urban and domestic spaces. The work leaves itself open to various interpretations: structure or system, authoritarian or utopian, utilitarian or pointless.
Currently the subject of a solo exhibition at the Dunedin Public Art Gallery, Lee has also held solo exhibitions at Art Gallery of New South Wales, Sydney and City Gallery, Wellington. Her work has been included in large-scale thematic exhibitions like the 15th Lyon Contemporary Art Biennale, France; and Changwon Sculpture Biennale, South Korea.
Lee lives and works in Tāmaki Makaurau, Auckland.
Follow the Govett-Brewster on Instagram, [govettbrewster.com/inresidence check the website] to keep up-to-date as it presents the 'In Residence' artworks.
Lisa Falkner poses in beautiful bedroom wearing the prettiest summer dress


Jenni McKnight

Lisa Faulkner stunned fans with her latest summer purchase – but many have been left disappointed…

Lisa Faulkner was so excited by her new summer dress, she put it on as soon as it was delivered – and it's not hard to see why.
The TV star won rave reviews from her social media followers after she posed in what appeared to be her bedroom, wearing a pretty, oversized cotton print midi tunic from London boutique Through The Trees.
MORE: You'll be obsessed with Lisa Faulkner's enchanting floral pyjamas
WATCH: Lisa Faulkner LOVES Mrs Hinch's bedsheet hack
Sharing a photo on Instagram, Lisa wrote: "Off to work in my gorgeous @throughthetrees_boutique dress! I ordered last week and it arrived just now and I HAD to wear it straight away!!!"
Needless to say, her fans filled the comment section with compliments about Lisa and the dress. One wrote: "Oh it's VERY lovely." A second added: "Gorgeous Lisa. I love that frock!" And a third penned: "Looks cute and comfy, kaftan vibes."
The summer-ready dress comes in one size, to fit 10 – 16, and has a price tag of £45. But when fans enquired about how to purchase the frock, they were left disappointed to discover it has sold out.
Fans adored Lisa Faulkner's gorgeous summer dress
MORE: Inside John Torode and Lisa Faulkner's enviable home
Thankfully, according to the East Dulwich store's owner, there will be a "new delivery soon" but you can reserve a dress now by contacting them on their Instagram page.
Since Lisa put her photo up, the brand has been inundated with queries about purchasing the dress, so if you want to get your hands on one, we suggest you act fast!
According to the brand's Facebook page, Through The Trees is "an exclusive and independent women's clothing boutique, for the cool and the fashion-conscious".
Like this story? Sign up to our newsletter to get other stories like this delivered straight to your inbox.
UFC inks apparel deal with Venum that will begin in 2021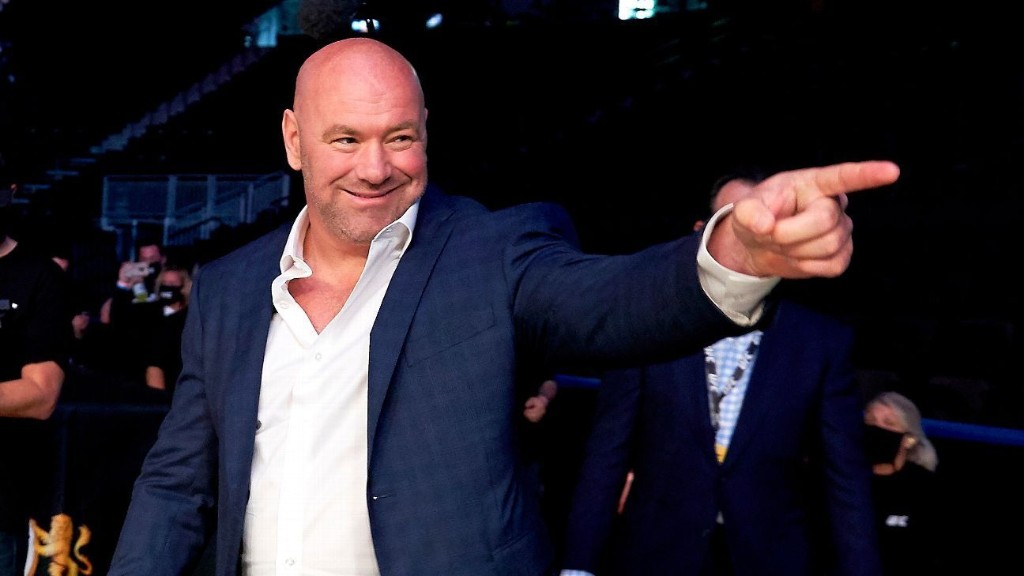 The UFC's oft-criticized apparel deal with Reebok is coming to a close next year.
Venum will take over as the UFC's apparel partner beginning in April 2021, the promotion announced Friday. The UFC's apparel deal with Reebok runs through March 2021, but the company will stay on as the UFC's official footwear brand through the end of next year, according to a release.
Unlike Reebok, Venum is a company that has focused mainly on combat sports and martial arts since it was founded in France in 2006. Before the relationship between the UFC and Reebok, many fighters had Venum as a sponsor.
"Everything in life is about timing, and this Venum deal couldn't come at a more perfect time," UFC president Dana White told reporters Friday after UFC 251 weigh-ins in Abu Dhabi. "This weird place we're in right now, in the entire world, with sports and business and everything going on, these guys were the right people at the right time. It's so weird how this stuff works out. You see some of the monsters, without saying names, who are trying to pull back deals with sports leagues, this is what Venum does. This is the business Venum is in. I just think the timing on this thing couldn't have been any better, they're a great company, they've invested in this, and I love it."
Sources told ESPN that the Venum contract is shorter and not as lucrative as the previous one with Reebok. The majority of the money from the deal will go to the fighters, sources said. Per the release, fighters will see an "across the board" increase in pay compared to the Reebok deal, beginning in April 2021.
The UFC signed a six-year, $70 million deal with Reebok in 2014. The money in the contract was not all cash — it included the value of the products Reebok provided.
The UFC partnering with Reebok six years ago was a significant change in aesthetics and finances for fighters, who previously were able to wear their own gear with their own sponsors in the Octagon. Under Reebok, fighters had a uniform, were not allowed their own in-cage sponsors and were paid through a tiered system (based on tenure) by the UFC via money from the Reebok contract.
Reebok represented a major name brand affiliated with the UFC, which at the time was striving for mainstream acceptance. But it was a rocky relationship. The initial rollout featured extremely generic looking fight gear, rife with the misspellings of athletes' names. Fighters and managers were critical of the amount of money athletes stood to lose without sponsor patches on fight gear. On top of that, there was concern that every fighter wearing the same uniform would strip the sport, which has its fair share of over-the-top characters, of its individuality.
The dynamic between the UFC and Reebok did improve over time. The UFC desired a cleaner look and presentation on television and pay-per-view and in that aspect Reebok was viewed as a success. The guaranteed, consistent money that came from Reebok became more welcome to some fighters — especially the ones not at the top of the card — compared to having to scratch and claw for sponsors every fight.
"Listen, I know there was a lot of negativity surrounding the uniform thing, but it's been nothing but positive," White said Friday. "These guys have all made money, they'll continue to make money. It's a good thing for everybody."
Venum will provide MMA and performance apparel designed specifically for UFC fighters, which will include "second-skin-feel" fight shorts with "thermo-bonded" and "extra-flat" elastic waistbands and a side slit, for which Venum is known.
"Joining UFC as their official outfitting and apparel partner means a great deal to the Venum team," Franck Dupuis, Venum's Founder and CEO, said in a statement. "Venum is a brand that has grown alongside the sport of MMA as it has exploded in popularity around the world. We are both proud and grateful, as this agreement signifies the success of our journey over the past fifteen years. At Venum, we are ecstatic to write the next chapter in our history."
Fashion Brands Making Cloth Masks You Can Buy Now
This spring, international design houses incited headlines for flipping their ateliers into manufacturing hubs for medical masks and gowns. From Ralph Lauren to Louis Vuitton, these efforts inspired additional corporations to follow suit and combat the burden that COVID-19 inflicts worldwide. While members of the fashion industry have made significant contributions to relief efforts, this area of commerce has faced a sharp decrease in consumer spending, placing strain on those working in production, retail, and beyond. Yet, in spite of current strains on these businesses, emerging brands are pooling their resources to support at-risk populations in whatever ways they can. La Ligne, for example, will be providing 15 percent of its sales to ROAR NY, along with a mask with each purchase.
In a time when the principle of community bears crucial to protecting those who need it most, we highlight some of the fashion brands volunteering their teams to provide relief to vulnerable populations and medical responders. Purchasing from these names we have grown to love will not only finance the production of critical supplies, but also supports the longevity of their businesses through this uncertain time.
1
Gingham Mask
Silvia Tcherassi
silviatcherassi.com
$40.00
Concurrent with a wave of designers who have chosen to repurpose their archival fabrics for new creations, Silvia Tcherassi's team brings back a familiar gingham print that criss-crossed her spring/summer '20 collection. 100 percent of proceeds will go to Every Mother Counts. The charity, founded by Christy Turlington, advocates for safe, dependable maternity care for expectant mothers in underserved populations around the world. 
Advertisement – Continue Reading Below
2
Stenciled Mask
Busy Bees
maisonette.com
$16.00
The children's clothing dream for tasteful staples, fit for balmy summers in Martha's Vineyard, produced a line of garden printed masks. The stenciled pastel face coverings come in a range of sizes, tailored to both adults and children.
Advertisement – Continue Reading Below
3
Blue Floral Mask
Keen to Be Seen
instagram.com
$15.00
With her newly launched brand, Keen to Be Seen, designer and stylist Ellyn Steiner Greenspan has curated a thoughtful collection of homemade masks in soft fabrics, ranging in prairie floral prints to eyelet embroidery. The handmade pieces are available to purchase on the brand's Instagram account, via DM @keen_tobeseen. 
4
Polka Dot Mask
Araks' 100-percent cotton masks feature adjustable ties, in a range of timeless prints and hues, as shown with this unassuming polka dot option. The loungewear and negligee go-to will donate 20 percent of proceeds to GetUsPPE, a grassroots initiative working to expedite the production and distribution of medical-grade equipment for health workers. 
Advertisement – Continue Reading Below
5
Wisteria Face Mask
The Vampire's Wife
thevampireswife.com
£29.17
Loomed in 100-percent silk fabric and trimmed with ruffles, the Vampire's Wife applies the fun in dressing up to protective facewear. In an absence of formal occasions to attend, the frilly design may bring a temporary salve to those reminiscing on the novelty in getting ready for a night out. 
6
Pink Tie Dye Mask
Cotton Citizen
revolve.com
$28.00
As temps heat up, a bright pink tie dye fabric can bring a welcome burst of color to your mask rotation. 
Advertisement – Continue Reading Below
7
Watercolor Mask
GRLFRND
revolve.com
$17.00
Airbrushed in cold pastels, this jersey mask by LA denim label GRLFRND arrives just in time to coincide with lighthearted prints and colorways that flourish throughout the summer season. 
8
Graphic Mask
LACMA x Open Editions
thelacmastore.org
$28.00
Open Editions, an incubator for everyday objects and devices produced in collaboration with contemporary artists, has partnered with the largest museum in the western United States, LACMA, to produce a line of personal protective equipment, stenciled with designs handpicked from its vast roster of in-house talents. The institute's Costume and Textiles department zeroed in on six designs from textile designer Elza Sunderland's kitschy portfolio of California-inspired motifs that altered convention as they spilled into sectors of interior design and fashion, from the late 1930s through '50s.
Advertisement – Continue Reading Below
9
Solid Mask
Guess
shop.guess.com
$7.00
Guess has created a line of cotton jersey masks in both adult and children's sizes, in subdued colorways that can be thrown on effortlessly with simple ensembles before walking out the door. For every mask sold, Guess will donate $4 to Homeboy Industries, a nonprofit organization that seeks to dispel gang activity, rehabilitate gang members and help them re-enter society on a new trajectory for a healthy future.    
10
Rainbow Tie Dye Mask
RE/DONE
shopredone.com
$20.00
An innovator in the circular economy, Re/Done has taken its green ingenuity to the realm of personal protective equipment. Constructed in the recycled cotton material used for the brand's upcycled T-shirts, employees hand dyed each mask from home, yielding truly unique results. For every mask bought, five will be donated to front line workers. 
Advertisement – Continue Reading Below
11
Garden Mask
Lafayette 148
lafayette148ny.com
$38.00
Lafayette 148 has assembled masks using elevated fabrics, like silk linen, in signature prints. The label will donate $10 of each mask sale to City Harvest, which has been supplying food to both medical workers and families struggling to cover food costs, in New York. 
12
Brocade Mask
Sustainable womenswear brand VPL cut masks from vintage Japanese obi belts, traditionally worn over kimonos. Masks wielded from the Maru obi sashes feature especially intricate brocade illustrations, as the style is reserved for formal occasions, such as weddings, over a bridal kimono. In addition to the fine detailing and craftsmanship exhibited on each one-of-a-kind mask, the face covering features a built in slot for removable filters. Proceeds from VPL's mask sales will fund the Fashion Girls For Humanity initiative. For every four masks purchased, one isolation medical gown will be donated to a healthcare professional in need. 
Advertisement – Continue Reading Below
13
Daisy Mask
Tabacaru Swim
tabacaruswim.com
$25.00
Recognizable for its figure-contouring 1960s silhouettes, Tabacaru Swim brought a print inspired by the decade to its new line of PPE. Fashioned from an Andy Warhol inspired daisy print that decorated high-waist bikini sets and low-back one pieces, the art deco, water-resistant masks arrive just in time for summer. Twenty percent of proceeds from each purchase will fund the Los Angeles Food Bank. 
14
Regency Stripes
Morgan Lane
morgan-lane.com
$28.00
The silk-pajama haven has imbued its latest collection of masks with buttery luxury, comparable to that of its coveted sleepwear sets. The pink-and-white regency striped material is lined with cotton and features a malleable metal bridge for a more stable fit.  Sales will benefit Project Hope, a global initiative set forth to instill communities around the world with strengthened healthcare systems and educate medical personnel on safer, stronger methods of care, so that they may more effectively serve their patients. In the midst of the pandemic, the nonprofit is sending critical equipment to hospitals in need. 
Advertisement – Continue Reading Below
15
Modern Bohemian
Rhode
shoprhode.com
$20.00
Known for wispy cotton frocks bestrewn with bold motifs, the resort wear hub has spun a fresh collection of masks using textiles from its archive. Assembled in Los Angeles by the brand's in-house patternmaker, each 100-percent cotton face mask acts as a lightweight safeguard during the summer months.
16
Apex for Youth Masks
3.1 Phillip Lim
31philliplim.com
$65.00
Phillip Lim and his team have galvanized their efforts to support Apex for Youth, an organization that offers mentorship and resources to underserved, low-income Asian and immigrant youth in NYC. Sold in bundles of five or 10, with children and adult sizing options, the masks are equipped with antibacterial Fuze Pathogen Control technology. While not to be used as substitute for medical approved masks, the bacteria-fighting properties strengthen with washing, as dirt particles are removed. The NYC fashion house donated the first 1,000 masks directly to the nonprofit, and 100 percent of all proceeds from purchases will go to the organization. 
Advertisement – Continue Reading Below
17
Quilted Mask
Michel Men
michelmen.com
$40.00
Whitney Michel's NYC based menswear line fosters an array of sumptuous accessories, from neckwear to bandanas. In light of the unwavering demand for face masks, the designer has bred refined styles, handmade in cotton and silk. Purchasable in single orders or in sets of  three or four, 10 percent of proceeds from each mask sale will go to The Dream Defenders.
18
Coral Face Mask
The womenswear label has has repurposed past-season Swiss cotton voile for masks that will support the Children's Defense Fund. Akris will donate 50 percent of mask sales to the philanthropic organization, which seeks to provide children with financial stability and educational, health and safety resources, amid the health crisis. The facial coverings come in two styles, one that offers broad coverage with adjustable fabric and another in a compact cut that fits more firmly to the face.
Advertisement – Continue Reading Below
19
The Artisanal Face Mask
Collina Strada
collinastrada.com
$100.00
Model Sasha Melnychuk engineered a special-edition mask featuring bows and pocket filters, on behalf of the New York label. Each mask sold will subsidize five more that will be donated to people in need.  The protective accessory echos the brand's quirky sense of flair, adding an extra hint of joy amid the dire state of current events. Sales from Strada's collection pieces will go toward the donation of one mask per order.
20
The Perennial Mask
Erdem has repurposed dreamy textiles from his Pre-Fall 2020 collection into masks, enhanced with built-in pockets and removable filters. The British fashion house will donate 100 percent of net profits from this item to the National Emergencies Trust Coronavirus Appeal. 
Advertisement – Continue Reading Below
21
The Cloud Mask
Phlemuns
phlemuns.com
$29.00
James Flemons has helmed a line of graphic masks featuring grommet details, which match the out-of-the box patterns threaded throughout his unisex line. The brand will donate to Masks for the People, with every order.
22
Wrap it Up
UpWrap
upwrap.co.uk
£8.00
The brand that offers sustainable alternatives to gift wrap, helmed by Art Partner's managing director Amber Testino, has galvanized volunteers within creative fields to bring personal protective equipment to those in need. Proceeds will fund the production of additional face masks for those in at-risk communities. 
Advertisement – Continue Reading Below
23
The Army-Green Mask
Romeo Hunte
romeohunte.com
$65.00
The NYC designer has engineered a durable line of paneled masks, in wearable neutral tones, denim hues and more, featuring streamlined piping details. 
24
For Handcrafted Prints
Revive your mask collection with Ulla Johnson's intricate prints sourced from her Spring/Summer 2020 line. One-hundred percent of proceeds from each mask will go to City Harvest and The Bowery Mission.  
Advertisement – Continue Reading Below
25
For a Snug Fit
Ranging in scattered florals to patchwork accents, Margaretta Hershey's poppy hued pieces for Kirna Zabete feature a wire sewn within, for a customizable fit that contours to the bridge of the nose.
26
The Striped Face Mask
Nili Lotan
nililotan.com
$10.00
The failsafe destination for pristine basics, suiting, and elevated loungewear recently released a collection of tie-fastening masks. Easily adjustable to fit diverse face shapes, the cotton barriers come in understated striped patterns, in cranberry, navy, and black. One hundred percent of revenues from these shielding accessories will go to NYU Langone Medical Center. 
Advertisement – Continue Reading Below
27
The Embellished Masks
Lele Sadoughi
lelesadoughi.com
$40.00
For all those craving more appliqués and embellishments in their lives, Lele Sadoughi has fashioned a line of masks featuring gold hearts and stars, pearl beading, and floral embroidery. Available for pre-order in both children's and adult sizes, the designer also unveiled scrunchies to match the cotton coverings. 
28
The Liberty Print Mask
Batsheva
batsheva.com
$35.00
Batsheva Hay has created a demure line of cotton masks in an assortment of Victorian floral prints. Twenty-five percent of proceeds from each mask sold will support NY Food Bank. 
Advertisement – Continue Reading Below
29
The Pima Mask
Goldie
goldietees.com
$15.00
A go-to for pillow-soft, eco-conscious T-shirts sourced from Peru, Goldie has assembled a double-layered mask in its signature pima cotton. Available in single orders for $15 or packs of four for $50, the flexible coverings come in an assortment of colorways, from floral stencils to animal prints. 
30
Bright Stripes Ahead
Giovanna
thisisgiovanna.com
$30.00
A summery destination for raffia sandals and sculptural jewelry, Giovanna has engineered a collection of masks featuring wrap-around straps, in an array of patterns. Proceeds from each purchase will contribute to the cost of one N-95 mask through RETI's Rapid Resilience program. 
Advertisement – Continue Reading Below
31
The Six-Pack
Nordstrom
nordstromrack.com
$24.00
An ideal option for families during the social distancing era, the retailer has released 100-percent cotton masks in packs of six.  For every batch sold, Nordstrom will donate one mask to a family in need.  
32
The Logo Mask
Off-White
off—white.com
$200.00
A sleek streetwear rendition of personal protective equipment
Advertisement – Continue Reading Below
33
The Blank Canvas Face Mask
Jonathan Simkhai
jonathansimkhai.com
$48.00
Adjusting his supply chain infrastructure to help meet the surmounting demands of cotton masks in the LA area, Jonathan Simkhai is paying it forward. The crisp cloth shields, available online, come in beige, olive, nude, brown, and in a multicolor set of four. For each unit bought, the studio will donate one mask to an essential worker. 
34
The Floral Face Mask
LoveShackFancy
loveshackfancy.com
$20.00
The matriarch behind the floral wonderland of ruffled frocks and knits set up shop in Palm Beach to stitch together botanical face coverings to donate to first responders. A crew of local seamstresses pieced them together using leftover fabrics from the production of the brand's romantic dresses, blouses and skirts. The initial batch of masks constructed were shipped to hospital workers in New York and New Jersey, and an additional releases of the posy-dusted are available to shop now. For every mask bought, one will be donated.
Advertisement – Continue Reading Below
35
The Everyday Face Mask
Reformation
thereformation.com
$25.00
Partnering with LA Projects, the sustainable chain restructured its facilities to spearhead the nonprofit's objective of producing five million non-medical grade masks for the city's most at-risk populations, from essential workers to non-medical hospital staff. In addition to this unified effort, the warehouse seeks to serve as many groups on the golden coast as possible, including homeless shelters. Customers can help galvanize the company's mission by adding a donation bundle of five masks to their carts. In addition to these philanthropic initiatives, the label has dedicated a page on its site for corporations and individuals to use as an informational resource, covering several bases—from guides on manufacturing masks to outlining donation protocols.
36
The Bohemian Face Mask
Christy Dawn
christydawn.com
$30.00
The eco-conscious brand has helmed a dainty collection of masks that will be sold in clusters of five. The ethical manufacturer will match each batch sold by donating  an additional five to people in need. Fashioned from scrap materials in a variety of muted colorways, the range of cotton and linen accessories offer protective aid that is altogether environmentally friendly and versatile. 
Advertisement – Continue Reading Below
37
The Full Coverage Face Mask
Citizens of Humanity
citizensofhumanity.com
$25.00
As the coronavirus gained traction in the United States, the LA denim giant turned over its workshop to produce masks for medical professionals and children's advocacy groups. While the seamstresses continue to expedite the production of the personal protective equipment for donation purposes, batches of the 100-percent cotton gear are now available to shop in packs of five online.
38
Etched Blue Face Mask
The New York-based label has adapted its environmentally sound practices to the production of masks, in response to the global crisis. The sustainable, washable pieces now come in kids' sizes, as well, to ensure all customers are covered. For every face mask purchased, KES will donate one to a healthcare worker.
Advertisement – Continue Reading Below
39
The Denim Face Mask
Mother Denim
motherdenim.com
$180.60
The go-to denim house is taking its specialty to masks. It is creating denim face masks benefitting No Kid Hungry between April 10th-30th. For every mask set sold, Mother Denim will donate $10 to the charity to help ensure children get the food they need during school closures. 
40
The Preppy Face Mask
Lindsey Berns
Lindsey Berns
$6.00
The Chicago-based designer behind handmade quilted jackets and childrenswear has leveraged her knack for crafting delicate floral confections into mask making. Berns tailored the printed pastel protectivewear to fit both children and adults, at a price of $6 for two. Though they sold out within one hour of going live on her site, the designer recently assured followers that more of the hand crafted protective gear is in the works.
Advertisement – Continue Reading Below
41
Dusty Rose Face Mask
The zero-waste destination's diverse community of designers have wielded their talents to create a line of 100-percent cotton masks with built-in carbon filters. From solid pigments to simple gingham prints, the collection offers something for everyone. Most importantly, 10 percent of the profits will support SF Marin Food Bank and Food Bank NYC, contributing to the nourishment of those in need, on both the East and West Coasts. 
42
The Minimal Face Mask
Painkllr
painkllr.com
$12.00
Sales of Painkllr's double layered masks serve a dual function of bolstering the paychecks of their local garment workers as well as the operation of local businesses, namely locally owned restaurants. The portions of profits budgeted for meals from neighborhood eateries will in turn benefit medical staffers, as the dishes will be delivered to hospital personnel on the front lines. 
Advertisement – Continue Reading Below
43
The Knit Face Mask
M. Patmos
M. Patmos
$28.00
The Brooklyn knitwear hub will pour a percentage of earnings garnered from the durable face covers into the Food Bank for NYC. In lieu of the spike in demand for food-related aid in the city, this fundraising effort directs urgent relief to New Yorkers in need. Face masks are available from twenty-eight dollars for one, two for $54 and four for $104 – an investment that pays forward. 
44
Retro Mask
Camp Collection
shopcamp.com
$30.00
The outdoor brand known for '60s inspired T-shirts, polos, and more is bringing its signature solid trim to the growing list of West Coast brands equipping their communities with safe facial protection. In addition to supporting the sewers and staff behind "The Brady Bunch" approved T-shirts, shorts and baseball caps, proceeds from each mask sale will fund a mask for an essential worker. 
Advertisement – Continue Reading Below
45
The Metallic Face Mask
The Mighty Company
themightycompany.com
$25.00
The punchy outerwear label sourced zany fabrics from its 2016 archives to yield an eclectic selection of masks featuring antimicrobial lining. Every mask ordered from the LA design house finances the assembly of another mask to be donated to The Midnight Mission, a homeless shelter and service provider in downtown Los Angeles.
46
The Feminine Floral Face Mask
Black Iris
shopblackiris.com
$25.00
A go-to for feminine floral prints, Black Iris is donating floral face masks to those on the front lines including grocery store employees, delivery workers, and healthcare staff, with every mask purchased. Available individually or in a pack of three for sixty-five dollars; these face masks are all machine washable and come in an array of floral prints.  
Advertisement – Continue Reading Below
47
For Enchanting Botanicals
Undra Celeste
undracelesteny.com
$20.00
NYC designer Undra Celeste unveiled a mask in a dark floral print with a pearlescent sheen, lending to an elevated option poised to complement crisp ensembles.