Lululemon is having its first major sale in 3 years after coronavirus crushed business
Popular athletic apparel retailer Lululemon, known for its leggings and other workout gear, is holding its first major warehouse sale since 2017 due to the coronavirus putting a strain on business, according to a report by Business Insider.
The sale is online only, and new deals will appear each day through Monday.
Although you can snag Lululemon's popular items like leggings starting at $49 and shorts starting at $29, the rare sale makes it clear just how much most of the retail industry is struggling.
Lululemon's first-quarter earnings report shows that its net revenue dropped by 17% compared to 2019 as it was forced to temporarily shut its stores due to the pandemic.
Some of the noteworthy deals that are part of the sale:
–25″ High-Rise Tights for $69, instead of $98
–Medium Support Sports Bra for $29, instead of $78
–Cropped Pants for $59, instead of $98
–Down Jacket for $79, instead of $198
–Cycling Jacket for $59, instead of $168
There are currently 14 Lululemon stores in New Jersey and all have since reopened, except for the Jersey Garden Mills location in Elizabeth.
You can browse the entire Lululemon online sale here.
RELATED STORIES ABOUT RETAIL:
Bed Bath & Beyond to close about 200 stores over the next 2 years
Coronavirus face masks for kids: Where to buy disposable or reusable styles online
With online shopping sales rising, Amazon updates lists of most popular products
Please subscribe now and support the local journalism YOU rely on and trust.
Nicolette Accardi can be reached at naccardi@njadvancemedia.com. Follow her on Twitter: @N_Accardi. Find NJ.com on Facebook. Have a tip? Tell us. nj.com/tips
Sun Kil Moon's Mark Kozelek Has Been Accused Of Sexual Misconduct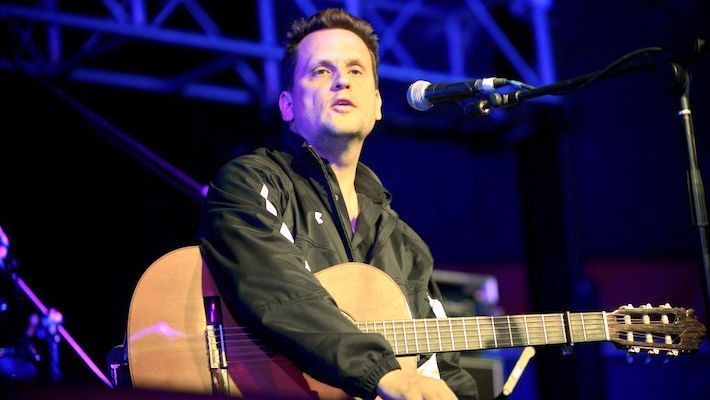 Mark Kozelek, vocalist of early '00s folk-rock outfit Sun Kil Moon, has been accused of sexual misconduct by several women. In a recent exposé published by Pitchfork, three women have come forward and shared eerily similar stories of harassment and assault by Kozelek spanning from 2014 to 2017.
Sarah Catherine Golden first came forward about her experiences with Kozelek after reading the lyrics to the singer's 2018 track "Soap For Joyful Hands," in which he essentially describes an encounter with her in Portugal in 2017. Golden found the lyrics weren't quite faithful to her experience with him, as it left out the part where they'd gone back to his hotel room after the show. Golden was under the impression his bandmates would join them, but they ended up alone. Kozelek removed his pants and Golden asked him to call a cab. After doing so, Kozelek grabbed her body, tried to kiss her, and forcibly moved her hand to touch him. "He totally just pulled a Louis C.K. on me," she later recalled to a friend, referring to the comedian's admitted pattern of harassment and assault.
Golden's story lines up with another allegation against Kozelek by a musician who chose not to be named in the report. The musician said Kozelek had invited her and another woman back to his hotel room in 2014 where he inappropriately acted in very similar ways.
Another account of assault is by a woman who has opted to go by Andrea. In 2014, Andrea attended Hopscotch Festival Raleigh, North Carolina when she was fresh out of high school. Andrea was an aspiring film major and a fan of Kozelek's music so when they met at the event and the singer asked for her number, Andrea was excited about the prospect of a high-profile professional connection. "She was on the verge of going to college and majoring in film and television, and he had some film background too," Andrea's mom told Pitchfork. "So, I think she viewed it as, this was exciting. This was somebody she admired. And she was going into this field where having contacts and those kinds of things was going to be helpful. That she could gain knowledge, things like that."
After the festival, Kozelek invited Andrea to his hotel room. Andrea, who was just 19 at the time, obliged because she assumed it was an after-party of sorts. But upon arrival, Kozelek was alone in his room and Andrea said he "pretty much just pounced on me," and began to rape her. "I was just really afraid to say no," Andrea had said to a friend the next day. "He focused on my age a lot…He kept asking me to say how old i was (literally one of the worst things i've had to go through) and he called himself 'daddy.' I'm kind of afraid of him i mean we're in the same hotel and stuff." Andrea felt pressured into having intercourse with Kozelek several times following the first incident and while some of the encounters were consensual, she said there were other instances where "the lines [were] really blurred."
Read Pitchfork's full story here.
Women are wearing less makeup in the COVID-19 era, but the makeup-free trend (likely) won't last
CLEVELAND, Ohio — Quick – you remember you have a Zoom meeting with your colleagues in five minutes. Do you look presentable? For men, this question is pretty straightforward. A decent shirt, a quick comb through the hair. For women, it could be a little more complex.
We may all still be wearing pajama bottoms or athletic shorts (it's not just me, right?), but putting our best faces forward may be something we've skipped in our new daily work-from-home routines. Many women (myself included) wonder, "Why wear makeup when I'm stuck at home?"
You're certainly not alone, if you've felt this way. If you've elected to keep closer to home, or only socialize with your quarantine pod, you could be less inclined to put on a face of makeup. Plus, the heat of summer can melt away foundation under a face mask, leaving it gross, sweaty and stained.
This isn't just my guess. The NPD Group, a U.S.-based market research firm, found in its 2020 Makeup Consumer Report that 71 percent of women who wear makeup in the U.S. say they're wearing it less often in the COVID-19 era. Only 19 percent of women surveyed say they're wearing more makeup now than they did last year.
The latest available sales reports from the global beauty industry, which generates about $500 billion every year, did indeed indicate a significant drop in the early part of 2020. McKinsey & Company, a U.S. management consulting firm, estimates revenue could fall about 20 to 30 percent this year, if not more.
Here's one major reason why: "In most major beauty-industry markets, in-store shopping accounted for up to 85 percent of beauty-product purchases prior to the COVID-19 crisis," according to an article published by McKinsey in May. Even consumers most likely to shop online (millennials and Gen Z) made 60 percent of their beauty purchases in-store.
As a woman who fits into that category, I can attest that I rarely purchase beauty products online, even though retailers like Ulta Beauty and Sephora stepped up their online shopping experiences in a major way in recent months. I simply prefer to feel, smell and compare colors, for example, when I'm spending money on new makeup. And while I genuinely appreciate the safety measures stores instituted when they re-opened, the shopping experience just isn't the same.
But I don't think the industry's downturn during the COVID-19 pandemic spells "doom and gloom" for the future. Historically, during economic downturns, the beauty industry has been resilient, and there is evidence the same could be true now.
"In China, the industry's February sales fell up to 80 percent compared with 2019," the McKinsey article states. "In March, the year-on-year decline was 20 percent – a rapid rebound under the circumstances."
Additionally, consumer data shows the high-end beauty industry had trended upward in growth, an average of around 6% week over week from April 5 to May 16, the NPD Group found.
It's also important to remember that the makeup world is ever-evolving. The time it takes for a product to be conceived to when it hits the shelves has shortened, out of necessity, but it still takes months and sometimes years before makeup hits the market. It takes time to perfect a formula, shade range and marketing campaign.
The adaptations for the COVID-19 era are evident even now. Brands, and therefore online beauty "influencers," are placing a heavier focus on eye products – eyeshadows, eye liners, mascaras – and less emphasis on lip products that you can't see while wearing a mask. Still want something on your lips? Summer 2020 has seen an influx of tinted lip balms, moisturizing lip oils and lip stains – nothing that will leave a messy imprint on a mask.
The same goes for face products; anecdotally, I've noticed more attention given to lightweight foundations or tinted moisturizers, or even spot-concealing imperfections and leaving the skin bare. But to be fair, I can't say whether that's due to hot summer weather (no one wants their makeup to melt) or the coronavirus pandemic. But that trend could continue the longer we have to wear masks.
Teens and young adults (Gen Z, I'm looking at you) will have a say in how trends evolve. That could mean the masses will ultimately gravitate toward a low-maintenance routine. Or maybe not. It's too soon to tell.
Yet the McKinsey research article summarizes my thoughts wonderfully: "Consumers across the globe are showing by their actions that they still find comfort in the simple pleasures of a 'self-care Sunday' or a swipe of lipstick before a Zoom meeting."
Women who love makeup will continue to purchase it. When (or if) we return to an office for work, or go out for a celebratory meal, a bit of makeup still can boost confidence and make us feel more put-together. The bare-faced days are (probably) not forever.
More beauty content from The Beauty Beat:
Fresh, everyday makeup you can do in 15 minutes or less: The Beauty Beat video tutorial
Falling into fall with warm gold makeup: The Beauty Beat video tutorial
A trendy, monochromatic makeup look for fall using affordable products: The Beauty Beat video tutorial
Tristan Eaton Painted a Malcom X Mural After MLK Mural Got Defaced
When the killing of George Floyd sparked protests throughout the world, street artist Tristan Eaton was there to show solidarity and support for the Black Lives Matter movement. He has his studio in the Highland Park neighborhood of Los Angeles and discovered that a march was headed to the area. Eaton also noticed that local business owners had boarded their windows as a precautionary measure, and he saw it as an opportunity to paint on the proverbial blank canvases. Eaton contacted Café de Leche with the offer to depict Martin Luther King Jr. on the plywood covering their shop.
Over the course of an afternoon, Eaton created a powerful portrait of Dr. King. Featuring a monochromatic rendering made using spray paint, the image also had the words "justice" and "equal" emblazoned across the composition. His artwork made an impact; during the anti-racist demonstrations in Highland Park, protestors stopped and knelt to honor Floyd.
Sadly, the mural of Dr. King did not last. One night, a woman rolled white paint onto his face and wrote anti-Black slurs onto the painting. Eaton, however, was undeterred. Upon finding out that the portrait had been defaced, he arrived shortly after and created another painting. This time, it was of Malcolm X. The smiling portrait, which now includes the words "no justice" and "no peace," had another addition in the background: the names of Black people killed by police brutality written in a graffiti style by Korea from LTS Crew. The street art is still up and on view at the intersection of Avenue 50 and York boulevard.
We spoke with Eaton about creating these two murals as well as the role that public art plays in expressing our humanity. Scroll down to read My Modern Met's exclusive interview with him, which has been edited for clarity and condensed for length.
How did your mural of Martin Luther King Jr. come about?
The reason I painted it was because at the beginning of all the Black Lives Matter protests that were happening—when things were pretty hot—there were a lot of upsetters who were joining the protests and looting and all kinds of violent stuff that was changing the tone and tenor of the entire anti-racist demonstrations. And as the majority of LA shops boarded up their storefronts, I heard that Highland Park, where my studio is, had protest plans. I thought, "Okay, we need to do something larger, visually, to show solidarity." I went next door and asked the coffee shop (Café de Leche) if they wanted me to paint their shutters. And they were like, "Okay, cool. Go for it."
So, I literally painted it in one day. I think half a day, even. I started around 2 PM and painted Martin Luther King. And I'm still happy I did because when the protest came, the entire march was like, I don't know, a few thousand people. It was a really good turnout and everyone stopped at the corner right in front of my mural and did a moment of silence and took a knee. It was a great, beautiful moment.
With the mural vandalized, how did you decide to depict Malcolm X?
I was up mega early at home watching the James Baldwin documentary I Am Not Your Negro and while watching it (on a projector screen in my house), there's a section where he talks about Malcolm X. And as it came to that section, I paused it and took a photo because there's a portrait of him that I hadn't seen before, which is of him smiling.
About 45 minutes later, I got the message that the MLK mural had been defaced. I told the owner of the building, "Okay, I'll be down there in half an hour." So I took the photo from the projector screen, printed it out, drove down to my studio, got my paint, and I was repainting it by noon. And I knew I wanted to paint Malcolm X over it because there's kind of a theme, which is a peaceful protest, you know, wanting change. People are tired of waiting for change, so now it's time to demand it. And, I felt like following up MLK with Malcolm X fits that tone.
You had some additional help with the Malcolm X mural, correct?
I painted the portrait, and there's an artist that works for me who's a graffiti writer named Korea from the LTS crew. I had him paint the names of victims of police brutality in the background.
What role do murals, and street art in general, play in our society?
There's a huge spectrum when it comes to public art, street art, etc. You have everything from gigantic sculptures and gigantic public mural works to the wild chaos of illegal graffiti and illegal street art. And, you know, all of them are sparks of life and humanity in a landscape of brick and cement.
I think that at its core, public art just reminds people that we're alive and that we're human and creative. When we live in these city landscapes that are just so bleak and boring and depressing, it's a lifesaver sometimes to see an explosion of color and to remind us that the world is made by hands. You can change the world in a simple way just by painting it.
I think that fact is inspiring, but then furthermore, public art can tell stories, and stories are how we identify with each other and connect to each other. That's important because public art can also memorialize historic moments and historic people. And that's important for us too, for our identity and for our pride in who we are, and the symbolism of what kind of people we want to be.
(continued) When we erect a statue of a Confederate soldier or Confederate slave owner, that has power. It shows how important and powerful public art can be—a lot of those statutes weren't erected in the 1800s. They were erected in the 1940s through the 1970s and as a direct response to voting rights and civil rights. These racists can say, "This is how we think it should be now." I think it's time for a sea change.
I'm happy to see the Confederate flag coming off the Mississippi flag. I'm happy to see all of these things change because they're symbols of a racist slave-owning nation. And, you know, it's time for a reckoning for that, and visual symbolism is a lot of how we move forward in a new world after changes have happened.
A lot of artists like me have a responsibility to contribute to that fabric and to be creating imagery that supports those ideas. There are things that you want to say that you don't have the words for. And that's why we paint.
Has anything changed for you now that the mural has gone up?
I've had Black artists reach out to me, asking me how to get on or how to rise within this world of public art and street art. And the truth is, a lot of the people that organize mural projects, mural festivals, etc., are desperate and hungry for more diversity, more women, or people of color in this field.
I am very proud to say that I look out for younger artists. I look out for all kinds of artists that need a leg up. And, since doing the murals, I've got a lot of young artists reaching out to me and it's really cool to connect them with people that produce murals. There aren't enough people of color doing mural work. There aren't enough women doing mural work.
What else have you been up to? Anything exciting on the horizon?
I did a project to raise money for the Museum of Graffiti in Miami. It's run by Alan Kat and Mayer, who are both artists of color who started the museum. Years ago, I did a painting about the Black Panthers that touches on the larger history of protests. The idea was to remind people that protesting is in our blood. It's nothing new. This is how big change happens. I used that painting to make a print release to raise money for the Museum of Graffiti, and it did really great. We raised $18,000 for them.
I'm organizing a mural right now in New York. I have some walls that I've been running for about 10 years in Williamsburg that I'm using right now to feature three Black artists.
(continued) I've also been creating artwork for Montefiore, which is the main hospital in the Bronx that was at the epicenter of the New York COVID-19 outbreak. The work that I've made for them is on a 13-story-tall mural by Madison Square Garden. It was a really cool project to do, to show positive support for all the nurses in New York and first responders.
My team and I are very fortunate. We've lost a lot of projects, of course, but we've gained a lot of other special ones at the same time.
Tristan Eaton: Website | Instagram | Facebook
My Modern Met granted permission to feature photos by Tristan Eaton.
Related Articles:
Street Artist Represents His Community With Giant Vibrant Murals [Interview]
Breonna Taylor Commemorated With 7,000-Square-Foot Mural [Interview]
Colorful Mural of George Floyd in Minneapolis Turns Into a Powerful Memorial Site