Meghan Markle, Prince Harry 'had enough' of 'relentless negative press,' says Viscountess Julie Montagu
Julie Montagu, an American who became Viscountess Hinchingbrooke when she married into British aristocracy, isn't surprised Meghan Markle and Prince Harry took a "step back" as senior royals.
The Duke and Duchess of Sussex are currently residing in Markle's native Los Angeles with their son Archie, 1.
Montagu is married to Luke Timothy Charles Montagu, Viscount Hinchingbrooke and son of the 11th Earl of Sandwich. The mother of four is currently starring in Smithsonian Channel's "An American Aristocrat's Guide to Great Estates," where the Illinois native tours some of the U.K.'s most important and historic homes. And when she's not on camera, the 46-year-old is helping her husband run the family estate in Dorset — 16th-century Mapperton House.
The "Ladies of London" alum spoke to Fox News about Markle, 38, and Harry, 35 leaving the U.K., filming her TV series, and the American mannerisms that continue to surprise Brits.
PRINCE WILLIAM, KATE MIDDLETON ARE 'STEPPING UP MORE THAN EVER BEFORE' AS SENIOR ROYALS, EXPERT SAYS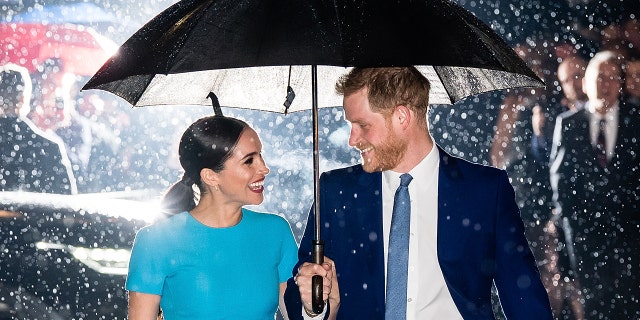 MEGHAN MARKLE, PRINCE HARRY 'HAD AN AGENDA FROM THE OUTSET' TO BE 'INTERNATIONAL ROYALS,' EXPERT CLAIMS
Fox News: What advice would you give to Prince Harry, a royal not living in a great British estate these days, but rather in Los Angeles?
Julie Montagu: Well, I think that Harry was always the rebel, wasn't he? He probably is preferring that life. He's not hounded by the press. He's been hounded his entire life. He's finally being, for the most part, being left alone and he gets to live this laid back life. They just do what they want to do.
Fox News: Does it surprise you that Meghan Markle moved back to the United States?
Montagu: Does it surprise me? No. She was getting such really relentless negative press from the British tabloid press. It doesn't surprise me at all. I think they had enough. And we saw what happened to Princess Diana. And I think the last thing that Harry wanted to happen was the exact same thing that happened to his mother. So, I think that they really gave it a good go. I mean, I was there, I read all the articles.
Fox News: Are there any American customs or mannerisms that continued to surprise Brits even after your years living in the U.K.?
Montagu: Yeah. I mean, every day. I still have to say to my kids sometimes over the phone, "Can you say it in the American way?" because I can't understand you when you say it in the English way. So there's still … It's such a difference between American words and English words that I think that a lot of people forget that I thought when I moved over here, "Oh, we all speak the same language."
MEGHAN MARKLE IS TRAINED IN MARTIAL ARTS AND KICKBOXING, ACTING RESUME SHOWS
A ROYAL EXIT: ROYALS WHO HAVE PULLED BACK FROM THE BRITISH MONARCHY
There are so many words like you would never say fanny pack, ever. Fanny is like a bad word over here. You would never say silverware. You would say cutlery. Silverware is for a really formal dinner and you actually get out the silver, you would call it cutlery… I mean, I could go on and on and on. Flashlight is torch. Pants or trousers. Sat nav is GPS over in America. Yeah, we could spend an hour on that.
Fox News: What can audiences expect from a show like "An American Aristocrat's Guide to Great Estates"?
Montagu: So for Americans, they can expect to see something that they wouldn't necessarily ever get on a tour if they were to actually visit these homes themselves. I really go into how these homes make themselves commercially viable. So it's very different from just getting a tour of the historical part of the house. I really look at what these homes are doing to make sure that their visitors keep coming back for their special events, the biomass boiler, what they've been installed in order to heat these enormous homes.
Most of these homes when they were built would have one bath and hardly any hot water. And so looking at how they heat the homes, but also at the same time, how they are a community. So remember these homes were built as sort of the center of the community. And so in particular, episode one is all about the Highland Games and really how that such a community that Inveraray Castle does, the Duke and the Duchess of Argyll, and making it a community event. And, it's wonderful.
SARAH FERGUSON SHARES INTERNATIONAL FAMILY DAY POST WITH PRINCE ANDREW, PRINCESSES BEATRICE AND EUGENIE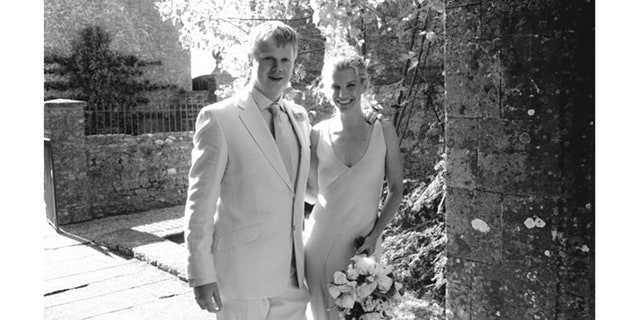 PRINCE WILLIAM WRITES LETTER TO CHARITY HONORING PRINCESS DIANA ON BEHALF OF PRINCE HARRY AND HIMSELF
Fox News: You, an all-American girl from Sugar Grove, now live in your husband's historic family estate in Dorset. What does it take to run that home?
Montagu: It's a lot of work. I can't even begin to tell you. I'm in the house right now. It's 500 years old and we have constant leaks, we have constant repairs because this is what's considered a grade one listed home. And most of the homes that you'll see on the show are as well, which means that it's of extraordinary history.
So you can't do much to these homes apart from fixing them and repair them. And you have to repair them a certain way to keep it in line with heritage, so it's a lot of work. During the pandemic, we've obviously, it's a historic home that we live in, but it's our business and we've had to furlough everybody, so my husband has become very good at fixing leaks.
And we pretty much spend most of our day in this home sort of fixing it and making sure that it's OK. I would say our workday is about 12 hours a day, seven days a week from recently.
MEGHAN MARKLE'S PRIVACY LAWSUIT COULD LEAD TO 'BIG BATTLE' AGAINST HER FATHER IN COURT, LEGAL EXPERT SAYS
MEGHAN MARKLE HAS 'AMERICANIZED' PRINCE HARRY WITH LOS ANGELES MOVE, SAYS JULIE MONTAGU: 'I LOVE IT'
Fox News: So in other words, it's definitely not the type of fairy tale that one would expect.
Montagu: No. If you watched "Downton Abbey," it's the farthest thing. Long gone are the days of "Downton Abbey." [But] I really get stuck in. I'm American, we have this work ethic that we were all born with.
So I get very much stuck in and I'm a doer so I'm constantly working and doing and coming up with creative ideas to bring more visitors to come to see … The name of our house is Mapperton House, which is considered England's finest manor house. So again, I'm an American, a hard worker, definitely.
Fox News: Which estate surprised you the most and why?
Montagu: I would probably say that the one that surprised me the most, oh, gosh, they all surprised me. They're all hard workers. That's a tough question to be perfectly honest. I think it's hard to say which one surprised me the most because I think they all surprised me because I think I went in there and quite naive thinking that everybody was doing the same thing, opening up their house to the public, trying to get as many visitors in, and then having tons of weddings.
PRINCE HARRY IS FRIENDLESS AND UNEMPLOYED IN LA, MISSES 'HAVING A STRUCTURE': REPORT
PRINCE HARRY, PRINCE WILLIAM ARE 'BACK IN TOUCH,' ROYAL EXPERT SAYS
Whereas, yes, they're all trying to do that and so much more. So whether it's beekeeping or steam engine, or I got to play cricket, I totally did it the wrong way. I was batting like an American. And also, having events that they invited the local community to such as sculpture, a gallery walk within the estate.
So they all do something different. They all just work so incredibly hard to keep their house in the family because it's not a national trust home. It's a lived-in home. And the second it becomes a national trust home is when it becomes a museum, nobody lives in the house anymore. So that's what makes these homes extra special, they're a home, but also they have these wonderful homeowners and only they are the ones who can tell the history as we know it.
"An American Aristocrat's Guide to Great Estates" airs Sunday, May 24 at 9 p.m. on the Smithsonian Channel.
Why Nicole Avant Made Doc About Her Father – Variety
When Nicole Avant was growing up in Beverly Hills in the 1970s and '80s, her father, Clarence Avant, was one of the most connected and successful African American power brokers in the music industry. He launched record labels, owned radio stations and became a key figure in politics and the civil rights movement.
The Avant home was always buzzing with a stream of Hollywood and Washington insiders coming and going. "I knew that he was very powerful because the phone rang constantly and I always heard him fixing something or giving advice," says Nicole, who made her producing debut with Netflix's "The Black Godfather," a documentary about her father. "And then I did see him on 'Soul Train' one day, and he was giving an interview with Don Cornelius. …That's when I thought, 'Oh, he must be a big deal because he's on television.'"
That point is driven home by the documentary, which features interviews with Barack Obama, Bill Clinton, Jesse Jackson, David Geffen, Jamie Foxx, Sean "Diddy" Combs and the late Bill Withers, whom Avant signed to his Sussex Records while the singer was still working as an aircraft assembler.
Nicole Avant, who is married to Netflix chief content officer Ted Sarandos, says she had plans to shop the doc around before her husband snapped it up for the streamer. "I actually had this idea in my head since I was a little girl. I really did," Avant, who served as Obama's ambassador to the Bahamas, says on this week's episode of the Variety and iHeart podcast "The Big Ticket." "I had told Ted, even when I was dating him, there's this idea I have for this film, and I said to him, 'I'm going to take it to HBO.' Once I started getting the interviews and everyone started confirming, Ted said, 'Do you really have all these people saying yes?' And I said, 'Yeah, for sure.' He said, 'Let me take a look at it again.' And then at that point, Ted is a part of the family, and he saw a solid film, and he saw an important film, and he actually wanted to tell the story just as much or even more than I did."
What do you want people to know about your dad?
I really wanted people to take away that it's important to have a strong sense of self. It's important to keep moving forward. It's important to pay back. It's important to move the needle. Also, it's very important to take risks in life. Sometimes you're going to fail. Sometimes people are going to say no. So what? It's a part of life. You keep going. You pick yourself back up again.
What did you learn about your dad while making the documentary that you didn't know already?
I took it for granted how hard his childhood was and how abusive it was — having a stepfather, really beating up my grandmother in front of him and in front of the other children. My dad didn't really have a childhood, and he took care of seven kids because everyone was working and they were so poor.
How hard was it to hear those stories?
Very hard for me. And it made a lot of sense when everything did fall down for him and everything blew up at one time and we lost everything. I think everything triggered to his childhood again of not having things he didn't have or anybody to really rely on.
Tell me about a time in which someone really big turned up at the house and you were like, 'What is this person doing here?'"
The one time I was very star-struck was when Whitney Houston showed up one day and I had just been listening to the "Greatest Love of All." I'd sing it in the car like I was Whitney Houston. I was floored; I stood at the front door and I thought, "Oh, my God, this is a real celebrity. This is a big deal."
If you were to make a scripted narrative about your dad, who would play him?
Forest Whitaker could play him because he knows him and he could "get" him actually.
This interview has been edited and condensed. Hear it in its entirety below. You can also listen to "The Big Ticket" at iHeartRadio or wherever you find your favorite podcasts.
Even Prince William Has To Deal With This Classic Family Dinner Challenge
There's no question about it: lockdown has changed our lives and transformed the way we work. And that goes for royals, too. The Duke and Duchess of Cambridge have adapted, taking their royal duties online, via a number of zoom calls. But not everything has changed… On his latest call, Prince William revealed that even he has to deal with this classic family dinner challenge.
Speaking to representatives of the PEEK Project, a Glasgow-based charity, on May 20, the Duke of Cambridge said the success of his family meal depend very much on "what's on the table". Joking with community chef Charlie Farrally, Prince William agreed that dinner time can be very challenging: "If parents put something on that children love, dinner time goes very well," he said. "But if you put something on the table they don't want to do, that's another ball game."
PEEK Project, Possibilities for Each and Every Kid, have been working throughout COVID-19 to provide balanced, and hot meals for families in need. The Duke of Cambridge praised them for their work and pointed out the immense pressure that parents are under as well.
The PEEK project has been supported in it's work throughout the pandemic by the National Emergencies Trust Coronavirus Appeal. Were it not for lockdown, the Duke of Cambridge would have been in Scotland this week to meet representatives at the General Assembly of the Church of Scotland. Obviously, this couldn't go ahead face-to-face, but he still spoke to the chefs, volunteers, and the CEO via a video call. "I hope when I find myself up in Glasgow in the near future I can come and see you guys in person and congratulate you," he added.
Ozark's Esai Morales to Replace Nicholas Hoult As 'Mission: Impossible' Villain – Find Out Why
Esai Morales, known for his work in Ozark and How to Get Away with Murder, is joining the cast of Mission: Impossible 7 and Mission: Impossible 8, director Christopher McQuarrie revealed on his Instagram on Thursday (May 21).
However, Deadline is now reporting that Esai, 57, is actually replacing Nicholas Hoult in the movie in the villain role for the films.
The reason why Nicholas is being replaced? The Coronavirus pandemic has delayed production of tons of movies and television shows across the globe. As a result, the "delay put Hoult in conflict with another commitment."
The film currently has a release date of July 23, 2021, but that could change as many films have had to alter release dates due to the global health crisis.
If you missed it, Nicholas just made a super rare comment about his two-year-old son.