Miley Cyrus Styled and Directed Cody Simpson's Fashion-Forward New Video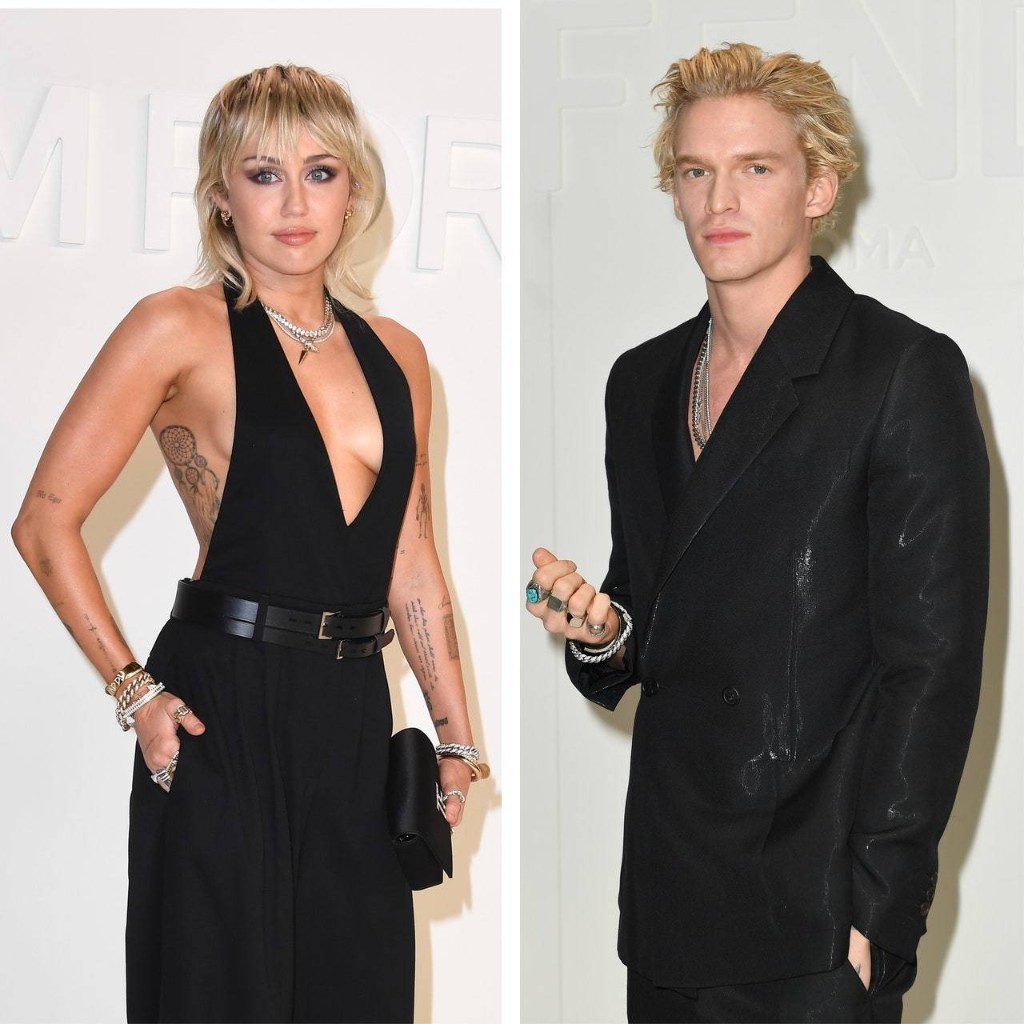 Social isolation has had a transformative effect on the creative community. With the usual resources suddenly out of reach, artists have pushed themselves in new directions, showcasing the scope of their talents in the process. As a couple, Cody Simpson and Miley Cyrus have kept themselves busy since the order to stay in place was issued in Los Angeles in March. 
Cody has been channeling his energies into a debut poetry collection entitled, Prince Neptune, while Cyrus has launched her Webby Award–winning IGTV series, Bright Minded. Their latest project sees the couple drawing from each other's skill sets: Miley has directed the music video for Cody's latest release, "Captain's Dance With the Devil."
Miley, who took on styling, cinematography, and makeup duties in addition to directing, presents Cody in a new light. The split-screen format puts all sides of his performance on display as he switches personas — Cody, Prince Neptune, and a newly discovered drag alter ego, Rebecca, make appearances. Filled with fashions and objets d'art from their personal collections, the video uses style as a transformative tool. The guy strumming on a guitar in vintage leather pants and the sailor-suited lad wearing the Chanel pearl brooch may be at opposite ends of the spectrum, but they reflect the multifaceted nature of modern stardom. Onscreen, Cody can express all sides of himself, and Miley's vision allows for such complexity.
Of course, given the constraints of filming during lockdown, the high-gloss production values often seen in music videos are noticeably absent, but that isn't necessarily a bad thing. The sight of Cody in Miley's epic collection of vintage designer pieces is undeniably compelling and reveals the intimacies of their relationship. Eagle-eyed fashion devotees will spy pieces from Comme des Garçons (the epaulet detailed coat Simpson wears while brooding), Vivienne Westwood (a black housedress fit for dancing through the garden), and Tom Ford for Gucci (Rebecca's glittering fringed bag) utilized throughout.
It takes bravery to do something outside the box, but for Simpson, this seems to come naturally. In a personal statement he shared with Vogue, Simpson outlined the thought process behind the visuals and why he and Cyrus have formed a lifelong collaboration.
"I entrusted Miley with full creative liberty in the conceptualization and direction of this visual. Allowing her to execute her vision and interpretation of the song itself. The idea was birthed in our bathroom with Miley organizing her collection of lipstick. I picked up a stick having never looked at one so discerningly before, taken aback by the art of the packaging, the beauty of the Nars symbol embedded in the side, and remarking at how disappointed I'd be to see it ruined once used. This led to my curiosity in the art of makeup, and being educated by Miley on the process of 'beating your mug' and, in particular, the art of drag. It was then that the character of 'Rebecca' was born.
During this time in lockdown and self-isolation, we were forced to stay inside our own space, having no choice but to encourage ourselves to look subjectively and into our immediate environment for things to work and play with. This inspired a new appreciation for who we are and what we are. Miley's knowledge of makeup, art, and drag culture combined with my knowledge of maritime and nautical culture. This concerned everything down to the wardrobe: The leather pants I bought myself four years ago, thanks to inspiration I gleaned from seeing Elvis in his leather jumpsuit and Jim Morrison parading the Hollywood Bowl stage in his own pair, to the Chanel blouse I wore under my captain's jacket endowed with Miley's vintage Chanel pins and broaches and the blouse Miley herself received from Karl Lagerfeld in Paris after being photographed by him. The vintage Louis Vuitton trunk we bought online under the impression it had a C painted on the side, until discovering humorously upon its arrival it was a worn-down G. The 1930s doctor's bag Miley gifted me for my birthday with my Prince Neptune logo hand-painted on the side, and our combined book collections and personal belongings used as props."
Only time will tell where Cody and Miley will take their collaboration next. What's clear is that this couple seems intent on pushing themselves — and their audience — with dramatic reinvention.
Watch the video for "captain's dance with the devil" below.
This story was originally published by Vogue.
Let us slide into your DMs. Sign up for the Teen Vogue daily email.
Want more from Teen Vogue? Check this out:
Prabal Gurung's Stronger In Colour Collection Is Donating 100% Of Proceeds To The Bail Project
For many brands, 2020 will be the year they "pulled up" to stop racial injustice, both in the fashion industry and beyond — but not for Prabal Gurung. Since founding his namesake brand in 2009, Gurung has been constantly fighting to make the fashion industry a more equal place at every turn, which is now underscored by the revival of a relevant past project. Announced on Jun. 3, Prabal Gurung's "Stronger In Colour" collection is getting a second life, continuing the commitment to diversity and inclusion that's been the brand's lifeblood from the start, selling 100% charitable tees and hoodies for a noble cause.
Available on its site right now, shoppers can choose from two unisex styles, in two shades — a basic tee ($95), or a basic hoodie ($175), in either black or white. In multicolored typeface, each reads "STRONGER IN COLOUR," echoing the longtime ethos of the New York-based womenswear brand. To sweeten the deal, 100% of net proceeds will be donated to The Bail Project, which is presently focused on combatting the mass incarceration disproportionately affecting the Black community.
Right now, there's a disparity between brands who have been posting fervently in accordance with the present moment, and those who were slower to respond. The Nepalese-American designer has, alternatively, been using his near-750,000 following to get messages out around the clock, spread powerful footage of protests and messages of hope. Still, he believes there's more to be done. "We have posted, donated, signed petitions, marched in protests, spoken on panels, and shared important resources – but this didn't feel like enough. This is just one additional step, and we know there is still more we can do," shared Gurung in an Instagram post this week.
Available now through Jun. 15, shoppers can purchase the tops exclusively on Prabal Gurung's site. To participate in the movement and support the brand's initiative, browse the styles ahead — and, you can shop rest assured that your full contribution is paid forward. And, as the fight continues, some words of encouragement from Gurung's Instagram: "…as we walk through the streets alongside protests, and unified chants for justice are heard around the world, it feels as though we are on the precipice of true change as this movement barrels forward."
Some of the hottest streetwear brands are making a George Floyd memorial tee
Fear of God has pulled together some of the best names in streetwear and fashion for a T-shirt honoring George Floyd. Off-White, Pyer Moss, Union, Noah, Awake, Just Don, Denim Tears, and Melody Ehsani all lend their names to the tee, of which proceeds will go to the Gianna Floyd Fund.
The late Floyd's initials appear on the front of the shirt, while all nine brand logos appear on the back. Available in black or white, the shirt will sell exclusively through Fear of God's Instagram page for $100. It goes live at 9 a.m. PST Friday, June 5.
A limited run — While streetwear consumers often call for fundraising T-shirts to be made available for pre-order to maximize proceeds, COVID-19 has rendered that more difficult. We've seen it already with Supreme and Noah's coronavirus relief tees, and that's the case here as well. Jerry Lorenzo, Fear of God's founder and designer, said in an Instagram comment that the T-shirts are "limited to the fabric availability we have."
Streetwear at its best — At its roots, and too often forgotten, streetwear is about community. And you can't talk about the culture surrounding it without acknowledging the contributions and support from the black community. That makes it encouraging, but not at all surprising to see so many brands step up to raise funds to organizations tied to Black Lives Matter, as well as the families of victims.
With T-shirts quick and easy to produce, several brands have produced their own as fundraisers, including Brain Dead and Blood Orange, Online Ceramics, Andrew, and Advisory Board Crystals. In addition to the Fear of God collaboration, Denim Tears also has its own tee with proceeds going to the Know Your Rights Camp.
Without product involved, Supreme announced it'll donate $500,000 amongst Black Lives Matter, Equal Justice Initiative, Campaign Zero, and Black Futures Lab. A-Cold-Wall*, meanwhile, will award 10 grants for a total of £25,000 (~$31,500) to independent, back-owned companies.
Banana Republic Donates $20M of Clothes to Americans in Need
Over the past few months, we've spotlighted fashion businesses stepping up and taking action, whether it's to help support Americans affected by the COVID-19 crisis or to stand behind the Black community with donations, acknowledging the racially unjust murder of George Floyd and the larger conversation surrounding Black Lives Matter. Brands with a large platform can and should acknowledge voices that are struggling in America, and Banana Republic — notably a part of parent company Gap Inc. — is striving to make a difference. BR teamed up with Delivering Good to donate more than $20 million of new clothing to those in need in order to help America get back to work. It's a project they're calling "Will Work For a Better Republic," and it comes after months of actionable Instagram posts the brand has put up, all of which are meant to encourage positive thinking.
"By supporting Delivering Good [an organization that helps kids and families through tragedies], Banana Republic is helping men and women across the US, including those facing poverty, homelessness, and job loss. Among our network of more than 700 community partners, we will focus this donation on nonprofits with workforce training and re-entry programs and markets that have been especially affected by the current crises. This donation will have such a positive impact on men, women and disadvantaged young adults," said Delivering Good President and CEO Lisa Gurwitch.
In effort to promote equality, Banana Republic has also come together with Gap Inc. brands Athleta, Gap, and Old Navy to donate $250,000 to the National Association For the Advancement of Colored People and EmbraceRace. Previously, Gap Inc. donated $1M to support underserved families in the midst of the COVID-19 crisis, posting the news on Instagram on March 27. Banana Republic also came out with a reusable cotton face mask for customers to purchase, committing to a donation of $10 to Feeding America's COVID-19 Response Fund for every mask sold. Scroll down to read about these initiatives directly from Banana Republic's feed.