Most expensive coronavirus mask ever? Israeli jewelry company makes $1.5M gold, diamond-encrusted protection
An Israeli jewelry company is working on what it says will be the world's most expensive coronavirus mask, a gold, diamond-encrusted face covering with a price tag of $1.5 million.
The 18-karat white gold mask will be decorated with 3,600 white and black diamonds and fitted with top-rated N99 filters at the request of the buyer, said designer Isaac Levy.
Levy, owner of the Yvel company, said the buyer had two other demands: that it be completed by the end of the year, and that it would be the priciest in the world. That last condition, he said, "was the easiest to fulfill."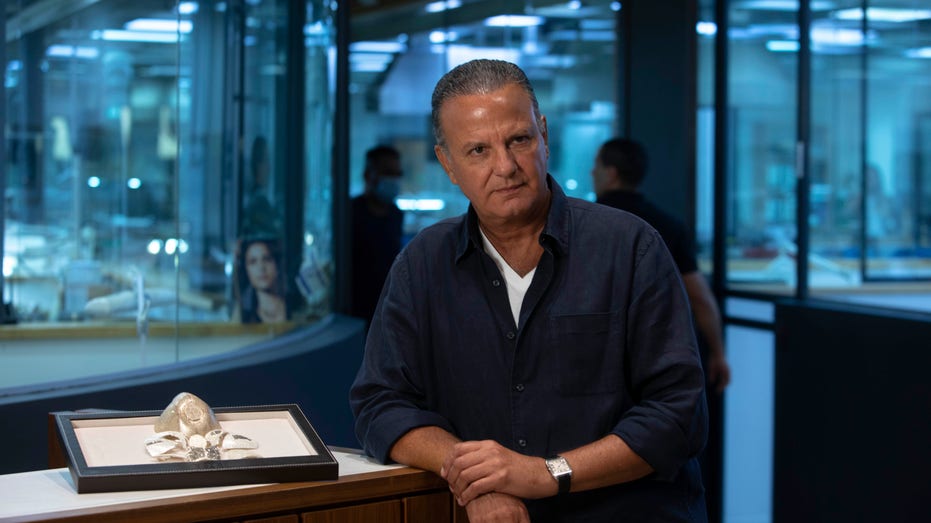 He declined to identify the buyer, but said he was a Chinese businessman living in the United States.
The glitzed-up face mask may lend some pizzazz to the protective gear now mandatory in public spaces in many countries. But at 270 grams (over half a pound) — nearly 100 times that of a typical surgical mask — it is not likely to be a practical accessory to wear.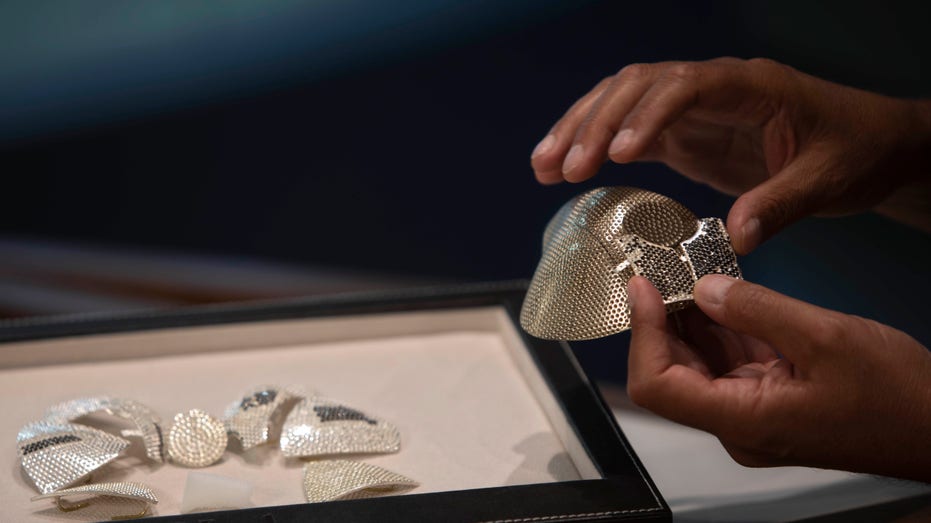 GET FOX BUSINESS ON THE GO BY CLICKING HERE
In an interview at his factory near Jerusalem, Levy showed off several pieces of the mask, covered in diamonds. One gold plate had a hole for the filter.
"Money maybe doesn't buy everything, but if it can buy a very expensive COVID-19 mask and the guy wants to wear it and walk around and get the attention, he should be happy with that," Levy said.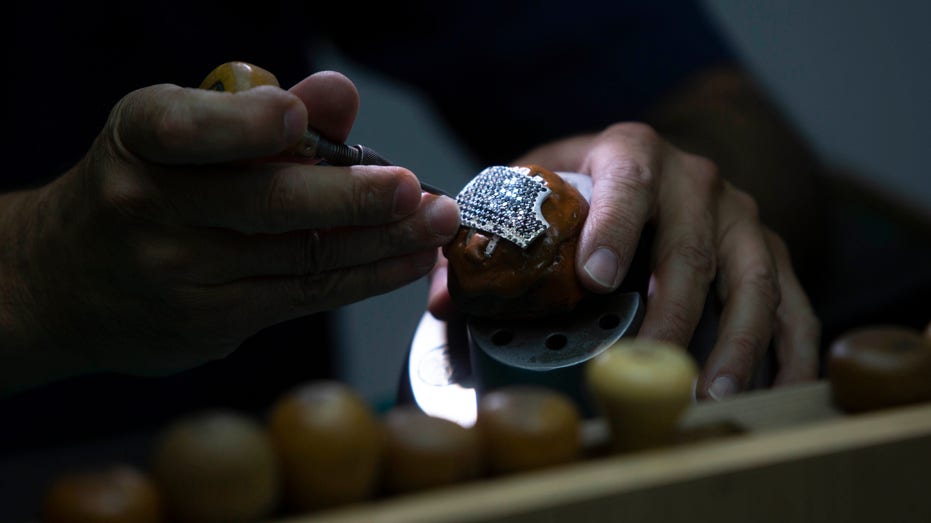 CLICK HERE TO READ MORE ON FOX BUSINESS
Such an ostentatious mask might also rub some the wrong way at a time when millions of people around the world are out of work or suffering economically. Levy said that while he would not wear it himself, he was thankful for the opportunity.
"I am happy that this mask gave us enough work for our employees to be able to provide their jobs in very challenging times like these times right now," he said.
Under $600 for 1 Ct Diamond Earrings at Amazon's Big Fall Sale
The Best Street Style From Milan Fashion Week S/S 2021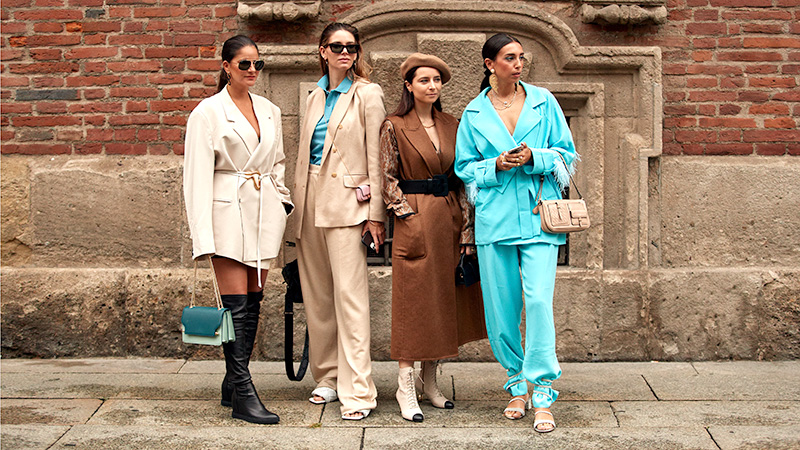 The Italian streets have sparkled with the return of Milan Fashion Week, with fashion-goers sporting the latest trends of the season. The myriad of suits and separates became a winner among the attendees, donning neutral shades like camel, charcoal, and grey. Loud pops of color like lemon, mint, and orange stood out in variations of trench coats, pants, skirts, and coordinates. Oversized earrings and chunky chain necklaces made the rounds throughout the streets of Milan, with pearls and gold becoming some of the most popular choices. Other standouts included unique vintage finds, fringe, padded clutch bags, and fashion-forward face masks. Find some inspiration for your next outfit with the coolest fashion trends spotted at Milan Fashion Week Spring/Summer 2021.
GALLERY
SUBSCRIBE TO OUR NEWSLETTER
Subscribe to our mailing list and get interesting stuff and updates to your email inbox.
GOAT Earns $1.75B Valuation After $100M Financing
GOAT is now worth $1.75 billion USD after the online marketplace for sneakers and high-end fashion brought in $100 million in its latest round of Series E funding per The Wall Street Journal. The funding comes from D1 Capital Partners and increases the company's valuation from $550 million to the current eyebrow raising number.
The valuation comes on the heels of a new report by research firm Cohen which estimated that the sneaker and streetwear resale market, currently worth over $2 billion in North America alone, could potentially reach over $30 billion globally by the year 2030. In a move that serves to confirm that growth trajectory, major competitor StockX also scored a recent $1 billion USD valuation on a $110 million USD financing round at the end of 2019.
GOAT was founded in Los Angeles in 2015 and quickly raised $200 million from high-profile investors like Foot Locker Inc. (the company invested $100 million USD in February 2019).
"Our mission is to bring the world's great products together from the past, present and future, while providing a premier end-to-end customer experience with a point of view on culture and style," said co-founder and chief executive Eddy Lu in a press statement. "We are not a broad-based marketplace that will sell any tchotchke in the world," Mr. Lu said. "We want to have a point of view on fashion, culture and style."
"We witnessed the impressive success that catapulted GOAT to become a top player in the sneaker space and were drawn to their disciplined operational approach and differentiated value proposition," Dan Sundheim, the founder of D1 Capital Partners, detailed. "As GOAT continues to grow its core business and expand into new categories, it is rapidly emerging as one of the best positioned next generation global e-commerce platforms."
According to TechCrunch, GOAT will use the latest round of financing to focus on its research and development departments and expand internationally. The company launched its sneaker app in China back in July 2019.
In related news, GOAT is currently partnering with Michael B. Jordan for a charity-focused custom sneaker raffle with all proceeds supporting GirlTrek, the US's largest public health nonprofit for African-American women.