Samantha Akkineni and Naga Chaitanya set UNBEATABLE couple style goals and these 5 pics are a proof
Celebrity couple Samantha Akkineni and Naga Chaitanya have won millions of hearts with their on-point fashion game. Check out their best stylish looks below.
Celebrity couples are known for their sizzling chemistry, amazing vacation photos and are always the talk of the town for setting relationship goals. Whether they heading out for events or enjoying their vacations together, celebrity couples keep our social media feed filled with their lovey-dovey moments. However, there are a lot of couples who complement each other perfectly, when it comes to fashion. Be it Anushka Sharma and Virat Kohli or Saif Ali Khan And Kareena Kapoor Khan, the couples have grabbed eyeballs for their style statements. 
South couple Samantha Akkineni and Naga Chaitanya have also won hearts of their fans with their on-point fashion game. Both Samantha Akkineni and Naga Chaitanya are highly successful on the professional front and also complement each other greatly as a couple. When ChaySam step put together, they never fail to amaze with their good looks and stylish fashion choices. They are totally game-changers in terms of fashion. As we all know, Oh Baby actress Samantha is already one of the most put-together fashion icons in the Telugu film industry. Well, Naga Chaitanya is no less and these 5 pictures of them are a proof. 
There have been gazillion times when Samantha and Naga Chaitanya have set major fashion goals as a couple. But here's a look at their best 5! 
1. For Rana Daggubati and Miheeka Bajaj's Roka ceremony last month, Samantha and Naga Chaitanya made a stylish appearance. Sam looked stunning in her yellow Sabyasachi suit while Chaitanya looked classic in formals. 
2. Samantha Akkineni and Naga Chaitanya prove they are one of the most glamorous couples in the Telugu industry. Look at how stunning they look in this picture! 
3. Heartthrob Chay and stunning Samantha are winning our hearts in this beautiful picture. For one of the events, Sam wore sari while Chaitanya complemented his wife as he dressed up in classic formal look. 
4. Look at this picture and one thing's for sure about this couple, they are rockin' stylish! 
5. Here's a look at the time when they turned heads in their most fashionable ensembles on their special day. 

Your comment has been submitted to the moderation queue
UFC Announces Venum as New Exclusive Outfitting Partner
Days ahead of UFC 251 at Fight Island on Yas Island in Abu Dhabi, the world's premier mixed martial arts organization has announced Venum as its new exclusive outfitting partner. The deal will officially begin in 2021, marking the upcoming end of the UFC's six-year, $70 million USD deal with Reebok come March 2021. The new exclusive outfitting partnership was brokered by IMG's licensing business, which exclusively represents UFC.
It is interesting to note that the Reebok, the current outfitting and apparel partner, will continue to serve as the official footwear provider of the UFC until the end of 2021.
April 2021 will see UFC athletes debut Venum designed Fight Kits inside the Octagon. To coincide with the debut, the new range of apparel will be available at select retail outlets, on the UFC Store and Venum's website.
Tapping Venum's knowledge of combat sports apparel and accessories, the Fight Kits and Fight Week Gear line will feature high-quality MMA gear and performance apparel specifically designed and developed for the UFC's world-class athletes. Already in development, the Fight Night shorts will be light and comfortable, with a second-skin-feel thanks to Venum's "featherweight" microfiber material. While the waistband will utilize thermo-bonded and extra-flat elastic seams to adapt to the shape of an athlete's body and Venum's trademark side slits help provide total freedom of movement.
Sources note that the Venum/UFC contract is shorter and not as lucrative as the current Reebok contract. But the majority of the money from the deal will be going to fighters, addressing one of the issues people had with Reebok's place in the UFC.
In its official announcement, the UFC notes that its outfitting policy is administered through its Promotional Guidelines Compliance program. With pay scale adjustments to be made tied to its Promotional Guidelines Compliance program, which will result in across the board increases for all athletes effective April 2021.
"We're pumped that VENUM will be joining us as our new exclusive global outfitting and apparel partner," said UFC President Dana White. "VENUM is an Iconic combat sports brand that understands the unique needs of MMA athletes. Franck Dupuis and his team at VENUM have the technical knowledge and experience that will produce world-class UFC Fight Kits and apparel. We're looking forward to collaborating with them on this next evolution of UFC's outfitting program."
"Joining UFC as their official outfitting and apparel partner means a great deal to the VENUM team," said Franck Dupuis, VENUM Founder and CEO. "VENUM is a brand that has grown alongside the sport of MMA as it has exploded in popularity around the world. We are both proud and grateful, as this agreement signifies the success of our journey over the past fifteen years. At VENUM, we are ecstatic to write the next chapter in our history."
Head over to the UFC's website to learn more about the exclusive outfitting partnership.
In case you missed it, check out Dana White's reveal of UFC Fight Island.
Lady Gaga is the face of Valentino Beauty's new fragrance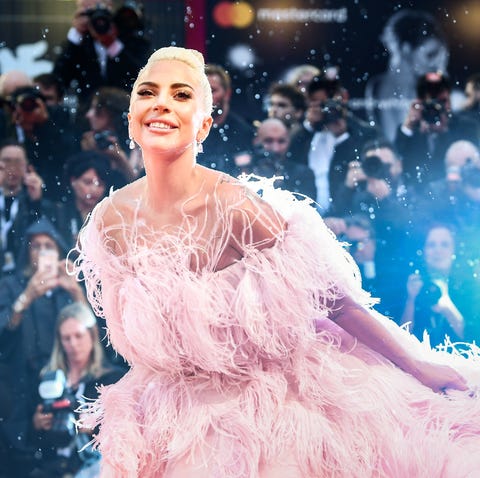 FILIPPO MONTEFORTEGetty Images
Lady Gaga is set to star in Valentino Beauty's latest fragrance campaign. The Italian fashion house announced Gaga as the new face of Voce Viva, a perfume created by Valentino creative director Pierpaolo Piccioli.
"Imagined as a voice to spread a message around the world, Valentino Voce Viva invites everyone to touch hearts, inspire others and live their dreams," the brand said in a press release. "Expressing the Maison's values of inclusivity and individuality, Voce Viva celebrates one of the women's most intimate sense."
To spread this messaging, Valentino selected Gaga for her Italian roots, inclusivity, and individuality. "Lady Gaga means freedom, self-consciousness, pure heart," Piccioli said in a statement. "Her participation in this campaign elevates the symbolic power of the project to the highest level. She is the icon of a generation. Her message of freedom, passion for art, self-consciousness and equality is the same our Valentino community stands for. I am so proud for having her in."
Gaga's campaign will debut this September, in accordance with the worldwide launch of Voce Viva. The singer has long been a fan of Valentino, having worn the brand's pieces multiples times on the red carpet when promoting A Star is Born.
Perhaps most memorably, she attended the 76th annual Golden Globe Awards and accepted the award for Best Original song in a periwinkle Valentino gown. She also wore a dramatic Valentino feather gown at the Venice Film festival in 2018.
This content is created and maintained by a third party, and imported onto this page to help users provide their email addresses. You may be able to find more information about this and similar content at piano.io
This commenting section is created and maintained by a third party, and imported onto this page. You may be able to find more information on their web site.
Homme Plissé Issey Miyake Spring 2021 Menswear Collection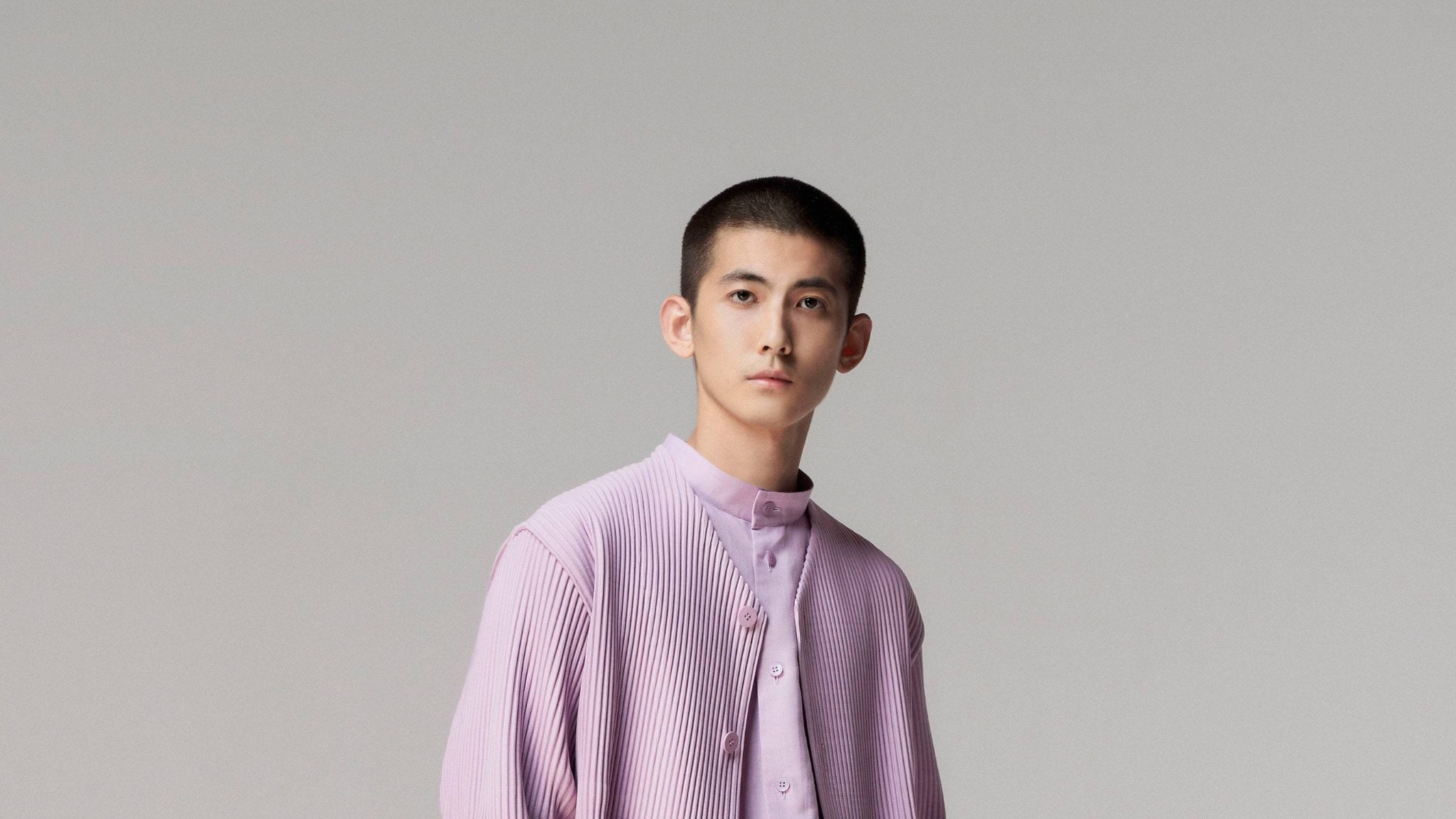 "For a future that is healthy, bright, and full of hope." So read the closing caption at the end of an engagingly filmed and attractive collection from Homme Plissé Issey Miyake. That it was worth sticking around until the end of the credits to read said caption is down to the phone-shot footage of Plissé enthusiasts out and about, enjoying their clothes. Before that we saw three dancer models, one of whom was partnered with a basketball, demonstrate the ease the pieces afford by moving enthusiastically. A very nice touch was the suggestion that these were not only clothes you choose to put on in the morning, but also clothes that implore to be worn: They attracted the attention of the models by quivering on the rail with the same pent-up urgency my reproachfully unwalked dog demonstrated all day one of this digital Paris Fashion Week.
Among the highlights were a tracksuit in an irregular, multicolor, cityscape inspired check; robe-like coats in polyester printed in soft-toned bleach puckerings originally rendered on denim; and pieces in a mesh fabric developed to resemble a hologram. Plissé jackets included new three-quarter sleeves which Miyake's typically comprehensive notes explained were designed to transition between the formal and casual. Two looks in top-to-toe stone tones, with low hemmed shirts, were perhaps a little cult member / spa employee, but evidently deeply relaxing to wear. Plissé pieces can be classed as both activewear and tools for attainment of serenity.