Sea Salt Shampoo Is All You Need To Wash Your Hair Less
Sea salt has long been a staple in the haircare world, primarily for the purpose of creating tousled, beach-worthy waves, long after beach season has come and gone. But while ocean-inspired spritzes may have been a part of your collection since middle school, over the last few years sea salt has found a new home in shampoo bottles, as well.
"Sea salt shampoos, which are relatively newer on the market, can help provide volume, body, and a feeling of fullness and texture to the hair," says hairstylist Marco Pelusi, founder of Marco Pelusi Hair.  "It can also possibly help remove build up or grease on the hair, almost helping to serve as an exfoliant." Below, Pelusi and Trey Gillen, hairstylist and artistic director at SACHAJUAN, weigh in on what sea salt shampoo is, what it does for hair, and who should try it.
What are the benefits of sea salt shampoo?
1. It exfoliates your scalp
The health of your hair starts with your scalp, and regularly exfoliating the area is key for keeping both your skin and strands happy. "Salts are natural organic ingredients that cleanse well without stripping the hair and causing scalp issues," says Gillen. "If you have oily hair, for example, sea salt can work to absorb this excess oil, or alternatively if you suffer from dry flakes, sea salt is thought to help get rid of [those]."
Depending on the formula, sea salt shampoo can act as a physical scrub, thanks to its course texture that helps to slough away dead skin cells, dirt, and product build-up so that your scalp can breathe. "If you're a product junkie, washing your hair may or may not wash out all the product, dry shampoo, oil, sweat, and dead skin cell build-up on your scalp, so scalp scrubs may come in handy. Individuals with finer textured hair can be more prone to product build-up, so a scalp scrub may be a good consideration," board-certified dermatologist Keira L. Barr, MD, founder and chief wellness officer of Resilient Health Institute, previously told Well+Good.
That said, if you have a skin condition on your scalp—like psoriasis, acne, eczema, or any cuts and sores—scrubbing with sea salt shampoo (or any sort of  physical scrub, for that matter) may make things worse and cause more flaking and irritation, so it's best to opt for a chemical scalp exfoliant instead.
2. It adds texture to your strands
Just as an ocean dip can leave your hair tousled and texturized, sea salt shampoo can have similar effects. "It adds plenty of volume and texture to hair, and provides a long-lasting hold," says Gillen. "Fine, flat hair can benefit from the volume and texture sea salt shampoos provide." The salt helps to open up the cuticle in your hair, which plumps up your strands to give them more texture and volume. What's more, this allows whatever conditioner you apply afterward to penetrate the strands more deeply, which means your hair will have more body and more moisture after you use it.
3. It will help you wash your hair less
Since regularly exfoliating your scalp can help keep it clean from gunk and grime, using a sea salt shampoo can help you cut down on your regular lather and rinse routine.  "It's possible it may allow you to shampoo your hair less often, as it may provide more of a deeper cleansing feel," says Pelusi. And what makes it better for cutting down your regular lather-and-rinse routine than other scalp scrubs? "Using sea salt shampoo can allow fewer washes as the salt acts as a dry shampoo, absorbing oils off the scalp," explains Gillen.
4. It isn't for everyone
However, be warned: Salt is incredibly drying and if you have dry or brittle hair, you shouldn't opt for a shampoo like this one."If you've got really damaged, over-processed, or overly color-treated hair, it's probably not for you," says Pelusi. He adds that if you have any sort of chemical treatment in your hair, like keratin, you'll want to check with your stylist to ensure that it's compatible. It really is best for finer textures to give them a boost.
How to use sea salt shampoo
Sea salt shampoo can give your scalp a pretty intense cleansing, so you don't necessarily to use it every day. Pelusi suggests using it once a week, and potentially following it up with a more traditional cleansing shampoo on the other days you choose to wash your hair. "Follow the instructions, and see how it makes your hair feel," he says. "Everyone's hair is different and unique—sometimes your hair and scalp just needs a good, tried, tested and true surfactant cleanser."
To effectively add it into your own routine, your best bet is to chat with your stylist or dermatologist to see what they'd recommend for your individual hair type and concerns. Be sure to always follow up with conditioner (which should always be the case, but is even more important when you're using sea salt shampoo since it can be drying on its own), and use a heat protectant ahead of any styling.
Shop sea salt shampoo
Sea salt isn't the only ocean ingredient that this shampoo makes use of: It's formulated with marine algae extract to help make strands stronger, shinier, and more supple. It's also got antioxidants to protect your hair from envrionmental stressors, and can be used on all hair types.
Shop now: Sachajuan Ocean Mist Volume Shampoo,  $29
To give your scalp a real spa-worthy scrub, try this black sea salt and basil scrub. In addition to its cleansing and exfoliating properties, it's also got menthol, which has an ahh-inducing cooling effect.
Shop now: Le Labo Scrub Shampoo, $40
This product has earned itself top billing as an editor-approved favorite, thanks to the fact that it offers gentle—yet effective—exfoliation. Its sea salt granules froth onto the scalp, making it non-abrasive, and it's made with a natural moisturizing agent that helps restore hydration into your scalp that will stick around long after your daily lather.
Shop now: Christophe Robin Cleansing Purifying Scrub With Sea Salt, $50
If you're looking for a gentle sea salt shampoo that's more effective in styling than scrubbing, consider this the perfect pick. It's a great introductory product for anyone who wants to dip their toes into the ocean of sea salt products (sorry, I had to), and will leave your hair looking full and textured, as if you just came back from a day at the beach.
Shop now: Bumble & Bumble Surf Foam Wash Shampoo, $27
This do-it-all sea salt shampoo can be used on your scalp and body, and was specifically designed with natural hair in mind. It's made with all-natural moisturizing ingredients, and is gentle enough for even dry, damaged, and over-processed strands.
Shop now: Taliah Waajid Total Body Black Earth Shampoo, $6
This texture-enhancing shampoo will add grit and body to any hair type. It's made with both sea water and sea salt, and works to strengthen fragile strands with an influx of minerals. Plus, it's got quinoa proteins, which coats your hair to protect it from damage.
Shop now: Verb Sea Texture Shampoo, $18
Want even more beauty intel from our editors? Join Well+Good's Fine Print Facebook group (and follow us on Instagram) for must-know tips and tricks.
How to Choose the Right Barbour Jacket Style for You
Barbour is a brand that bears a diverse range of associations, from British royals in the countryside to rockstars trekking through the mud at Glastonbury — not to mention a certain former White House chief strategist.
But despite the icon status and heritage ingrained in the brand, of the brand's many styles of wax jackets, there are only two that seem to be easily recognized: the Bedale and Beaufort. While these jackets are classic in their own right, there's a whole slew of equally classic silhouettes we've neglected.
In an effort to shed some light on the brand's many other waxed jackets, we've compiled a guide detailing each style they offer, including the Bedale and Beaufort and their different iterations. Allow the guide to help you easily distinguish between the silhouettes as well as much more easily find a jacket best suited to your wants and needs. Whether you continue to stick to the Beaufort or Bedale, or opt for something new, there's really no going wrong.
Bedale and Beaufort Wax Jackets
The most ubiquitous silhouettes from the brand, the Bedale and Beaufort Wax Jackets bear striking resemblance to one another and are thus the two you're most likely to get confused. However, the Bedale preceded the Beaufort by three years, with production starting in 1980 with riding in mind. While the Bedale was designed for equestrian purposes, the Beaufort gleaned inspiration from French shooting jackets, evident in the large rear pocket meant for holding game.
Both silhouettes feature traditional Barbour details like waxed cotton, a corduroy collar, two-way zipper and handwarmer pockets. At first glance the Bedale and Beafourt might look identical, but the main difference between the two lies in their length, with the Bedale proving to be shorter by a few inches (the back length of the Bedale measures 30″ to 32″ while the Beaufort measures 33″ to 34″). The Bedale also has elastic cuffs, which the Beaufort has an unconstricted opening.
Classic vs. Regular
To add further confusion when it comes to differentiating between the two, there exists a Classic Bedale jacket and a Classic Beaufort jacket, as well as non-classic iterations of both. In Barbour-speak, "classic" is used to indicate a jacket that is made with the brand's Sylkoil outer, an "unshorn" wax taken directly from the loom then dyed and waxed. As a result, the imperfections of the weave are evident in the color and finish of the fabric.
Because of the Sylkoil process, the texture of a "classic" Barbour jacket takes on a more weathered appearance versus the smooth finish of the brand's regular waxed cotton. Choosing between the two becomes a matter of deciding how much wear one wants the jacket to show, but in Barbour's eyes Sylkoil is the more traditional fabric, hence the use of "classic" as a qualifier.
Classic Bedale Wax Jacket
Bedale Wax Jacket
Classic Beaufort Wax Jacket
Beaufort Waxed Cotton Jacket
Corbridge Wax Jacket
Where the Bedale and Beaufort jackets work for a range of seasons, the Corbridge Wax Jacket was designed specifically with winter in mind. Constructed from the brand's 6oz Sylkoil waxed cotton, the Corbridge also features a nylon lining quilted to 50g wadding (think stuffing) to provide extra warmth. Although the Corbridge was crafted with more utilitarian purposes in mind, the jacket's slimmer silhouette lends the wearer a more defined figure that makes it conducive to more than just practical wear.
Lutz Wax Jacket
If you've noticed that the finish of Barbour's Lutz Wax Jacket differs from that of the Bedale or Corbridge, that's because the Lutz is cut from 8oz Oban waxed cotton, a suede-like fabric with a matte appearance. As iconic as the Sylkoil and regular waxed cotton versions are, maybe you want something slightly more inconspicuous, something that still reads as Barbour just not so immediately. The sports jacket still features classic brand details that are slightly altered, like a corduroy-lined collar that fastens with a buckle rather than a snap.
Sapper Wax Jacket
Perhaps the most notable features of the Sapper Wax Jacket is the drawcord waist which gives the jacket a more tailored appearance and the lighter-weight Sylkoil it's crafted from. While the rugged utilitarian aesthetic is evident in all Barbour jackets, the Sapper takes these elements (like the four outer pockets) and refines them, making for a jacket that remains functional without looking too much the part.
Gilpin Wax Jacket
The Gilpin jacket features something we have yet to encounter in any of the previous versions: leather detailing. The details are subtle, but leather trim can be found on the collar, with the leather creating a sort of half-moon, as well as a leather Barbour badge on the pockets and back of the jacket and leather piping along the front pockets. Barbour describes the Gilpin as being "ideal for any country pursuits" but we think it would work just fine in the city, too.
Beacon Sports Wax Jacket
You might recognize the Beacon Sports Wax Jacket as having been donned by Daniel Craig's James Bond in 2012's Skyfall. While Craig sports the To Ki To, designed by Tokihito Yoshida in limited quantities, this version of the Beacon takes much of its inspiration from the highly sought-after Japanese design.
The medium-weight waxed cotton jacket features leather-trimmed cuffs, contrasting shoulder and elbow patches and a triangular button throat flap. Whereas Barbour's other styles are more casual, the Beacon has the added benefit of working as both a blazer (just fold down the collar) and a classic piece of outdoor outerwear (just turn the collar up).
Prestbury Wax Jacket
One aspect of the Prestbury Jacket that stands out most are the angled pockets fastened with stud-close flaps. In contrast to the usual deep bellows pockets, the angled pockets provide the jacket with a sleeker, less bulky silhouette. Consider the Prestbury for those days you don't have to carry much else besides your phone and wallet.
Border Wax Jacket
Barbour's Border Wax Jacket is essentially the brand's Bedale and Beaufort silhouette, yet with a considerable amount of length added. Maybe you find yourself on the taller side and want a jacket that properly fits you and doesn't look shrunken, or maybe you just want a jacket that will provide extra coverage — whatever the reason, you need look no further than the Border.
Bristol Wax Jacket
Like the Corbridge, the Bristol was designed specifically with the winter months in mind and thus features a storm-fly front with stud fastenings to keep out the treacherous wind, rain or snow. Additional protective features include the sit-down corduroy collar that can be raised for added protection as well as two waist-length handwarmer pockets lined with moleskin for not only warmth but a touch of luxury. It's the classic look of the Beaufort and Bedale, just with some slight reinforcements.
Classic Durham Wax Jacket
Again, because the Durham is part of the "Classic" collection you know that it is made from the brand's Sylkoil wax. However, rather than the 6oz Sylkoil used for the Bedale and Beaufort, the Durham is crafted from 4oz Sylkoil, making it ideal for wear year-round. While all Barbour jackets are made to withstand various types of weather, this is most evident in the Durham silhouette, thanks to the large hood and cape detailing. This isn't to say that the Durham isn't a handsome jacket, just that it's more explicitly utilitarian than most.
Grendle Hooded Wax Jacket
Subtly inspired by the military, the Grendle is a blouson style jacket perfect for inclement weather, thanks to the storm-guard fastening and waterproof exterior.
Dalegarth Waxed Cotton Jacket
All the elements of a classic Barbour jacket are present in the Dalegarth, from the corduroy collar, to the brass stud buttons and, of course, the waxed cotton. But there's something about the Dalegarth that seems even more rugged and stripped down in comparison to its counterparts. Maybe it has something to do with the heavier 8oz wax on the shoulders or the resemblance in silhouette to a shacket, but it's a jacket that seems especially conducive to time spent outdoors.
Hafden Waxed Cotton Jacket
Another jacket crafted from the brand's heavy Oban wax, the matte black exterior of the Hafden might seem boring in comparison to the brand's usual olive greens and browns, but you'll appreciate the color when it takes abuse from weather in the colder months, yet looks to be no worse for wear.
Hortal Waxed Cotton Jacket
Barbour's Hortal Waxed Cotton Jacket is the brand's take on the classic barn coat, and it features a more tailored silhouette with button front fastenings that lead to a curved hem. It's handsome without sacrificing practicality — in other words, a jacket fit for fall.
Hermès unveils light-filled new high jewellery collection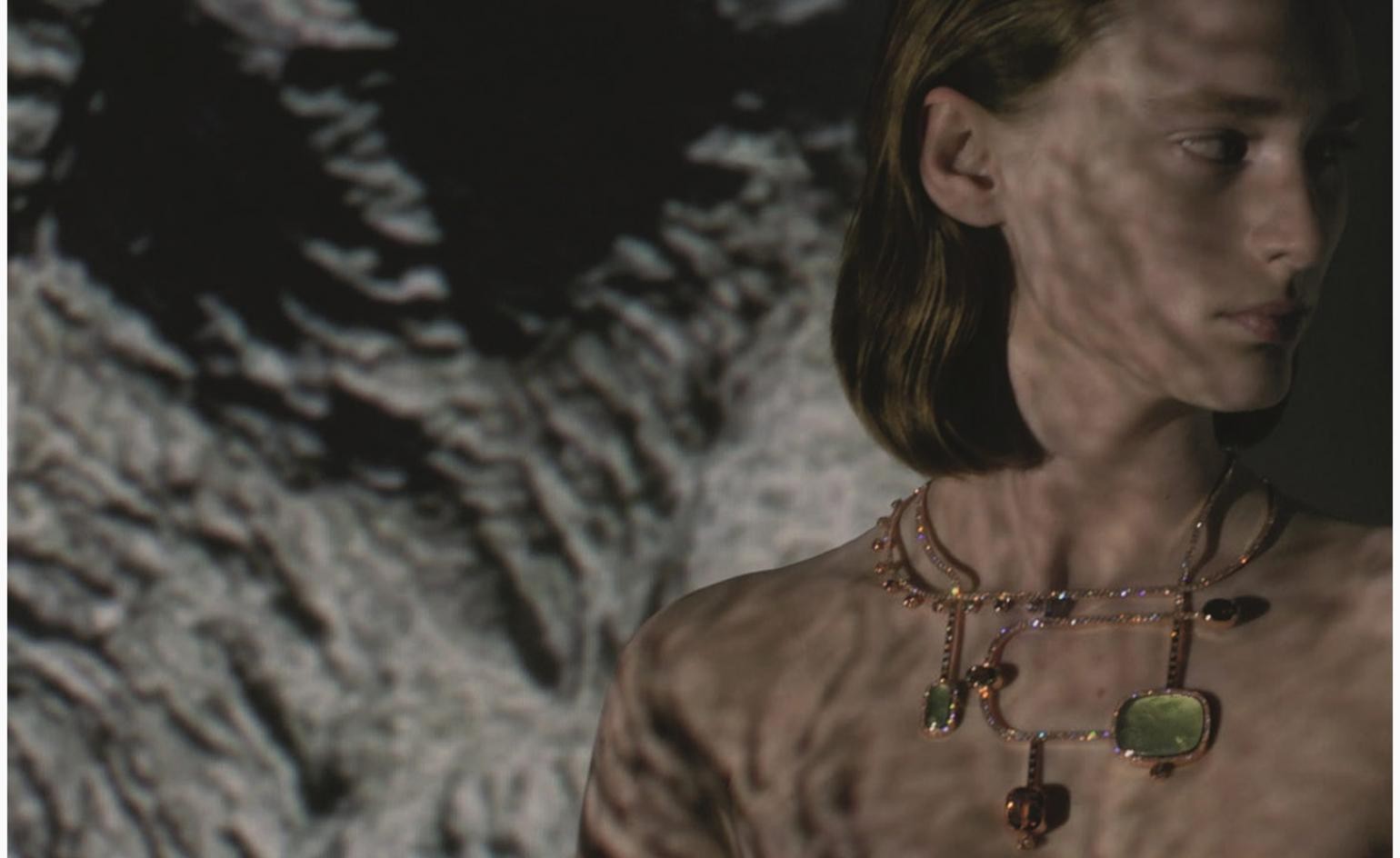 Hermès unveils light-filled high jewellery collection
Pierre Hardy's Lignes Sensibles collection juxtaposes a rainbow of gemstones against warm rose gold
A sense of intimacy characterises creative director of Hermès jewellery Pierre Hardy's pieces, which seek to be close to the body in increasingly intricate forms. In the past, the heavy gold links of his perennially popular chains achieved this by emphasising the body's lines and curves, and the new Lignes Sensibles collection gets closer still.
Hardy was inspired by objects which listen to the body, such as a stethoscope, for this collection, tracing its coiling lines on the skin. Skin colour becomes embodied in gemstones in cloudy, milky hues, with cabochons in pink quartz, black jade and grey and cream moonstone cutting bold geometric silhouettes.
When abstractly placed, they subvert the symmetry Hardy sees in the human body. Gradients of colour run throughout, with light brown diamonds, a signature of Hermès jewellery, adorning the neck, chest and hands. A cuff encrusted with quartz cabochons and a triple ring of quartz, jade and opal encapsulate bolder tones.
Other jewels seek to get close through osmosis; by working with lace-like meshing for the Contre la peau necklace, it becomes a fabric crafted from metal and diamonds complete with triangular micro-wrinkles – a second skin. Fluidity is a recurring theme: loops of diamond chains around brooches mimic the flow of water, hand chains trace lines of veins and an earring hugs the contours of the ear. §
The Internet Is Divided Over the Color of Billie Eilish's Sneakers
Billie Eilish has discovered 2020's version of the "The Dress." You, of course, remember that 2015 moment when everyone in the world seemed to have an opinion on whether a specific dress was blue and black or white and gold. (For the record: I will die on the blue and black hill.) 
Eilish was doing a Q&A with fans on her Instagram Stories when someone asked for her opinion on "The Dress," which she stated was actually blue and gold to her. She then pulled out a pair of Nike sneakers that presented their own sort of optical illusion. She said her father thought they were pink and white, which is also what they looked like to me. However, the singer said they are actually mint green and white. To be fair, they also kind of look mint and pink. 
It's a mystery! 
"The whole internet is gaslighting me," Eilish said playfully. "I don't care what you think they look like, I care what they are." 
She then took the shoe in question and another pair outside in the sunlight for comparison's sake—and…it seems like she was, indeed, right. 
Obviously, people on social media had to weigh in. "Every time i look at billie eilish's story those shoes are a different colour. HOW TF ARE THEY MINT AND WHITE AND NOT PINK AND WHITE!? IM GOING CRAZY. HELP," one person tweeted. "Billie Eilish yelling at her followers for saying her shoes were pink and white is the only celebrity drama I want to see in my life EVER again," another wrote. 
Whatever the case, Eilish's shoes are very cute. Looks like people will just have to agree to disagree on this one, like they did with that damn dress. (But again, for the record, let me just say it was blue and black!)