See Catherine O'Hara's Drone Photo Shoot For Vanity Fair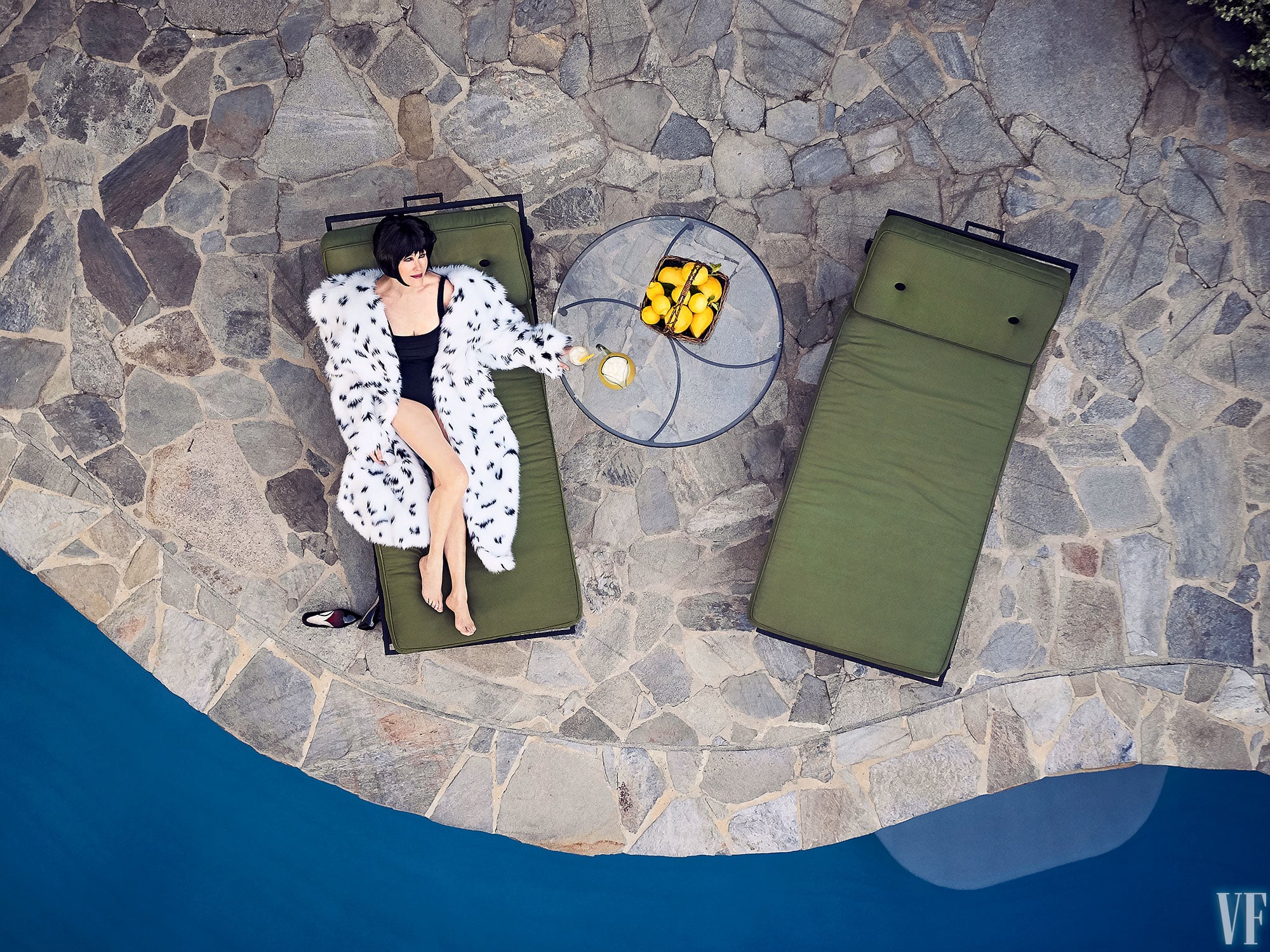 Leave it to Catherine O'Hara to flawlessly encapsulate the exact level of extra I'm trying to be this summer — with an at-home spin, of course. For Vanity Fair's June issue, the Schitt's Creek star got in touch with her inner Moira Rose, posing for a glamorous photo shoot captured via drone. And yes, multiple wigs and fancy clothes were involved. I mean, does it get much more quintessentially Moira than that?!
The iconic actress suited up in various luxe outfits, including both designer pieces and items from her personal closet, for the shoot, which took place in her spacious, woodsy backyard. While lounging poolside for the frame-worthy drone snaps, Catherine looked divine in a speckled Cruella de Vil-esque fur coat by Balenciaga, worn with her own black one-piece swimsuit and a black bob wig reminiscent of the one Moira wears for her Jazzagals audition. Later on, posing for socially distant pictures by her lemon tree, she rocked a hot-pink Balenciaga jacket with her own black boots and a short platinum-blond hairpiece much like Moira's wig from the (canceled) Poison concert episode in season five. Oh, the memories!
During the magazine spread's interview, Catherine opened up about her time as the Rose family's matriarch, her many auditions gone wrong, and so much more. Head to Vanity Fair's website to read the full story and see even more stunning snaps from the star's aspirational backyard photo shoot.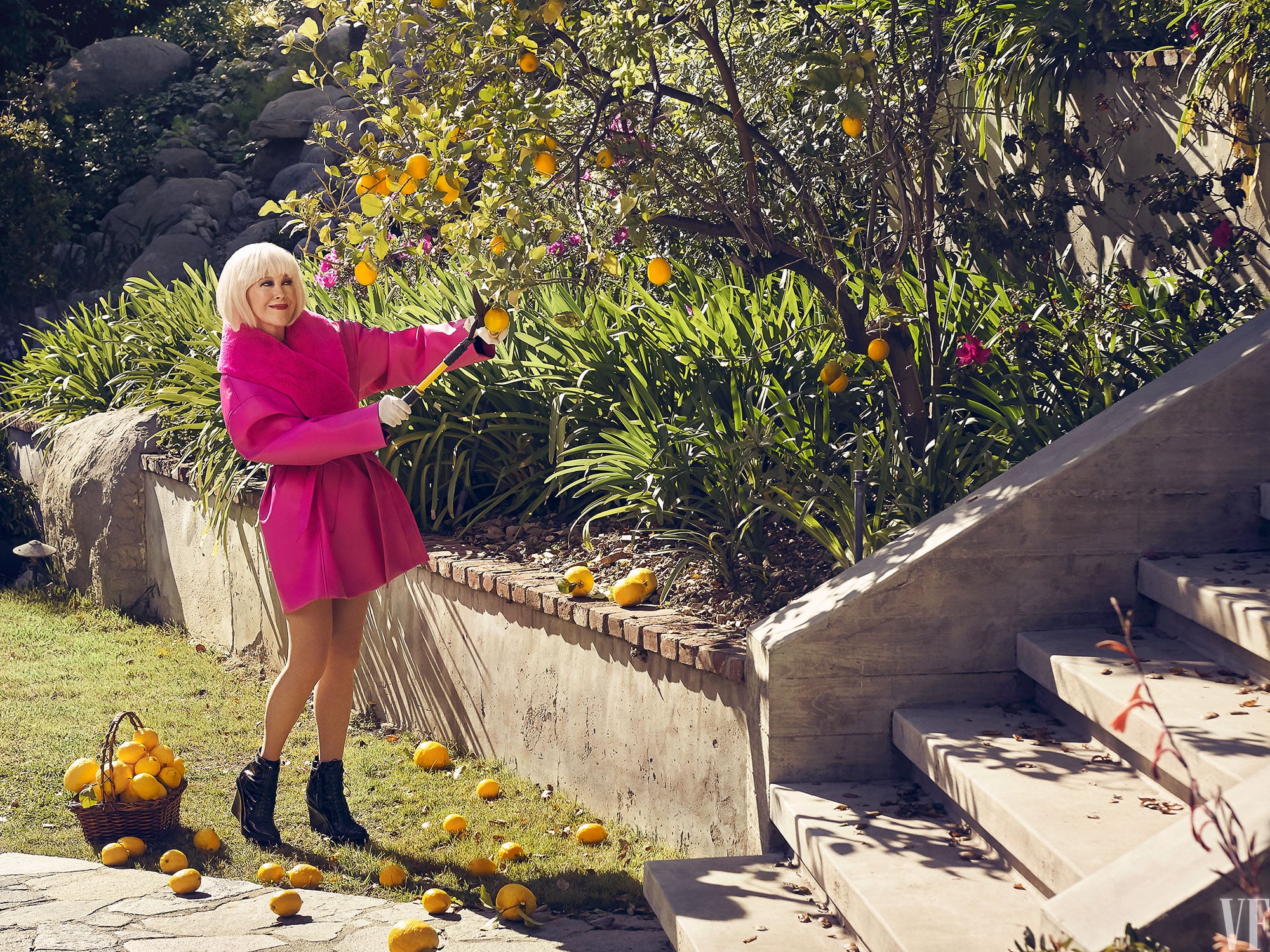 Image Source: Art Streiber / Vanity Fair
Victoria Beckham's Cotswolds kitchen is even more gorgeous than you'd imagine


Chloe Best

Victoria Beckham's house in the Cotswolds features a rustic kitchen with exposed brick walls and bottle green cabinets

Victoria Beckham's kitchen became her home office on Wednesday, as she worked on her latest fashion collection at her house in the Cotswolds. The former Spice Girls star, who is isolating at her second home with her husband David and their children Romeo, Cruz and Harper, shared a look at her relatable work setup on Instagram – and became the envy of her fans in the process.
"My warm weather working from home wardrobe! Shorts & slippers. The dream," Victoria captioned the photo, which shows her perched at her kitchen island on a wooden stool while wearing a pair of tiny denim shorts and a sweatshirt.
Victoria Beckham shared a look inside her Cotswolds kitchen
While many followers were envious of Victoria's toned legs, others couldn't resist commenting on her gorgeous kitchen. "House goals! The stone flooring is amazing!" one wrote, while a second agreed: "Dream house."
RELATED: Inside David and Victoria Beckham's Cotswolds home
It definitely does appear like a dreamy kitchen setup, with stone flooring, exposed brick walls and a bottle green wooden island unit. Copper saucepans hang overhead, while a chandelier adds the ultimate luxurious finishing touch.
The rustic kitchen also has a pizza oven
A previous photo shared by Victoria has revealed another glimpse at the room, showing a large wood-fired pizza oven on one side, with chopped logs stacked underneath ready to cook. The aesthetic of the room ties in with the rustic feel throughout the rest of the house, which is a barn conversion located close to the celebrity haunt of Soho Farmhouse.
GALLERY: Inside the most beautiful celebrity kitchens
The property boasts beautiful gardens too, where the family can also enjoy barbecues together in the summer, play tennis on their own tennis court, and unwind in their log cabin that houses a sauna and steam room. There is even a plunge pool on the lawn to cool down afterwards. What more could they want?!
WATCH: 10 of the most stunning celebrity kitchens
Like this story? Sign up to our newsletter to get other stories like this delivered straight to your inbox.
Shoppers Say Thermacell's Mosquito Repeller Works Wonders
this link is to an external site that may or may not meet accessibility guidelines.
Vans Classic Slip-On Shoes Are the Most Comfortable on Zappos
this link is to an external site that may or may not meet accessibility guidelines.