Tapestry Loses $652 Million For Year, But Beats Quarterly Expectations – WWD
Tapestry registered big losses last year, but manage to turn in better-than-expected fourth-quarter results, reassuring Wall Street.
The fashion house —  parent company to Coach, Kate Spade and Stuart Weitzman brands —  narrowly beat analyst expectations for the quarter, but still logging a $652 million loss for the year. Shares of Tapestry, which closed up 0.5 percent Wednesday to $15.60 a piece, shot up nearly 5 percent during Thursday's pre-market hours as a result. 
"Our fourth quarter results reflected our effective and values-led approach to navigating the COVID-19 pandemic," said Joanne Crevoiserat, Tapestry's interim chief executive officer. "This performance exceeded internal expectations, demonstrating the power of our unique brands and the decisive actions taken to adapt our business to the rapidly evolving environment and enhance financial flexibility. I am incredibly proud of our global teams for the resilience, passion and commitment they have shown during these unprecedented times. 
"Looking forward, Tapestry's next chapter of growth is ours to write," she continued. "While the backdrop remains volatile, it has not changed our long-term objectives. Rather, it has been a catalyst to accelerate our strategic agenda. Through our acceleration program, we are transforming into a world-class consumer centric organization that is more agile and data-driven with a digital-first mindset. We believe these initiatives will create stronger connections with our customers, fueling accelerated growth and profitability for Tapestry and each of our brands."
For the three-month period ending June 27, 2020, total company revenues were $715 million, compared with $1.5 billion last year. By brand, Coach ended the quarter with $517 million in revenues, down from $1.09 billion the same time last year. Revenues at Kate Spade were $164 million, compared with $332 million a year ago, while shoe and accessories brand Stuart Weitzman reported quarterly revenues of $33.3 million, down from $85.2 million the previous year. 
For the year total company revenues were $4.9 billion, down from more than $6 billion last year. Coach's top-line revenues for the entire year were $3.5 billion, compared with $4.2 billion last year. Kate Spade's revenues fell to $1.15 billion, down from $1.36 billion a year earlier. And Stuart Weitzman's revenues fell to $286 million, down from $389 million the previous year. 
Tapestry lost $294 million during the quarter, down from earnings of $149 million a year earlier. However adjusted losses of 25 cents per share for the quarter were far better than the 56 cent deficit analysts projected. 
Full-year losses of $652 million compared with earnings of $643 million during 2019's fiscal year. 
There were a few bright spots, however. The retailer said e-commerce sales tripled during the quarter, compared with the same time last year, while sales growth in Mainland China returned to positive growth year-over-year during the quarter. The company also said inventories declined by 5 percent, compared with a year earlier. 
Changes to the company's operating model resulted in reduced selling, general and administrative, including a 20 percent decline in the company's run-rate corporate headcount cost and effective expense management. (Tapestry laid off approximately 2,100 people across all three brands last April and continued to trim the headcount in May and June.)
Tapestry ended the quarter with $1.4 billion in cash and short-term investments, including $700 million drawn down on its revolver, and $1.58 billion in long-term debt. 
The company has 1,567 stores around the globe, or 958 Coach stores, 420 Kate Spade stores and 189 Stuart Weitzman stores. The majority of Tapestry's directly-operated stores reopened by the end of the quarter. 
The company is not providing forward-looking guidance, but said it expects to save approximately $200 million in gross run-rate expenses during the next fiscal year by way of cost-saving initiatives. The retailer said it will also continue to lean into its digital operations while reevaluating its store fleet. 
Tapestry, like so many others in the retail industry, is still reeling from store closures around the globe earlier this year in an effort to prevent the spread of the coronavirus. 
But other headwinds abound, including the loss of a permanent leader. Former chairman and ceo Jide Zeitlin abruptly resigned in July — a few months into his three-year stint at the fashion house — after a 2007 #MeToo allegation resurfaced. 
Tapestry's current management team includes Crevoiserat; Todd Kahn, president and chief administrative officer and company secretary, as Coach's interim ceo and brand president; Andrea Shaw Resnick, global head of investor relations and corporate communications, as interim chief financial officer, and Susan Kropf, lead independent director, now chair of the board. 
Tapestry's stock is down 41.5 percent year-over-year.
U.K.'s ITV to Restructure Amid Rise of Streaming
"The restructure will drive improvements in efficiency and reduce cost," with the TV giant also looking at its London real estate.

U.K. TV giant ITV said on Monday that it plans to restructure its broadcast business "to better reflect and serve changing viewing habits" amid the rise of streaming.
ITV said it would create a new media and entertainment division with two new business units – broadcast and on-demand.
ITV said both divisions will "be supported by leaner central support services," a sign of  job cuts. "The restructure will drive improvements in efficiency and reduce cost." ITV didn't give details for the expected number of job cuts and savings, but said the process of restructuring "has now started and will be fully complete by the end of March 2021."
ITV also plans to reduce its London office space over the coming years "to reflect the changing needs of the business in the context of its digital transformation and the move towards more flexible working as well as taking cost out of the business." No decision about exactly what this means for ITV's current London offices has been made.
The new broadcast division will continue to focus on ITV's mass reach TV business, including the flagship ITV channel.
The on-demand business unit will be "the focus of digital product development and growth for ITV," it added. "It will grow ITV's online offering by providing new content that appeals to audiences who already do most or all of their viewing on demand and will serve it to them in whatever way they want to access it." This unit will include on-demand service Hub, Hub+ (the advertising-free version of the Hub) and subscription VOD service BritBox.
Kevin Lygo, currently ITV's director of television, will become managing director of the media and entertainment unit and continue to run the broadcast business unit. Rufus Radcliffe, currently ITV's chief marketing officer, will head up the on-demand unit.
Said ITV CEO Carolyn McCall: "Our new media and entertainment division will enable ITV to continue to deliver mass, live audiences while investing in the future to create the sort of content and viewing experience that younger, and other harder to reach viewers want. ITV will continue to broadcast shows which entertain millions of viewers. Most are watched live and that fact together with the scale of these audiences will continue to offer unrivaled opportunities for brands to reach consumers."
She added: "Linear channels will be around and be profitable for many years but we also need an on-demand business, which will increasingly be the focus of our new investments in content and technology and which will be our growth engine attracting younger and more targeted audiences to ITV."
Billie Eilish's Green Nike Air Uptempo Sneakers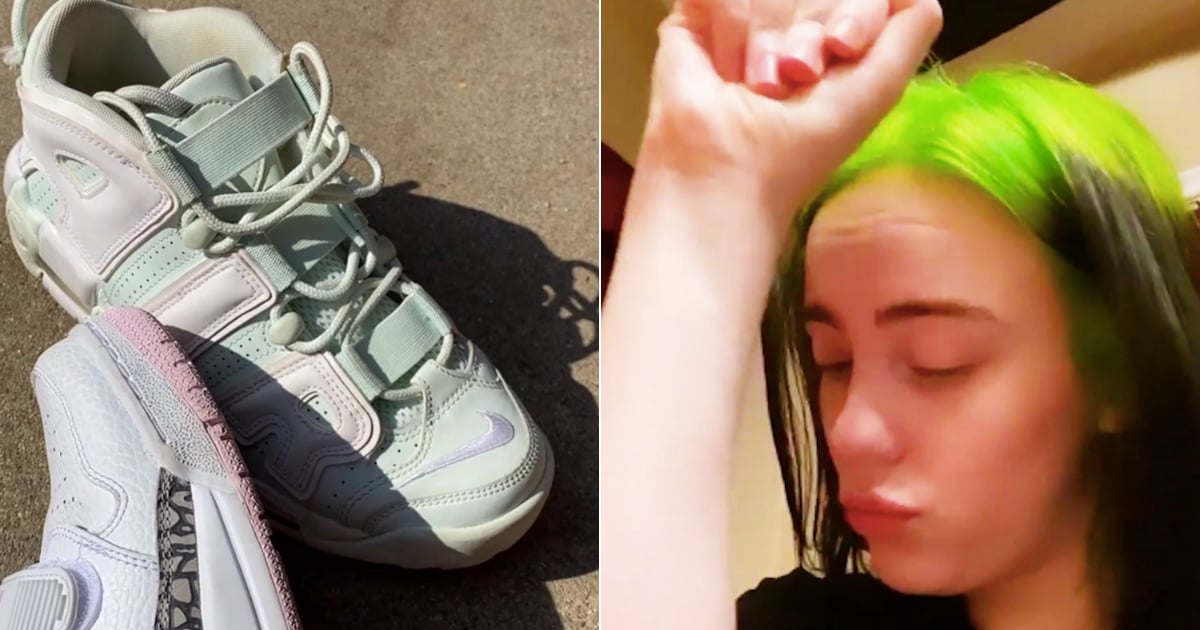 Billie Eilish has a serious issue to take up with the internet and her fellow sneakerheads: what color are the Nike Air Uptempo sneakers? Billie gave us all a sneak peek into her shoe closet (spoiler: this place is sneaker central), trying to convince everyone that the Uptempos are mint green and an off-white, though it seems some people feel the off-white shade has a pinkish tone.
"So I've come to the conclusion that you guys just don't know your sneakers at all. Because the people that agree with me — because they know what the f*ck the shoe looks like — are all people that are sneakerheads that know what the f*cking Uptempo Mid Green shoes look like," Billie said, clearly stressed over the issue, though she does acknowledge that there are bigger problems going on in the world, and we agree with her there.
Suffice it to say, as fellow fashion people, we totally feel Eilish's frustration, and girl, we've been there. We have to hand it to Billie: most descriptions of the Uptempos that she owns do not describe the outer leather as pink whatsoever. So yes, Billie, you can have this one!
Unfortunately, if you're now eyeing the trainers as we are, they're sold out in most places, but available for resale on sites like Vestiaire Collective and Poshmark. Read ahead for another glimpse at Billie's comparison shots, then pick up her shoes, which we're sure she'll wear on some virtual red carpet or for a performance soon. Clearly, they deserve the spotlight just as much as Billie does.
Shop Prada, TNF & More at 80% Discount in The Macy's Sale
Founded in 1858, Macy's has been doing its thing for more than 150 years. Over this time it has perfected the physical location — all 546 of them, as of 2015 — and the online offering is growing by the day. With a catalog spanning from Nike and adidas' classic sportswear right the way through to luxury Italian fashion from Prada Linea Rossa, you can shop for all occasions, and with the Lowest Price of the Season Sale on now, it's the perfect time.
It can be daunting to see that a sale has a four-figure item count, but Highsnobiety curators dived in anyway to see what was on offer. From Barbour to Ray-Ban, this selection is proof that a quick search can reap a ripe reward.
The details
What: Up to 80 percent discount, plus $20 off select purchases over $50
When: Until 25 October
Code: Click here to shop the sale, and enter code 'LPOS50' at checkout for $20 discount
Our designated Selects section features products that we love and want to share with you. Highsnobiety has affiliate marketing partnerships, which means we may receive a commission from your purchase.