The Bankruptcy Bell Tolls, But Few Hear The Sound
Just yesterday, the patient was in the chair being fitted for eyeglasses, when the Optometrist flicked the lens filter and asked: "better 1 or better 2?"
The patient attempted to focus and responded: "well, one is a tad fuzzy, but two is crystal clear."
The doctor's office was located on Fashion Avenue in New York City, and the chatter from local customers (brands and retailers) was remarkably consistent with the "focus" question. As it turns out, due to unusual retail circumstances of the last few months, patients were looking at business through a similar lens: "better 1 or better 2."
In today's environment, if retailers have enough cash or available liquidity to run their business, they will be able to tough it out. If retailers can't secure additional credit or can't maintain enough cash in their pipeline, the "focus" question often gets presented to their accountants and lawyers.
Better 1 – is to raise more cash by cutting expenses, selling or borrowing against assets, or hoping (against hope) for a federal bailout.
Better 2 – is to utilize America's bankruptcy laws to re-structure or terminate their business.
Better 1 or Better 2?
Sad as it may seem, even with powerful Senator's like New York's Chuck Schumer and Kirsten Gillibrand, and with Representatives like Jerry Nadler and Carolyn Maloney, there is nothing moving in Congress right now that would provide financial assistance for New York's garment center. The federal government may be worried about a lot of things, but officials don't seem to have their eye on the retail ball. It appears that their primary concern (from a federal perspective), only relates to big labor or to big business. Anything in-between is apparently not ringing their bell. Republican talking points favor large corporations or payroll tax cuts. Democratic talking points extend to unemployment benefits and health care. Someone needs to realize, that if retail workers don't have jobs because their companies are strapped for cash, then all the benefits they want to provide (in preparation for reopening) are meaningless.
Overall, the data is clear. According to the National Retail Federation (NRF), the retail industry (as a whole) employs 52 million direct and indirect workers and contributes $3.9 trillion dollars to the American economy. Essentially, 1 in 4 American workers have some relationship with the retail industry and overall, this accounts two-thirds of America's gross domestic product. The fashion sector is but one important component of the retail sector, but is being extremely hard hit. Year over year through the month of May 2020 (per Retail Dive) apparel sales have fallen 63.3% and Department Store sales have fallen 30.9%. The industry is halfway through the calendar year, with less than half the sales of last year.
While the fashion world may have multiple issues, the biggest problem is the current inability to access credit markets. Looking at this carefully, as business liquidity continues to shrink, the lines outside bankruptcy court get longer. It is beyond amazing that politicians have (so far) neglected to stand up for retail, and have failed to assist the industry in any sustainable way. New York City is the fashion capital of the world, and the entire industry is essentially housed between Congressman Jerry Nadler's 10th Congressional District and Carolyn Maloney's 12th.
The immediate fashion industry need, is for an industry-based credit lending facility to be provided by the Federal Government, simply because it takes significant cash (or credit) to cover the entire length of the supply chain from inception of design to consumer delivery. While the fashion industry is not confined to New York City, Fashion Avenue is the literally the center of the wheel, and if government can fix the hub, then the rest of the wheel will work just fine.
On a national level, it 's been an onslaught of big name bankruptcies like: Barney's J.Crew, J.C. Penney, Pier 1, Stage Stores, Forever 21, True Religion, and Neiman Marcus. We have seen other big retailers like Toys R Us, Radio Shack, and Brookstone hit the dust, and there are more big store names just sitting in the wings. This may sound strange, but some of these stores are waiting to open up, so they can close down. The reason for the anomaly is because it's very hard to have a liquidation sale of your assets, if you can't get the customers to come to the stores.
This week, Macy's announced layoffs and rumors indicate that Nordstrom is not far behind. Bed, Bath, & Beyond also declared layoffs as did Diane Von Furstenberg. Last year, retail hit more than 9,300 door closures. This year's closings number could easily triple that, and industry regulars continue to ask if anyone in government is paying attention. Will anyone on the federal level step up to the plate and help?
Congress attempted to assist small business with the CARES ACT, but that basically focused on the labor side of the retail equation. They were probably thinking that if workers could be retained by the Paycheck Protection Program (PPP), business would be able to open faster when the storm abated. The problem is that Congress failed to visualize that many retailers felt uncomfortable to take the PPP loans, and that generous unemployment benefits were actually more appealing to their workers.
For the larger retailers, loans were backed by the Treasury and the Federal Reserve. However, companies applying for the loans were required to display credit worthiness and most retailers failed to qualify. As retail doors shuttered during the lockdowns, retail management had just a few tools left in their toolbox. They were forced to furlough more than 1 million workers to preserve cash, as the industry (short of e-commerce) ceased to function. These unfortunate actions (combined) literally snapped the entire retail supply chain, and factories around the world shuttered as well.
Now, as the fashion industry looks to reopen, many of the textile factories insist on cash before delivery (CBD) for their payment terms, and factory labor wants to be paid within ten days. The supply side issues have tightened cash liquidity while, at the same time, retailers need to lengthen (not shorten) their payment terms (to 90 days or more). What this means, is that retailers need at least six months of cash in the pipeline to stay liquid, while lenders (simultaneously) fear that their loans might not be repaid. The problem is so incredibly huge, that the only practical response is for the federal government to step in and establish a credit loan facility, until the industry is able to become self-sustaining again.
Since government's understanding of the liquidity issue has been limited, the industry worked hard to help itself (where it could). Macy's for example, raised $4.5 billion dollars by selling secured bonds and raising additional cash based on their assets. The Council of Fashion Designers of America (CFDA: Steven Kolb and Tom Ford) joined forces with Vogue (Anna Wintour) and started a new fund called "A Common Thread." Together, they have raised $4.9 million and they are distributing the cash where it can assist the most. Hats off to Ralph Lauren who donated $1 million to "A Common Thread" and to Tory Burch who stepped up to ask Washington for help.
The problem (right now) is that our lawmakers aren't moving fast enough (or at all). As everyone knows, the business of fashion operates on a seasonal clock, and is not related to the upcoming elections or to the shortened Congressional calendar. If something positive doesn't happen very soon on the liquidity front, the idea of getting a chunk of coal in your Christmas stocking this year – may actually be quite real.
Truth be told, retail needs an immediate injection of vitamins to get healthy again. But wait, didn't the 85-year-old vitamin retailer GNC just file for bankruptcy?
And what about going to Chuck E. Cheese when we take a break from the liquidity nightmare? Well, their parent company just filed for bankruptcy as well.
America, we have a problem.
Inside A-Cold-Wall x Dr Martens 1460 Collab
Let's get one thing straight: boots are good. I am in no way critical or contemptuous of the good men that choose to wear them. For they are robust, and weatherproof, and make us feel like we're in the misleadingly cheerful conscription adverts of WWII with our smiling faces and shiny, shiny leather shitkickers. But that whole sect of menswear– the classic, olde worlde "oi mista, that's farv' shillins" thing – just isn't my thing. I'd rather be in the Eighties. Or Blade Runner. Or dressed for a suspiciously lucrative property sale in downtown Miami (cash only, of course).
That means my boot options are lacking. Laced-up beauties, with their intricate broguing, don't sit so well with my other Nice Things. I look weird in Chelsea boots. And often, options on the left-field are just a bit, well, much. I'm all for a touch of futurism, but still not cool (or confident) enough to effectively don knee-high black boots made of a monster truck tyre. I opted out. You can't have everything.
But you can! You can have everything! Almost, anyway. And for that I can thank A-Cold-Wall's latest collab with big bad bootmaker supreme Dr Martens: the 1460. As part of the wider Remastered series, which sees ascendant designers remould the classic silhouette for its 60th anniversary, this is, unequivocally, a workers boot. Though instead of munitions factory boot in 1943, this is any given worker's boot in 1984 (the Orwell sort), just without the constant threat of arrest for having a good think on a Sunday afternoon.
It's also very in-keeping with what A-Cold-Wall does best. First launched in 2015 by Virgil Abloh protégé Samuel Ross, the London-based outfit focuses on workwear classics with a functional, almost dystopian edge. Suits are deconstructed, and buttressed with pockets and paint splatters and parachute-like materials. It's enduring, too: not a sportswear flash in the pan during the Age of Hype, but one that earns the nomination of the prestigious LVMH designer's prize in 2018, and grail-like status in menswear-y circles.
All of that lends itself well to the collab in question. The solid boot is angular, panelled with uncompromising leather that juts out to the front in lieu of eyelets. A zipper closure is more practical than laces, and yet courts unorthodoxy – but it does so very quietly. This is no 'traditional' boot, but it's not wildly untraditional either: simply the standard issue of the not-so-distant future.
Speaking of the crossover, Ross says that "the 1460 is placed right in the middle of 20th Century cultural crosshairs. It's incredible." And by remaking a staple in his own image, he's also pushed it into the 22nd Century, too – and onto my feet.
Available to pre-order now at a-cold-wall.com priced £229, with a wider release on 25 July at drmartens.com and select stockists
Like this article? Sign up to our newsletter to get more delivered straight to your inbox
Need some positivity right now? Subscribe to Esquire now for a hit of style, fitness, culture and advice from the experts
This content is created and maintained by a third party, and imported onto this page to help users provide their email addresses. You may be able to find more information about this and similar content at piano.io
This commenting section is created and maintained by a third party, and imported onto this page. You may be able to find more information on their web site.
Graffiti or art? You be the judge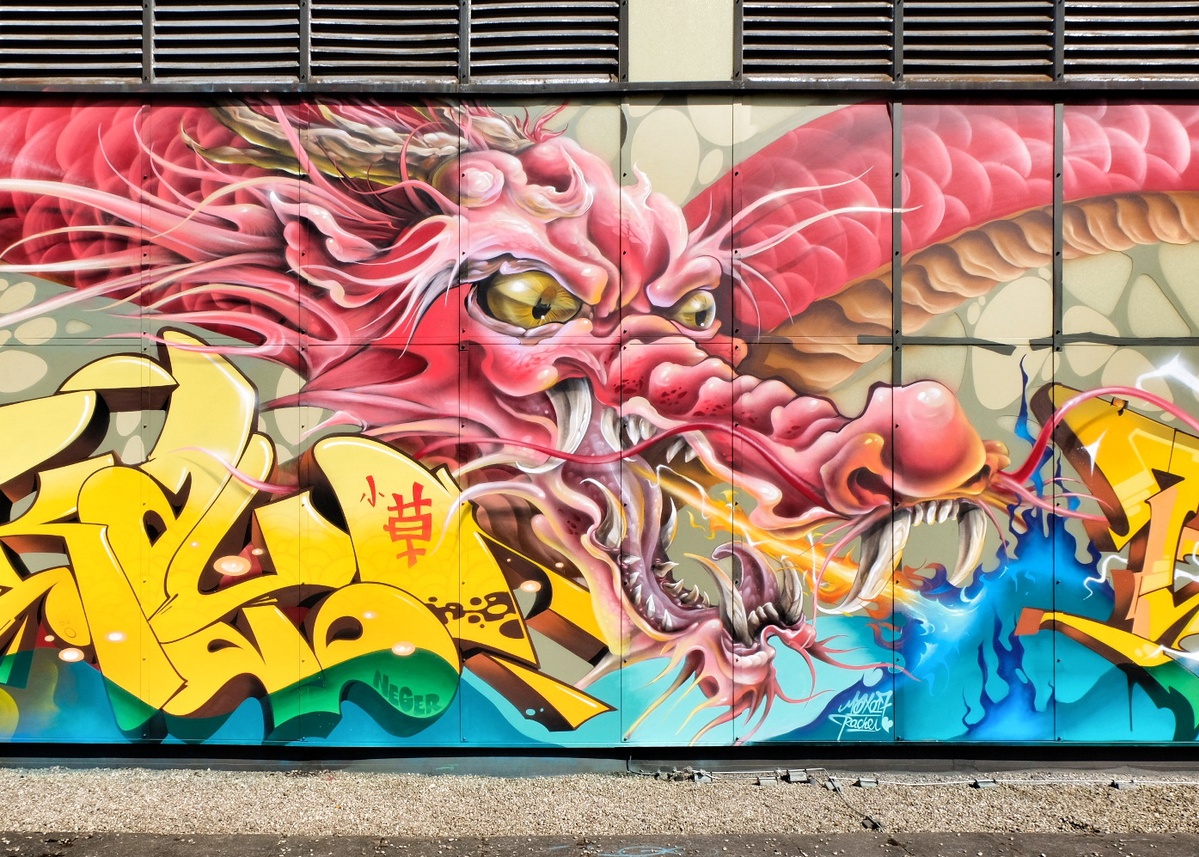 One person's graffiti is another person's high public art. Ma Xiao subscribes to the latter theory.
The public artist went viral recently, after a number of his works were released online.
The 30-year-old from the Ningxia Hui autonomous region became interested in outdoor public art in 2006. Back then he was more of a graffiti artist who could only make simple, quick drawings on shabby walls. Public outdoor art had not been accepted in cities at that time.
It was not until 2010 that Ma got the chance to create trendy art. And in 2017, he engaged his first major business project when a large shopping mall in Yinchuan, Ningxia, invited him to help create a large work of art on the walls outside one of its buildings.
12 Best Closet Kits That'll Make Your Space Feel So Much Bigger
Even the largest closets seem to lack proper space for storing all your clothes, shoes, and miscellaneous items, but when you have a small closet and no space for additional armoires or dressers in your bedroom, it's essential to make the most of what you have. That's why so many people invest in closet kits. This maximizes the space by adding additional racks and drawers so that your space is used to the maximum advantage. But how do you find the best closet kits for your particular application?
What to Look for in a Closet Kit
There are a few details to consider in determining what are the best closet kits available for any particular application. First, you have to know how much space you have. Some closet kits are adjustable to a degree so that they'll fit multiple sizes of closet, while others are made to fit specific dimensions.
While you can custom order a closet kit, it's always easier to find something prefabricated that will work for your space. Also, you should figure out what sort of material you want the kit made out of. You need it to be sturdy enough to hold everything, but you don't necessarily need to pay for industrial strength material. Here are some of the best closet kits you can buy so you have some considerations to get you started.
The Dotted Line Grid Dual Tower closet kit provides adjustable dimensions so you can custom fit the system to your closet, regardless of size. Best for walk-in closets, the Grid closet kit is made from thermally fused laminate that is sturdy and created to last for the life of your wardrobe. It works well for reorganizing your current closet or building out a new design when you move into a new space, offering you a fresh way to keep things neat when you get a new start.
The system comes with all the necessary hardward to install the various elements of the closet kit, making it simple to build out and adjust to the right size. The system includes 14 shelves (including shoe rack storage shelves), 3 drawers, and 4 closet rods and rails for hanging clothes. The kit allows you to custom fit a closet with a width ranging between 72 and 120 inches for a great range and the ability to move with you when you decide to start over in a new home.
It's also adjustable in height between 72 and 84 inches. The system is wall mounted for ease of installation, and some shelves are adjustable. The entire product come with a limited lifetime warranty, so you can rest assured you've made a good investment.
The Dotted Line Grid Shoe Storage closet kit provides a slightly different option, while remaining adjustable so that you can custom fit it to your closet based on your needs. This particular system offers a greater number of shoe rack shelves so that you can story your large shoe collection more easily.
With an adjustable width of 60 to 108 inches, this system fits almost any closet, and an adjustable height of 72 to 84 inches you have more options for how to utilize your space. To make your space work for you, the shoe racks can be moved so that they hold sandals or boots, and there are a total of 17 shelves in the system, 6 of which are adjustable, as well as 1 drawer and 3 hanging rods and rails for all your clothes.
You'll need to install this yourself, but it's easy to cut to your dimensions and mount to the wall, and all the hardware and tools you need for installation purposes are included with the kit. The setup comes with a lifetime limited warranty, so you can feel confident in the strength and durability of your closet system.
The Dotted Line Grid Double Hang closet kit is a great solution for the smaller closets, including coat closets, to maximize the smaller space and afford you greater storage. It also works well as an expansion in a larger closet, where you have another system, but have just a little space left to fill. This particular closet kit is adjustable to a width ranging between a mere 12 inches up to just over 25 inches, with a 48-inch height.
This also offers you an opportunity to stack these in a taller closet space. This kit offers two rails for hanging clothes that are supported on a heavy-duty steel rail for incredible durability and longevity. While the system is lightweight, it's also very sturdy and dependable to hold large amounts of clothes, including heavy jackets and coats.
You also get 2 shelves to use with this system. It's easy to install, with all the hardware you need included, as well as the tools for assembly. The material is manufactured wood for strength without heavy weight. The product comes with a limited lifetime warranty to assure that, should there be any issues with manufacturing, you're covered.
The Dotted Line Grid L-Shaped closet kit is a perfect solution for a larger walk-in closet without much organization available. Instead of straight lines of rails for hanging, you can implement a full system that gives you incredible amounts of storage with varying options. The system includes an incredible 19 shelves (some of which are adjustable for varying heights and spacing and several for shoe storage), 6 hanging rails, and 3 drawers.
The entire unit is wall mounted, and the hardware and tools required for installation are included in the packaging. Created with manufactured wood, the kit is lightweight but also sturdy so you can trust you won't have any problems with the components holding the materials of your choice, regardless of the size of your wardrobe. Overall, the l-shaped kit is 120 inches long and 72 inches tall, measuring 14 inches deep for perfect storage of hanging or folded materials.
Drawers measure 24 inches wide so you have plenty of closed space within the system. If your closet isn't quite as large as the system is, you can easily cut to fit your environment so that you still have a great unit in place. For residential use, the system has a limited lifetime warranty, while commercial usage gets a full 1 year warranty.
The Cedar Green Deep closet kit is constructed from 100% solid cedar wood for that beautiful look, delicious smell, sturdiness, and moth prevention. The system includes 9 shelves, as well as multiple rails for hanging clothes to make the most of a smaller storage space.
The solid wood must be wall mounted and is heavier than some other systems due to the hard wood construction. You'll need a screwdriver or drill, tape measure, stud finder, level, and potential a saw if you need to cut the kit to fit your space. However, it comes with the necessary mounting hardware to complete the installation.
The kit measures a total of 73 inches high and 96 inches long, but you can adjust that to fit your space. Shelves and rails connect to two 48 inch and two 72-inch vertical panels that complete the system. Find room to store shoes, hats, luggage, and more by adding levels of space to your small or medium sized closet.
The Dotted Line Grid U-Shaped closet kit gives another option to maximize a walk-in closet with components that wrap around all three sides of the closet space. The entire system consists of three kits that are wall mounted to give you multiple levels of hanging and shelved storage, so you can organize your closet and not have spillover into your room. The main unit is 96 inches wide, with each side unit measuring just over 25 inches wide.
Each set is 72 inches tall and 14 inches deep, with drawers measuring 24 inches wide for substantial amounts of hidden storage space. You get 17 shelves for folded items, shoes, and miscellaneous other things, as well as 3 drawers and 5 hanging rails for dresses, button downs, and other wrinkling items. This multiplies the amount of storage space in a walk-in closet easily. The entire kit is made of manufactured wood to keep weight down while maximizing durability and sturdiness for long lasting use.
Whether you're retrofitting to an existing closet or moving into a new space, you can cut this to size to fit whatever closet you have available. It comes with a limited lifetime warranty for residential use and a 1-year commercial warranty.
The Rubbermaid Custom DIY closet organizer kit offers an inexpensive option for organizing a closet space and multiplying your storage area. It's easy to install and adjustable to the size of your space without any cutting required, so that makes it even more convenient to retrofit to an existing space or install in a new home.
Because of the way it's constructed, you can actually use multiple units for larger spaces to work together for an entire large walk-in closet. The overall unit measures 72 inches high and up to 96 inches wide, with a 12-inch depth. It's fully expandable and can be condensed to fit a closet as small as 3 feet wide. Overall, it adds up to an additional 12 feet of shelving and 10 feet of hanging space at full capacity. The unit is white metal and needs to be wall mounted. It contains 5 shelves, some of which are adjustable in height, as well as 2 rails.
The closet kit is lightweight for ease of installation but remains sturdy, made of tough metal. It comes with a 1-year limited warranty that covers manufacturer defects so your purchase is protected.
The Easy Track Laundry and Closet Hamper kit offers a unique blend of storage options in your closet space so you have a niche for dirty laundry as well as a place to hang or fold all your clean clothes for the ultimate organization. Perfect for a utility closet, the engineered kit contains four shelves for linens and supplies, as well as a bar below with two hanging hampers that have mesh siding for ventilation. That means you can choose to use these for folded clothing and towels or for dirty laundry without fear of musty smells.
This is a wall mount unit, and all the assembly and installation hardware is included in the packaging. The natural wood grain coloring used on the manufactured wood kit make it attractive in any space. It's also durable and strong so that you don't have to worry about it failing in the short term. The unit is adjustable in width from 21.125 inches to 25.125 inches, making it ideal for tight spaces. The unit is 48 inches tall and can be hung at any level that is comfortable for you. It comes with a lifetime warranty for your peace of mind.
The Dotted Line Grid Closet Tower kit is a great addition to a small closet space or a larger closet with another system that needs to be expanded just a bit. This smaller tower system measures 72 inches high and 24 inches wide, making it great for fitting in narrow spaces. If your space is even smaller, it's made of manufactured wood and laminate, which can be cut down to size to fit whatever application.
The kit includes 3 shelves, one of which is adjustable for holding taller items, as well as a hanging rail for clothes or other items that require hanging. All the assembly and installation hardware is included with the kit upon purchase, and that makes the wall mounting of the unit easy. Installation is also aided by the light weight of the unit. This is a great starter kit for closet organization or an additional piece to something in existence to maximize use of additional space. The kit comes with a lifetime limited warranty and is sturdy and durable, so you can have faith in your purchase.
The Saulsbury Perfect Fit closet kit is a perfect solution for a reach-in closet with narrow space and a need to multiply storage to hold your entire wardrobe and then some. Every element is well thought out, providing both double hanging space for additional items and long hanging space for pants and dresses.
There are 11 shelves available for folded items, hats, shoes, and more where you would otherwise have no space, and there is a drawer for some hidden storage of smaller items. The 3 clothes rails give you ample space for summer and winter clothes, as well as coats and jackets. All the assembly and mounting hardware is included with the unit to make your installation easier. Simply mount the manufactured wood kit to the wall and start filling your closet. If you need to make the kit narrower, you can cut it to size, making it custom to fit your area.
The maximum length is 72 inches, and it stands 72 inches high, giving you plenty of options to keep your closet neat and orderly. For residential use, you get a lifetime limited warranty, and for commercial use, you have a 1-year warranty.
The ClosetMaid ShelfTrack Adjustable Closet Organizer kit is an all in one solution with a phenomenal amount of added space for both hanging and shelving in your closet. Consider that, with a maximum length of 8 feet, you get an incredible 11 feet of hanging space and an unbelievable 18 feet of shelf space, which includes 36 inches of shoe rack space. The kit includes all the wall mounting hardware, such as the hang track, shelf brackets, and closet rods and support.
Shelves are both adjustable and stackable, so you have some customization options that can help you configure the kit to make your life easier. It's also adjustable and can be cut to fit smaller spaces, with a minimum size of 5 feet long. Hanging baskets add more storage space for towels, shoes, or other items, while shelf liners provide security against small items slipping between the wire shelves.
The unit is made of vinyl coated steel, so it's attractive and sturdy for long lasting use in any closet. You may need some tools of your own, such as a screwdriver, drill, step ladder, pencil, tape measure, and level to complete the installation.
The Rubbermaid Configurations Deluxe Custom Closet Organizer System kit is perhaps one of the most cost effective, full options for organizing an entire closet space with dozens of options for overall configuration to fit your closet space and your personal needs. The unit fits both walk-in and reach-in closets, with adjustable width of 4 to 8 feet.
At full capacity, the kit offers an additional 12 feet of hanging space and 22 feet of shelving to your closet. The system includes 7 shelves that are 26 inches long, 2 shelves of 48 inches, 2 top rails that are each 48 inches long, 19 brackets for mounting, 5 uprights that are 47.5 inches tall, 2 upright extensions that are 25 inches high, and 2 hanging rods.
The unit is sturdy and long lasting with a finish that won't color or rust and is virtually maintenance free. You can also easily expand with additional accessories and components available. With a maximum width of 96 inches and a height of 72 inches, it's the perfect size for your closet, allowing you to store more in the same amount of space.
The Bottom Line
It doesn't matter how small or large your closet is, having some kind of organization system can do wonders for utilizing the space effectively. These are some of the best options out there, with something for everyone. So, determine what you need and choose wisely!