The textile artist transforming Chinese knots into harnesses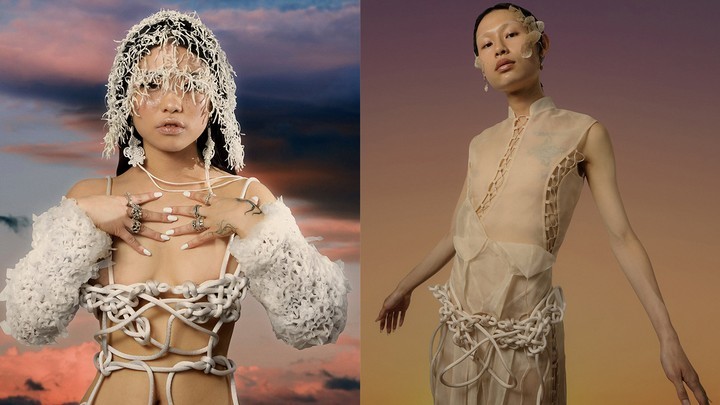 In Singapore back in 2018, under the red glow of creative workspace 21 Moonstone, a cast of largely queer performers suggestively drank and spilled hawthorn tea. The audience watched on silently as barely-there silk slip dresses and gossamer knitwear were dyed and stained with a blush hue.
The ritualistic tea ceremony was part of a live presentation by Taiwanese knitwear designer and textile artist Shawna Wu. Reflecting on the show now Shawna explains, "Queerness, cultural shame, and tradition — the 'Drip' show explored my relationship with my Asian heritage by transforming it into something beautiful."
Shawna was born in Singapore to Taiwanese parents and moved to New York City — where she's currently observing strict shelter-in-place orders — to study fashion design at Parsons. These diverse environments have informed both her identity and work. "Moving between these three cities has helped me cultivate empathy, identify subcultures, and build a robust value system," she says.
That sensitivity is evident in her creations, which are produced using traditional techniques such as Chinese knotting, hand-weaving, and natural dyeing. Her natural dyeing process utilises Asian pantry staples like black vinegar and soy sauce and other ingredients like kimchi juice, sambal chilli, and chewed betel nut. "Natural dyeing is a long-established practice in Asia. I'm exploring it through locally sourced foods," she explains. "My methods have mostly been part of a performative practice and not all of them are translated into an end product."
Culturally Chinese knots are known to be exchanged as symbolic gestures of good fortune between loved ones and usually placed in domestic spaces today. Shawna, on the other hand, has transfigured them onto the body as harnesses that call to mind the bondage rope art shibari. The red ropes cling to Shawna's models to mirror her own push-and-pull relationship with her heritage.
It becomes apparent during her multimedia showcases that the beautiful fragility of her textiles hides their underlying toughness. Last year at underground nightclub Final in Taipei, Shawna explored her ongoing fascination with fetish and queer cultures by working with Taiwanese shibari artists from the local BDSM scene to create a night of dance, music and film. Over the evening rope artist SOA performed while dressed in her Chinese knots, artist Rachel Oyster Kim moved and smashed hawthorn berries to dye garments, while DJs Michele Yue, Ginja, wanglianc11, Ao Wu Chang and Luijachi soundtracked the evening. "I wanted to create a space where we could all gather as a community to enjoy and explore our crafts," she says of the event. "I wanted to show that fashion as an art form is very intimate and it speaks to our bodies and emotions in a sensual way."
Working with textiles and dyes means sustainability is always concern of Shawna's practice. At one point she began making her own materials because purchasing fabric with no origin or composition information was at odds with her process. "I needed to have some quality control over the levels of toxicity that goes into my work because it's obvious when things are made without love, care, and attention," she explains. "As a maker, I use techniques such as fully fashioned knitting and upcycling vintage. I also hope to invent a weaving machine that will reduce wastage and am actively looking for programmers and engineers."
Shawna views herself more as an artist than a fashion designer. These days, she produces work on an intimate scale, mostly custom orders for her clients and commissions for creative projects including short films, photo shoots, and music videos. "I'm drawn to the potentialities in fashion, not the business of it," she asserts. "My art form involves textiles and garments but beyond it, I also create experiences and performances. The fashion industry isn't working well enough for the environment and its labour force, but hopefully, it will change its methodologies, seasonal schedules and systems in the near future. My intention is to be real and emotional."
Gucci and the Future of Fashion Shows and Gender
Gucci wants to change show business. Or, rather, the business of shows. The Italian brand has joined the chorus of brands and retailers calling for a permanent reset of the fashion system thanks to Covid-19, adding the weight of a giant global name to the movement.
On Monday, Alessandro Michele, the creative director of Gucci, held a video news conference to announce that the brand will reduce the number of shows it holds each year from five to two, effectively abandoning the idea of cruise shows — the far-flung midseason extravaganzas it has held at a Roman Necropolis in Arles and the Capitoline Museum in Rome (among other places). He also wants to do away with the distinction between men's wear and women's wear, and the traditional appellations of fall/winter and spring/summer.
"We need new oxygen to allow this complex system to be reborn," Mr. Michele said, speaking from his studio in Rome while pensively waving a large black fan. One way to do that, he said, is to reduce the show schedule.
Gucci is not the first brand to announce a change in its runway plans thanks to the coronavirus pandemic, which has brought the industry to an effective standstill, closing stores and decimating balance sheets. Saint Laurent, also owned by Kering, the Gucci parent company, said it will drop out of the fashion show season and follow its own schedule for this year; Dries Van Noten said he will not have a show at all until 2021; and Giorgio Armani announced that his men's and women's shows will be combined in September, and his couture show will be held in January in Milan instead of Paris.
But Gucci is the first brand to commit to a permanent rethink.
And though, as is his tendency, Mr. Michele was long on philosophy and short on specifics, his announcement could have a domino effect on other brands. It follows those from the Council of Fashion Designers of America and the British Fashion Council, which also called for only two seasons a year, and an open letter from #rewiringfashion, a group of largely independent brands and retailers that called for a rethink of the shows.
"There should be no rules — imposed by convention or fashion councils — regarding the format of shows, nor any expectations that every brand should show every season," that letter read.
However, given that Gucci under Mr. Michele has proved perhaps the most influential brand of the last five years, embracing gender fluidity and inclusivity (it is about to create a gender-fluid shopping area on the web site called Gucci MX), and prioritizing the wild emotive vision of the designer, this move may be particularly decisive.
Ultimately, it may force a reckoning with the feasibility of the entire ready-to-wear show season: the four-week traveling circus that moves from New York to London to Milan to Paris every September-October and February-March.
"I will abandon the worn-out ritual of seasonalities and shows to regain a new cadence, closer to my expressive call," Mr. Michele wrote in his diary, excerpts from which, entitled "Notes from the Silence," were teased on Gucci's Instagram account.
The designer said it was while he was in lockdown in his apartment in Rome that he had "time — time I have never had before to think about my work, my creativity, our future, the future of the company." He felt, he said, that under the previous unrelenting system, his "creativity was being jeopardized."
After speaking with Marco Bizzarri, the Gucci chief executive, the decision was made to reduce the show schedule, though when the first of the new "appointments," as he referred to the shows, will take place was unclear.
Mr. Michele said he believed that showing this coming September would be impossible, but on July 17, during Milan's digital fashion week, Gucci will broadcast a look at what would have been its cruise collection (called "Epilogue," it may be the last of its kind). He said he believed that ultimately spring and fall were the correct times for the shows, with the exact dates were to be determined.
Mr. Michele also said he was not sure what form, digital or physical, the shows would take, though he favored using the terminology of classical music as a reference: symphonies, madrigals, nocturnes, overtures. He added that while he was speaking with other brands — "I'm no anarchist" — and the Camera Nazionale della Moda, the governing body of Milan Fashion Week, the conversations were ongoing.
All of which suggests that fragmentation of the entire fashion show experience is increasingly possible.
Maybe it is time: The cost, personal and professional, of spending two and a half months a year, if not longer, in the alternate universe of fashion shows, has been growing, and designers, retailers and editors have been chafing under the strain, lamenting the lack of space to really consider, create and produce meaningful work. Not to mention the carbon emissions involved. Fewer fashion weeks are unquestionably more sustainable, both in terms of human and environmental price.
Yet at issue is not just the point of a show, which in recent years has become more of a marketing event made to be read on the small screen than an unveiling of a new idea about how clothes are constructed to express identity, but also an enormous source of income for the municipalities involved.
In 2019, Representative Carolyn Maloney of New York released a report from the New York City Economic Development Corporation noting that New York Fashion Week was responsible for generating close to $600 million a year in income, thanks in part to all the associated industries, including hotels and restaurants, security services and florists — representing a greater economic impact than the Super Bowl or the U.S. Open tennis championships.
The same is true for the other fashion week cities. If the show schedule falls apart, cities that are already challenged by the pandemic will feel the impact.
That is not a reason not to change, but it is also not an immaterial side effect of such change. No brand is an island, nor any industry system. As the conversation around what is next for fashion steamrollers on, that is worth remembering.
WWFGifts – Symbolic Animal Adoptions, T-Shirts, Socks and More from WWF

Support WWF's global efforts to protect wild animals and their habitats and choose from kits with plush and more.
Support WWF's global efforts to …

Extremely rare 'ring of fire' galaxy discovered in the early universe
A violent, catastrophic collision between two galaxies has given rise to an extremely rare ring galaxy, lurking some 11 billion light years from the Earth. The monstrous, donut-shaped galaxy is making stars in its huge ring at a rate 50 times faster than our home galaxy, earning it an ominous moniker Johnny and June Cash would surely dig: The cosmic "ring of fire."
In a paper, published in the journal Nature Astronomy on Tuesday, an international team of scientists detail the ring galaxy R5519, discovered after scouring data from the Hubble Space telescope and the W.M. Keck observatory in Hawaii. Among almost 4,000 galaxies detected in the data sets, R5519 was one of the brightest and displayed a clear ring structure. So the team investigated further — and quickly realized they'd found something unusual. 
"It is very a curious object, one that we have never seen before," says Tiantian Yuan, an astronomer at Swinburne University in Australia and first author on the study. "The gigantic hole in this galaxy was caused by a head-on collision with another galaxy."  
Probing the features of R5519, Yuan and her team began picking up clues as to how it formed. They ruled out gravitational lensing or a galaxy merger for its unusual structure and nearby, they detected a companion galaxy — G5593. They suspect this cosmic neighbor is the "intruder" galaxy that may have collided with R5519 around 40 million years ago. 
The two galaxies must have smashed into each other pretty much head-on — a galactic bulls-eye — and it's likely there was already a disk of stars present in R5519. As G5593 came swooping through the galaxy, it split the disk through the guts and a wave of stars expanded from the center, as seen in the GIF above.
"The collisional formation of ring galaxies requires a thin disk to be present in the 'victim' galaxy before the collision occurs," said Kenneth Freeman, an astronomer at Australian National University and co-author on the paper, in a statement. 
If R5519 is caused by a huge collision, that would make it an extremely rare cosmic phenomena. Only one in every 1000 galaxies in the local universe are formed in such a way. Notably, the early universe was much more crowded so the belief was these kind of collisions may have been more common. Yuan suggests the data is telling a different story.
"Previously, people think we would find more of these collisional ring galaxies in the young universe, simply because there are more collisions back then," she says. "We find that is not the case."
There are still some "unsolved puzzles" about the ring of fire, Yuan says. "We do not know if this ring was a first ring after the collision or it was the second ring." She's obtained further data from W.M. Keck to resolve this issue.
Astronomers will have to gather more data to be certain the ring is caused by a collision, rather than through natural evolution. The authors of the paper write the imaging performed by NASA's soon-to-be-launched (and recently-assembled) James Webb Space Telescope will be able to resolve any lingering questions. Yuan says she has already discovered another ring galaxy likely formed by a head-on collision — and this is a billion years older than the "ring of fire."
NASA says goodbye to Spitzer: See the telescope's most astounding images