These TikTok iPhone Hacks Are Kinda Blowing My Mind Right Now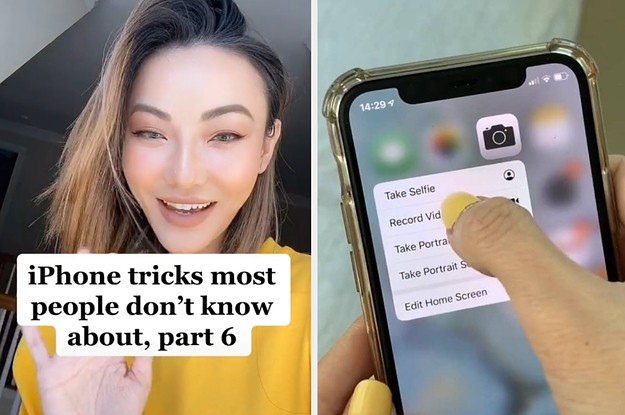 I've had an iPhone for years and I'm just learning this stuff NOW?
This is fashion influencer/momtrepreneur/TikToker Jessica Wang.
Recently, Jessica started sharing a series of "iPhone tricks" on TikTok, and lemme tell you…even if you THINK you know every iPhone hack in the book, she'll surprise you with one you don't know. It all started with this video on how to prevent people from snooping on your Photos app:
Basically, you just set a passcode for Screen Time and then set a one-minute limit on the app you want to lock out (in this case, the Photos app). That means if anyone takes your phone, the app will be locked and can only be unlocked with your special Screen Time passcode!
After that video got more than 2 million views, Jessica did a roundup of several more iPhone hacks that blew up even bigger. "Overnight it got over 10 million views," Jessica told BuzzFeed. "The response has been overwhelmingly positive. Most people were shook. They asked me to do part 2, then part 3, so now it's kinda become a miniseries."
So without further ado, here's Jessica's series of iPhone tricks! We'll pull out some highlights along the way in case you can't watch with sound right now.
1.
In case of unwanted scrolling, hide photos from your camera roll by selecting them, tapping the "share" icon, and selecting "hide."
2.
Press the keyboard button in Messages for the option to shift your keyboard left or right for easier one-handed texting.
3.
If you screenshot a web page, when you go to edit the screenshot you can click the "full page" option to scroll through the entire page. It's all screenshotted for you!
4.
You can set a quick timer by tapping and holding on the timer button on your Control Center. It brings up a quick timer screen instead of taking you into the Clock app!
5.
Easily select multiple messages or emails by tapping and swiping down the list with two fingers.
6.
Use your phone as a magnifying glass by turning on "magnifier" in the "accessibility" menu, then clicking the side button three times to bring up the magnifier.
7.
Scan items directly in the Notes app! Just tap and hold the app icon and take a photo of whatever you need to convert into a PDF.
8.
Easily share your location with a friend in Messages by typing "I'm at" and then selecting the location option that pops up in the predictive text field.
9.
Set a timer to "stop playing" if you want to fall asleep to music or a podcast. When the timer reaches zero, it'll stop playing whatever you're listening to!
10.
To completely hide photos, save them in the Notes app, then swipe left on the note and set a lock. When you need the photo again, just re-save it from the note.
11.
To arrange a group of apps at the same time, press and hold one, then tap all the others you want to move.
12.
Normally, your iPhone stops playing music when you record a video. But if you want to shoot a video while playing music, just tap and hold in PHOTO mode, then swipe right to lock.
13.
Tap and hold the Camera app icon for extra options, including one to take a selfie, which will open up the front-facing camera right away.
BuzzFeed Daily
Keep up with the latest daily buzz with the BuzzFeed Daily newsletter!
Adidas and Allbirds Join Forces to Try to Create the World's Lowest Carbon Footprint Sports Shoe
The footwear competitors are partnering with a big goal and deadline of one year.
NEW YORK, United States — Footwear brands Adidas and Allbirds are …

Forty Five Ten's Future Is In Limbo After Cutting Staff and Closing Stores
The multi-brand retailer hasn't announced plans to reopen and is operating with a skeleton crew, weeks after the lockdown was lifted in its home …

Victoria Beckham's Cotswolds kitchen is even more gorgeous than you'd imagine


Chloe Best

Victoria Beckham's house in the Cotswolds features a rustic kitchen with exposed brick walls and bottle green cabinets

Victoria Beckham's kitchen became her home office on Wednesday, as she worked on her latest fashion collection at her house in the Cotswolds. The former Spice Girls star, who is isolating at her second home with her husband David and their children Romeo, Cruz and Harper, shared a look at her relatable work setup on Instagram – and became the envy of her fans in the process.
"My warm weather working from home wardrobe! Shorts & slippers. The dream," Victoria captioned the photo, which shows her perched at her kitchen island on a wooden stool while wearing a pair of tiny denim shorts and a sweatshirt.
Victoria Beckham shared a look inside her Cotswolds kitchen
While many followers were envious of Victoria's toned legs, others couldn't resist commenting on her gorgeous kitchen. "House goals! The stone flooring is amazing!" one wrote, while a second agreed: "Dream house."
RELATED: Inside David and Victoria Beckham's Cotswolds home
It definitely does appear like a dreamy kitchen setup, with stone flooring, exposed brick walls and a bottle green wooden island unit. Copper saucepans hang overhead, while a chandelier adds the ultimate luxurious finishing touch.
The rustic kitchen also has a pizza oven
A previous photo shared by Victoria has revealed another glimpse at the room, showing a large wood-fired pizza oven on one side, with chopped logs stacked underneath ready to cook. The aesthetic of the room ties in with the rustic feel throughout the rest of the house, which is a barn conversion located close to the celebrity haunt of Soho Farmhouse.
GALLERY: Inside the most beautiful celebrity kitchens
The property boasts beautiful gardens too, where the family can also enjoy barbecues together in the summer, play tennis on their own tennis court, and unwind in their log cabin that houses a sauna and steam room. There is even a plunge pool on the lawn to cool down afterwards. What more could they want?!
WATCH: 10 of the most stunning celebrity kitchens
Like this story? Sign up to our newsletter to get other stories like this delivered straight to your inbox.