This Is The Worst Mistake You Can Make When Eating In Restaurants Again, According To Health Experts
As some restaurants start re-opening, it's a good idea to consider the kind of safety precautions you should take while dining out. To make the experience as safe as possible, many restaurants have made updates to their regular policies–including adding social distancing requirements and capacity limits. However, there are other steps that you, as the customer, can take as well to help with safety.
With that in mind, keep reading for the worst mistake you can make when eating in a restaurant!
Shutterstock
Not Washing Your Hands
Washing your hands is hugely important when it comes to preventing the spread of COVID-19. This means washing them with soap and water for at least 20 seconds.
This hygiene practice is crucial when you return to restaurants, and a recent experiment demonstrates its necessity.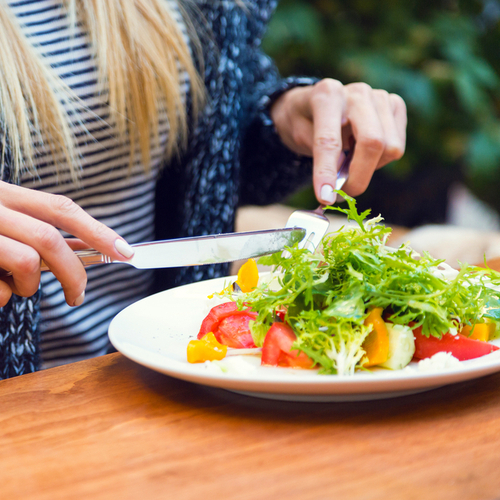 Shutterstock
A recent viral video from Japan simulates the spread of germs and viruses in a restaurant setting.
CNN explains, "The video shows 10 people coming into the restaurant, with one singled out as an "infected" person. A fluorescent substance only visible under black light is applied onto that person's hands, representing germs from a cough or a sneeze. Each participant then goes about the buffet as they normally would, not considering a potential contamination."
At the end of the video, participants are blacked under black light to see how it spread–and the results showed that the "infection" had spread to the food, serving utensils, plates, and the faces of other participants.
Shutterstock
This experiment is not a perfect replica of how COVID-19 would spread in a restaurant.
Kentaro Iwata, an infectious disease specialist at Kobe University explained, "The experiment just described the possibility of the spread by contact, and that is not proof of what happened, so the distinction has to be clearly made between what could happen and what did happen."
Shutterstock
However, in a second experiment, everyone (including the "infected" participant) washed their hands and took the necessary precautions, such as wiping down high touch surfaces.
The results were very different: "When the participants went under the black light, none of the substance from the "infected" person had spread to the other participants."
Fantastic Hats & Where To Find Them
Like your nan, I commented on the Instagram post with tentative politeness. 'Is the hat on the website yet?', I asked, scared that a young hype lord would see my aged attempt to join in and troll me in the comments. It was 15 hours since The Northern Fells – a Gorpcore store in Manchester – had posted the come-get-me picture of the Adsum boonie hat on its feed, so surely it would still be on sale. I clicked through to the store, but couldn't find the hat on sale, hence my questioning in the comments. "It was sold out I'm afraid" came the reply. The picture was posted at 9pm on Sunday night and by midday the next day they were all gone. A plain black sun hat with a neck strap and a small white logo. Gone.
This content is imported from Instagram. You may be able to find the same content in another format, or you may be able to find more information, at their web site.
It was fine. I told myself I didn't even want it, anyway. I'm not a fisherman or a Yosemite grey-beard or one of those lads at day festivals that dance with opioid menace.
But I did want it. After weeks of 'rona restraint, I wanted to spend money on something that wasn't strictly needed, and I wanted to wear something that I probably shouldn't. I wanted to see the look on my girlfriend's face as she wondered if her partner is, in fact, a berk. I wanted to be at odds with my peers, for fun, which is kind of what fashion is all about. (Also, it's been the hottest spring on record and a boonie hat is proper good at keeping the sun off my delicate facial skin. Maybe I should have just said that?)
True to my Gorpcore ways, I was hell bent on a boonie, but it could have been one of any of the silly hats that are hip right now. Floppy straw numbers at Fendi and Louis Vuitton; hi-ho-bro Stetsons by Nick Fouquet or Saint Laurent; squat berets straight off the bonce of a Wes Anderson hitman at Prada and Marni; the houndstooth bucket hats at Gucci, which definitely wander into trilby territory.
Even baseball caps haven't been spared. In its S/S'20 collection, Dior elevated one by lopping the back half of it clean off, and P Johnson, a stylistically un-boisterous suit maker has landed itself in the centre of a hype frenzy after creating THE hat of the summer.
The P Johnson hat – which the brand calls a 'dad' hat; a plain baseball cap with 'P. Johnson' stitched in sans-serif the front – is impossible to buy. They sell out almost as soon as they drop, which is the perfect evidence for the theory I'm about to offer. Ready? Brace yourself.
The hat is the ultimate piece of self-expressive clothing.
There, I said it. Take your jaw off the floor, bub.
People lose their shit over trainers and sell vital organs for handbags and remortgage houses for the chance to buy certain watches, but all those things offer is membership to an elite, but relatively well-attended club. The right hat can create a cult of one, and that's much cooler. Two guys walk down the street, one in a pair of Triple Black Yeezys, one in a leopard print Stetson. Which one do you think more assured in his own sense of style?
The trouble is, much as I support that man's right to wear the Stetson (and the other lad's right to the Yeezys), 'big cat cowboy' is a long way for the hatless to wander, especially in a post-Joe Exotic world. And interested but (ultimately, custardly) dudes like me probably want to dip their toe (head) in the kooky water (hat) first before going all-in. I'd bet that's why P Johnson's hat is so damn popular: it has character and rarity, but no one is going to ask you if you need help when you wear it.
So, I'm back to the boonie conundrum. I couldn't find one I liked, or could justify spending £250 on – I'm looking at you, tie-dye Explorer hat from Loewe's new Paula's Ibiza collection. I even scoured the internet for the multicoloured number I saw in the Columbia store on Cat Street in Tokyo last year, but quickly realised that, like everything good in this world, it was only available in Japan. So I ended up buying a dusty green bucket hat from Hikerdelic, which I'm wearing as I write this. The brand pitches itself as the place where the park meets the precinct; where the worlds of rambling and raving coalesce. I like house music and UK national parks, so that chimed with me. A Gucci gardener's visor, it ain't. It's not going to set me aside as a style icon, a maven, a lone wolf or a monetarily healthy aesthete, but it will keep the bastard sun out of my eyes.
This, I hope, is but the start of my odyssey into the hat realm. One pal recently said that he didn't think Glastonbury will be back until 2022, which is a sobering thought. But it gives me a goal. Like an athlete looking to peak at the Olympics, in two years' time, I intend to be in the Pyramid Stage crowd, addled, sun-kissed and straining under the weight of a hat so elaborate, magnificent and cutting edge that Emily Eavis can't help but name the farm's coolest cow in my honour.
Like this article? Sign up to our newsletter to get more delivered straight to your inbox.
Need some positivity right now? Subscribe to Esquire now for a hit of style, fitness, culture and advice from the experts
This content is created and maintained by a third party, and imported onto this page to help users provide their email addresses. You may be able to find more information about this and similar content at piano.io
This commenting section is created and maintained by a third party, and imported onto this page. You may be able to find more information on their web site.
10 black-owned fashion brands to support instead of Dolls Kill
Alternative fashion store Dolls Kill is currently being boycotted due to an insensitive post from the founder appearing to support police brutality. 
This isn't the first time they've had claims of racism against them, though, as the company has had several instances of displaying unapologetic cultural appropriation. They've also been accused of being anti-sex worker by Twitter users. 
Dolls Kill went on to make a less than acceptable apology, which wasn't received well as brands began to cut ties. "We fucked up. We should have been quicker [and] louder," the company wrote on social media. 
Rather than support this controversial brand, AltPress has compiled a list of black-owned businesses that aren't fast fashion, are in support of Black Lives Matter and have alternative, unique designs. From lingerie and enamel pins to cropped hoodies and silver skirts, you're sure to find a new business to love. 
GRL TRBL
GRL TRBL has all the cutest enamel pins to decorate your denim jackets and bags. Founder Emerald Pellot uses them to convey badass political messages such as "Smash Racists," "BLM" and "I'm Voting For All The F*cking Women." Though the store isn't operating currently due to coronavirus, you can sign up here for updates. 
Tier NYC
Brooklyn-based Tier NYC is the perfect brand to find stylish and comfy streetwear. Owners, artists and designers Nigeria Ealey, Esaïe Jean-Simon and Victor James have outfitted the likes of Rick Ross and Winnie Harlow with their affordable and colorful collections. 
Badmouthed Bruja
Badmouthed Bruja makes "witchy shit for badass brujas." With this store, you can find pins, lanyards, keychains and more. You can even buy creepy enamel pins and stickers with skeletons and characters such as Prudence from Chilling Adventures Of Sabrina, Rochelle from The Craft and Marie Laveau from American Horror Story. These are perfect for your oversized denim jacket or bookbag. 
Ota-Q Apparel
Owner Callie Ota-Q grew up in Japan and moved to the U.S. for college, where she wanted to share her love for J-fashion. She promises "Anyone can be kawaii!" with her clothes. She offers spectacular, iridescent designs that are both whimsical and unique to each person who dons a piece. The brand is also plus-size inclusive. 
Feelmore Adult Gallery
Buy your kinky/BDSM-related accessories or adult toys from people who know how to do it right and stand with sex workers. Feelmore founder Nenna Joiner is a member of the black and LGBTQIA+ communities and aims to serve marginalized peoples' specific sexual needs. Two stores are located in Oakland and Berkeley along with the online shop. You can also check out iCandi, another black-owned adult toy shop, whose CEO is Temmy Wallace. 
Adorned By Chi
Adorned By Chi founder Jacque Aye doesn't just make cute anime-inspired clothing. She also writes manga starring black women. In fact, her work is being adapted into scripts for use on television. You can also buy enamel pins and merchandise of your favorite characters from Aye's comic books. 
Love,Cortnie

CEO Cortnie Elizabeth of Love,Cortnie started this handbag and purse company in her grandmother's kitchen in 2011. Her business grew over the past nine years, expanding to wallets, keychains, clutches, fanny packs and more with wild textures, funky colors and pleasing patterns for any occasion. 
Gothic Lamb
Gothic Lamb is currently on a break due to coronavirus, but you can sign up here to be alerted when the online store is back in business. Lucy, the company's founder, wanted to open up a space for black women in the alternative fashion world. You can see various fashions on the company's Instagram centered around ghostly designs and black female empowerment for "melanated misfits." She also serves as an asexual advocate. 
d.bleu.dazzled
d.bleu.dazzled is the brand for people looking to literally shine in sexy lingerie. Designed by Destiney Bleu, these bedazzled bras, panties, crop tops, shorts and more are dazzling and reasonably priced. Her designs have been seen on several celebrities, including Cardi B, Justin Bieber, Fall Out Boy, Lizzo and more. Check out the full list here. 
Love, Vera
If you're looking for sexy lingerie that shows off your curves with cutouts and mesh, check out Love, Vera. Founder Vera Moore celebrates all body types at her company and hopes every woman, no matter her size or skin color, feels beautiful. "Black women make things cool but remain outsiders to leadership and business opportunities in fashion. Love, Vera is going to change that," she shares. Moore also uses her brand to hire black women and give them opportunities in the fashion industry. 
Do you have a favorite black-owned business we didn't include? Let us know in the comments below who to shop with next. 
To show support through donations, connect with grassroots campaigns and obtain resources for allies, please refer to the links below.
Help the family of George Floyd here.
Fight for Breonna Taylor here.
Help the family of Ahmaud Arbery here.
To sign petitions for George Floyd, Breonna Taylor, Ahmaud Arbery and more, click here.
Donate to one or more community bail funds for protesters here.
Click here for more resources for protestors, including pro-bono lawyers.
Visit Movement For Black Lives for additional ways you can help the cause.
Click here to connect with leaders building grassroots campaigns.
Here are some anti-racism resources for allies who want to learn more.
For other ways to donate, please head here.
"Everything Looks Good On Daisy": An In-Depth Look At The 'Normal People' Star's Style
The publicity around Normal People stars Daisy Edgar-Jones and Paul Mescal has perhaps been unfairly weighted towards the latter, owing to the attention his erotically-charged TV prop has received. The runaway success of Connell Waldron's silver chain – see @connellschain if you have been living under a rock – has been nothing short of jaw-dropping; reducing grown women to giddy school girls with inexplicably all-consuming crushes. But, while Mescal has been fielding endless questions about where the sexually-magnetised necklace is now, Edgar-Jones has quietly been accruing her own fans within the fashion industry. Brands are clamouring to dress her.
The Normal People promo tour – the majority of which has been conducted virtually owing to the Covid-19 pandemic – has seen Edgar-Jones hold court on Zooms, FaceTimes and Instagram Lives in a catalogue of It-girl favourites. Monster-collared Ganni blouses, personalised Cressida Jamieson Tees and fuzzy Bella Freud mohair knits have been intermixed with floral-dappled The Vampire's Wife dresses in a wardrobe of waist-up hits fit for the new parameters around social interaction. At the heart of her screen-style success is Nicky Yates.
The actor and stylist first collaborated for the BAFTAs in February, when Edgar-Jones made her red-carpet debut in a white satin off-the-shoulder gown by Mother of Pearl, a brand which has worked hard so that it can truly label itself as sustainable. Eco-conscious conversations between Edgar-Jones and Yates have continued since that moment – albeit via phone, rather than in person due to social-distancing guidelines – as well as a mindfulness about the price of the garments she is wearing as a young star on the ascendant. The Valentino and archive Dior dresses Edgar-Jones fell in love with during her first fitting with Yates, for example, have informed the silhouettes and styles of the looks she has subsequently worn, without the price tag.
Edgar-Jones in Mother of Pearl at the BAFTAs
© David M. Benett
Prior to meeting, Edgar-Jones sent Yates a moodboard of runway images, editorial shoots and street-style snaps that she felt represented her. "I instantly knew we had the same aesthetic, and that it would be a lovely working relationship," Yates tells British Vogue. The extensive pre-BAFTA fitting proved the fashion editor's theory that "everything looks good on Daisy". "It was more about what was exciting for her," Yates continues. "There's always a moment in a fitting, where the whole room collectively gasps, 'Oh my gosh, that looks great'. That helped me work out which brands to introduce Daisy to."
Edgar-Jones in The Vampire's Wife on The Graham Norton Show
Once lockdown ensued, Yates had to piece together looks utilising contacts who had taken fashion collections home (shout out to Daisy Hoppen PR, the most organised team in the business). The priority was, of course, Edgar-Jones's top-half. "We picked clothes that looked great on the shoulders," she says, referencing the "uplifting and springy" Whole Lotta Trouble minidress by The Vampire's Wife. "Or we left her neck bare and played with jewellery". Edgar-Jones's love of hoops directed them to Alighieri for sculptural shapes, Sophie Bille Brahe for pretty pearls and Missoma – the actor's favourite. The London-born actor – who had her first big break in Cold Feet – even had her own #connellschain moment, by way of a gold Missoma pendant chosen for a remote conversation with Ryan Perez.
Wearing Ganni in promo pictures shared on Normal People's official social-media feed
© Instagram / @normalpeoplebbc 
The "wonderful" Edgar-Jones has taken her online rise to fame in her stride, doing her own hair and make-up and pinning garments with Yates's instruction. "It must be very strange dressing up in your own home," muses Yates. "To become famous without having met any of the people [in the entertainment industry]." For Yates, a seasoned professional, who also dresses Claire Foy, Naomi Ackie and Felicity Jones, the process has made her more mindful. In the absence of international shipping, she looked closer at local sources. Without easy access to a tailor, she began to scrutinise pieces less. "It has been a slower process," she admits. "But Zoom means looks don't have to be perfect from top to bottom 360 degrees, and I don't have to be at every fitting." Edgar-Jones, with her "natural eye for style", has been a truly "lovely" companion for Yates to navigate this new dawn of fashion with.
More from British Vogue: