Top International Fashion News of the Week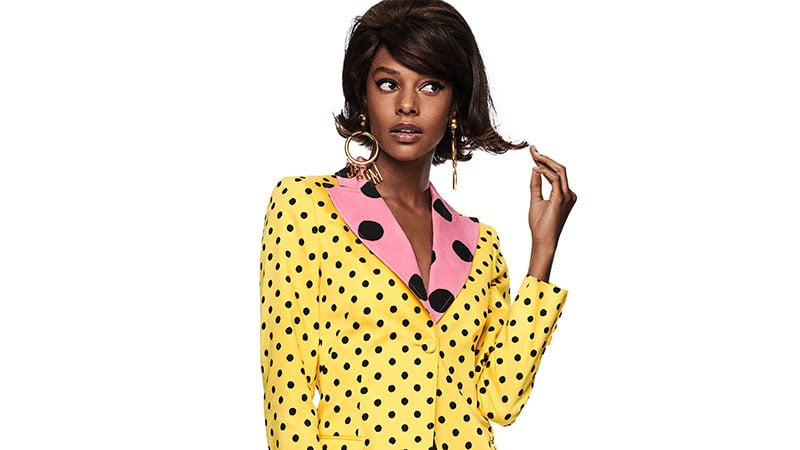 Kanye West's brand Yeezy is returning to Gap, and Paris Fashion Week is bringing back its physical shows. Find these stories and more as we uncover the top international fashion news of the week.
Kanye West Returns to GAP
GAP will begin selling Kanye West's designer brand, Yeezy, at its stores. The range will feature exclusive designs for the retailers, with affordable menswear, womenswear, and kid's clothes. The collaboration will not include any footwear, as Yeezy has ties with Adidas. "We are excited to welcome Kanye back to the Gap family as a creative visionary, building on aesthetic and success of his Yeezy brand and together defining a next-level retail partnership," said Mark Breitbard, the Global Head of GAP Brand.
This partnership will continue for ten years, with an option to re-evaluate after five, and hopes to reinstate GAP's role as a leader in the industry. The pieces will be available for purchase in 2021 in-store and online.
Valentino Plans Double Couture Shows
Valentino is blending two worlds for its couture showcase. Pierpaolo Piccioli, Valentino's Creative Director, has set two appointments for the first-ever digital couture fashion week. The first will reveal its inspiration for the fall collection, which will be viewed via digital platforms.
The second will take place at Cinecittà Studios in Rome. There, Piccioli will showcase a live performance for fashion editors that are based in Italy. "The live performance will bring together the human and the digital touch creating a dialogue where neither of them will take the lead," said the label. "No digital effects can substitute the humanitas. The result will be the expression of the inner values of couture: creativity, imagination, and emotion." The live performance will be available to watch via digital platforms.
Paris Fashion Week Returns with Physical Shows
Paris Fashion Week will return to its regular scheduling in the last week of September, complete with physical shows. The Fédération de la Haute Couture et de la Mode has given strict instructions for maintaining social distancing throughout the event and will blend digital aspects into the shows. Some of the labels that will participate include Dior, Chanel, Burberry, and Fendi. "In Paris in September, we hope to be able at least to have some audience, if not a full room," said Pietro Beccari, the CEO of Dior.
Balmain Launches Capsule Collection with MyTheresa
Balmain has launched a capsule collection with MyTheresa. The line features 25 pieces and features some of the label's iconic silhouettes and colors from previous seasons. The collection includes cutout jumpsuits, houndstooth swimsuits, and bodycon dresses.
"It's easy to recognize that this is a Balmain offering," said Olivier Rousteing, the Creative Director of Balmain. "You can quickly spot many of the familiar codes of the house, with each given light and sensual twist for the warmer summer days and nights that lie ahead." The collaboration is available for purchase exclusively on MyTheresa.
Moschino Releases Italy-Themed Resort Collection
Moschino has released its resort collection, which features references to Italian culture and design. The 30-piece collection features polka dot 60s-inspired shift dresses, Italian Flag two-pieces, patterned tracksuits, and other ready-to-wear designs. "I just wanted to keep it joyful and alive and true to OG fans and new ones," said Jeremy Scott, Creative Director.
While in lockdown, Scott was increasingly worried about his colleagues in Italy, so he created the collection as inspiration. "This time is about finding my way around all the different obstacles, finding creativity and positivity, and trying to keep being upbeat about it," he said.
SUBSCRIBE TO OUR NEWSLETTER
Subscribe to our mailing list and get interesting stuff and updates to your email inbox.
Official Images & Rumored Info
Official product images of a Nike SB Dunk Low "Chicago" have surfaced courtesy of UK retailer Size?. Their existence suggests that a wider release could be imminent.
The "Chicago" colorway will be part of the "J Pack," which debuted in 2005 and put iconic Air Jordan colorways on the SB Dunk Low. A "Royal BLue" version dropped in 2005, with a "Shadow" iteration joining the lineup this year.
This "Chicago" pair is different to its predecessors in that it features an upper entirely made of smooth leather, whereas other "J Pack" colorways mixed smooth leather with suede panelling.
No word yet on when this pair will be released, so stay tune for any updates.
To stay updated on everything happening in the sneaker world, follow @highsnobietysneakers on Instagram, check our sneaker release date calendar, and subscribe to our sneaker chatbot on Facebook to receive lightning-quick updates to your inbox.
Nike's "WORLDWIDE KATAKANA" Pack Release Information
Nike has been inspired by the globe in recent weeks, dropping the Air Force 1 "Euro Tour" and an extensive "Worldwide" pack, and now the Swoosh has stopped by Japan for a "WORLDWIDE KATAKANA" collection.
UNDEFEATED has released the "WORLDWIDE KATAKANA" collection early, and has spotlighted the shoes and apparel in an exclusive editorial. The stalwart has put the focus on the sneakers, which come in the form of three Nike Air Force 1 '07 LV8s in black or white with matching all-over graphics, as well as one white and gold pair, and three pairs of Air Max 90s which appear in the same colorways.
The black colorway used across the sneaker collection sees traditional Japanese katakana syllabary all over the upper in neon green and white. Overlaying this is the term "worldwide." This graphic motif is paired with white and "Flash Crimson" components, which highlight different areas on different shoes; the outsole for the AF1, and Air unit on the AM90 for example.
Nike's white offering adopts the same construction, but uses black katakana symbols and overlays this with bright blue "worldwide" stamps. The white AF1 and AM90s are contrasted with neon green and bright blue segments, once again highlighting different areas on both shoes.
Standing out from those four sneakers is the "White/Metallic Gold" Air Force 1 and Air Max 90. The uppers are clean, served in white suede and leather to give the pairs a premium look. This is contrasted with a "Metallic Gold" swoosh on the side, a matching sock liner, and more gold detailing on the tongue and heel of each pair. Like all Air Max 90s in the pack, five mini swooshes have been embroidered on the toe box.
Rounding out the Nike "WORLDWIDE KATAKANA" collection is a selection of apparel pieces. There are T-shirts featuring the same katakana symbols on them, jackets adorned with colored mini swooshes to match the sneakers, and a pair of shorts and a skirt that go along with the black sneakers on offer.
Take a look at the entire Nike "WORLDWIDE KATAKANA" collection in the galleries above. UNDEFEATED has released the pack early at its numerous Japanese outposts and online. Shop the collection on UNDEFEATED's website while stocks last.
In other news, Nike has dominated this week's best footwear drops with its $500 USD ISPA sneakers.
These photos of queer, brown Asian men aim to widen representation
Growing up in Singapore, photographer Hidhir Badaruddin was always conscious of being different. "I knew from a young age I was not like the other boys growing up," he recalls. "Instead of playing with action figures, I would be found in the aisle playing and combing the hair of a My Little Pony toy." In addition to feeling alienated by conventional masculinity, the sense of his own otherness was compounded by the knowledge that he was a minority even within a minority. "As a queer brown Asian, who is also Muslim, I'm ticking all the boxes of being a minority. I don't see anyone who looks or is like me portrayed in media."
In a photo series entitled Younglawa (which means '(someone) that is beautiful' or 'the beautiful' in Malay), Badaruddin seeks to address the gap of representation where Asian men are concerned. "I want the world to know how diverse and multifaceted Asian men can be," he tells Dazed. He also hopes his images can challenge the colourism he's encountered within Singapore, where Malays or Indians are often discriminated against in favour of lighter-skinned Singaporeans. "My goal is to show that the Asian identity isn't just one look, and that brown Asians are also part of it as much as East Asians."
We speak to Hidhir Badaruddin about Younglawa, resisting the pressure to conform to traditional gender expectations, and how fashion magazines "kept him sane" during military service.
Can you tell us a bit more about the project and how it came to be?
Hidhir Badaruddin: I have always been (and still am) on a journey of discovering my own masculinity. As a brown Asian male, I've found myself excluded from the narrative of what people in the West perceive to be Asian masculinity. When one is said to be 'Asian', they're often characterised as being of East Asian descent. Why so? Because it is how the western mainstream media has commonly portrayed and categorised Asians. I hope to show that the Asian male identity isn't just one look.
Photography was the medium I knew how to navigate well. I wasn't the smartest in school or the all-round athlete, but photography was my way of expression and I had a point of view. Being able to tell my story and show my vision was important to me – something that I believe photography has the potential to do in this project.  That is why I wanted to create a photo series that developed on both themes of Asian identity and masculinity, because they are both part of me.
I hope to challenge the stereotype of the Asian male and celebrate their youth, tenderness and soul. The photo series was made during my last trip back home to Singapore.
What are the common Western preconceptions about Asian men? How would you define the gap in representation?
Hidhir Badaruddin: When you think of the traditional masculine figure, white, physically well-built, and strong, are attributes that come to mind. This has always been the visual narrative reinforced by what we see on screen and in print across mainstream media. It has always stemmed down to how we have been portrayed. There weren't many Asian men holding these attributes because very often they've been stereotyped in roles; such as the nerdy sidekicks and not the main character of a story, for example.
I don't recall the last time I ever saw a brown Asian male fronting fashion campaigns or films within the media. Asian men have long been desexualised in western media and this has been driven by the lack of representation. The Asian male is usually portrayed emasculated and lacking in appeal or a voice.
"People like me were always in the background, the supporting roles, and rarely in the forefront or the protagonist" – Hidhir Badaruddin
Could you tell us a bit more about the pressure to define 'what kind of Asian' you are?
Hidhir Badaruddin: Moving to London for university, I attended a fresher's event and I remember getting asked 'what kind of Asian' I was by a couple of people at the party. I told them that I am of Indian heritage but grew up within Malay culture in Singapore. One person slowly nodded their head in agreement, and another gave me a rather perplexed look. It was no surprise for me that people in Western countries would often associate the Asian identity with East Asians; the Chinese, Korean, Japanese.
Having someone ask me this type of question made me feel like I had to validate myself and my identity, as though some people didn't know that someone that looks like me even existed.
Brown Asians such as South Asians (Indians, Pakistanis) and Southeast Asians (Malays, Filipinos) are often overlooked. The global success of the film Crazy Rich Asians, set in Singapore but predominantly featured Chinese ethnic characters, only seems to strengthen this assumption.
You mention your struggle to conform not only to a masculine ideal, but also to a kind of 'aspirational' whiteness. Could you tell us a bit more about this experience?
Hidhir Badaruddin: Growing up in Singapore, as diverse as it is, colourism still exists where often the Malays or Indians would be boxed into stereotypes seen as uneducated or unappealing. Growing up there was always a preference for lighter-skinned people, even in my own family where comparisons from a very young age would be made against my cousins and I for how lighter-skinned they were. As if to be lighter-skinned, one was better.
I would hear remarks from a young age such as, 'Don't play out in the sun for too long, or you'll go dark', as if it was a negative thing.
It roots from the belief of white supremacy. Whiteness was what we have unknowingly aspired towards growing up, where we are rewarded for our performance of whiteness, this includes speaking English. And don't get me started on how many times people have complimented me on how good my English was, simply because they assume English isn't the spoken language in Singapore.
People like me were always in the background, the supporting roles, and rarely in the forefront or the protagonist. For a while, I gave into the narrative of how brown Asians were only meant to lead certain career paths and positions. Over time, I realised that if I wanted to see a change in this narrative ingrained in me (all my life), that I had to be the one making the change.
You describe military service and being the only recruit reading fashion magazines in camp. What did the magazines represent to you? And in what ways did they 'keep you sane'?
Hidhir Badaruddin: The photographs from the editorials of fashion magazines provided an escape from the regimentation of military life. Being in camp five to six days a week, away from home and civilisation for up to two years can take a toll on you mentally. 
Serving in the military, I constantly had to mask any form of uncertainty, or weaknesses with a veneer of confidence in hopes that it would make me seem more masculine. I was that recruit that was sneaking in fashion magazines into camp. I would often get comments suggesting I was doing so to see 'sexy images' of the female models inside.
Fashion magazines provided a window to another world, even if it was just a couple of minutes flipping through the pages up in our sleeping quarters. At the same time, I remember thinking about how I did not come across a page to see anyone that looked like me. Magazines were an escape. However, they were also a reminder of the realities that this idealised world, this escape, didn't seem to include people like me. I was longing for something where I didn't seem to fit in.
What do the bubbles represent?
Hidhir Badaruddin: The bubbles consist of a stretchy plastic substance and are blown through a thin straw. They were popular around the late 90s through early 2000s and I remember it being a prominent feature in my childhood. For me, the bubbles represent youth, pre-internet. 
The bubbles have bubblegum-like consistency, they're not as durable as regular balloons and could pop easily if handled with too much force. Visually representing the fragility of a nostalgic time. Most of the boys relate to playing with the bubbles when they were younger, almost as if revisiting a nostalgic memory through them.
In what ways do you hope Younglawa will challenge these stereotypes?
Hidhir Badaruddin: The name 'Younglawa' is a play of words between English and Malay sounding like 'Yang Lawa', translates to '(someone) that is beautiful' or 'the beautiful'. With Younglawa, I hope to portray my vision for a new generation of Asian masculinity. I want the world to know how diverse and multifaceted Asian men can be, that brown Asians are also part of Asian identity as much as East Asians. These young Asian men are portrayed in an intimate and vulnerable way, challenging traditional values on how Asian men are seen both from within  and outside the Asian community. I hope to break the stereotypes in the media by visually creating the change I would like to see in the world.
When it is safe for everyone to be out again, I hope to expand the series. I'd like to photograph Asian boys in London, juxtaposing the geographical differences whilst celebrating the similarities of the Asian identity. Elevating Younglawa further, I hope to create a physical platform for the photos, in the form of a zine or a visual fashion calendar inspired by the yearly Pirelli calendars.