UFC inks apparel deal with Venum that will begin in 2021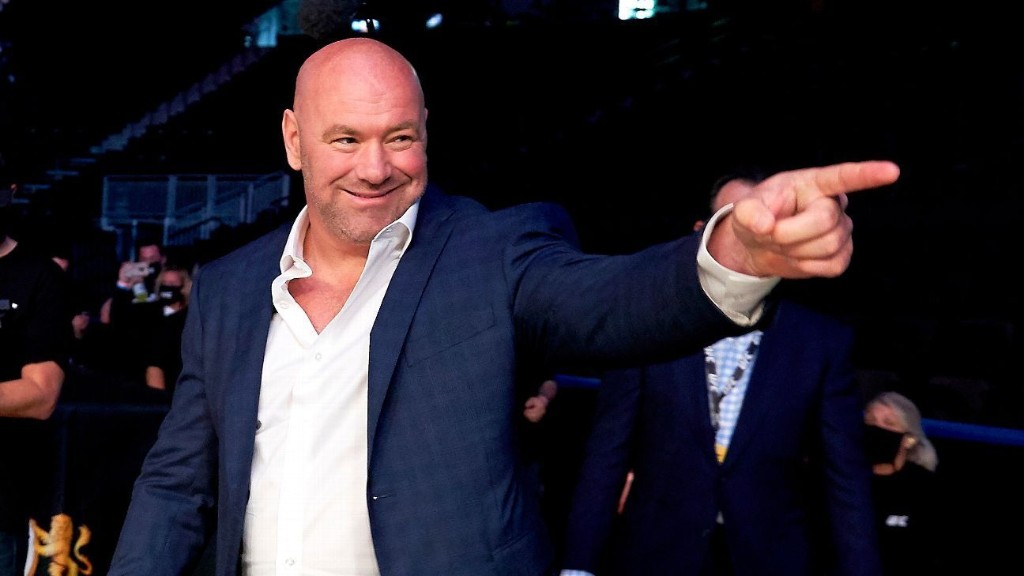 The UFC's oft-criticized apparel deal with Reebok is coming to a close next year.
Venum will take over as the UFC's apparel partner beginning in April 2021, the promotion announced Friday. The UFC's apparel deal with Reebok runs through March 2021, but the company will stay on as the UFC's official footwear brand through the end of next year, according to a release.
Unlike Reebok, Venum is a company that has focused mainly on combat sports and martial arts since it was founded in France in 2006. Before the relationship between the UFC and Reebok, many fighters had Venum as a sponsor.
"Everything in life is about timing, and this Venum deal couldn't come at a more perfect time," UFC president Dana White told reporters Friday after UFC 251 weigh-ins in Abu Dhabi. "This weird place we're in right now, in the entire world, with sports and business and everything going on, these guys were the right people at the right time. It's so weird how this stuff works out. You see some of the monsters, without saying names, who are trying to pull back deals with sports leagues, this is what Venum does. This is the business Venum is in. I just think the timing on this thing couldn't have been any better, they're a great company, they've invested in this, and I love it."
Sources told ESPN that the Venum contract is shorter and not as lucrative as the previous one with Reebok. The majority of the money from the deal will go to the fighters, sources said. Per the release, fighters will see an "across the board" increase in pay compared to the Reebok deal, beginning in April 2021.
The UFC signed a six-year, $70 million deal with Reebok in 2014. The money in the contract was not all cash — it included the value of the products Reebok provided.
The UFC partnering with Reebok six years ago was a significant change in aesthetics and finances for fighters, who previously were able to wear their own gear with their own sponsors in the Octagon. Under Reebok, fighters had a uniform, were not allowed their own in-cage sponsors and were paid through a tiered system (based on tenure) by the UFC via money from the Reebok contract.
Reebok represented a major name brand affiliated with the UFC, which at the time was striving for mainstream acceptance. But it was a rocky relationship. The initial rollout featured extremely generic looking fight gear, rife with the misspellings of athletes' names. Fighters and managers were critical of the amount of money athletes stood to lose without sponsor patches on fight gear. On top of that, there was concern that every fighter wearing the same uniform would strip the sport, which has its fair share of over-the-top characters, of its individuality.
The dynamic between the UFC and Reebok did improve over time. The UFC desired a cleaner look and presentation on television and pay-per-view and in that aspect Reebok was viewed as a success. The guaranteed, consistent money that came from Reebok became more welcome to some fighters — especially the ones not at the top of the card — compared to having to scratch and claw for sponsors every fight.
"Listen, I know there was a lot of negativity surrounding the uniform thing, but it's been nothing but positive," White said Friday. "These guys have all made money, they'll continue to make money. It's a good thing for everybody."
Venum will provide MMA and performance apparel designed specifically for UFC fighters, which will include "second-skin-feel" fight shorts with "thermo-bonded" and "extra-flat" elastic waistbands and a side slit, for which Venum is known.
"Joining UFC as their official outfitting and apparel partner means a great deal to the Venum team," Franck Dupuis, Venum's Founder and CEO, said in a statement. "Venum is a brand that has grown alongside the sport of MMA as it has exploded in popularity around the world. We are both proud and grateful, as this agreement signifies the success of our journey over the past fifteen years. At Venum, we are ecstatic to write the next chapter in our history."
Lirika Matoshi's Internet Famous Strawberry Dress Comes in Mask Form
Billionaire Girls Club and ENVSN Launch Showcase For Artists of Color
Pharrell's Billionaire Girls Club has teamed up with ENVSN festival to host a virtual art showcase focusing on work from artists of color. 'Stories of the HeART' will be streamed via Instagram on Thursday at noon ET, featuring artists from the worlds of spoken world, photography, and painting. 
They include NYC writer, painter, and activist Ashley Chew, writer and poet Kyla Lacey, and a panel of photographers capturing the current civil rights movements across the world. Rising cinematographer Annie Bercy will also host a screener of her new project An Ode to the Strong & Proud Black Women in the 2000s.
You can see the full lineup and schedule on ENVSN Festival's official website. The event is scheduled to start at 12 p.m. ET, and will run until 5 p.m. over on @billionairegirlsclub's Instagram and Hopin.
A Billionaire Art Collector Is Commissioning a $1.5 Million Diamond-Studded Face Mask
Imagine you have a cool $1.5 million sitting in your bank account right now, just waiting to be spent. 
Then imagine dropping that money on a bespoke, bedazzled face mask at the height of a global recession and pandemic that's laid painfully bare what the stratification of wealth means for those on the lower end of the spectrum.
Well, that's exactly what one art collector is doing. He's commissioned what Isaac Levy, owner of the Yvel jewelry company, is calling the most expensive face mask in the world. 
The mask, which is currently being worked on by 25 Yvel jewelers in Israel, is constructed from 250 grams of 18-carat gold, boasts 3,600 black and white diamonds, and features an N99 filter. It's expected to be delivered by the end of this year. 
"Money maybe doesn't buy everything, but if it can buy a very expensive COVID-19 mask and the guy wants to wear it and walk around and get the attention, he should be happy with that," Levy told The Independent.
Levy has not disclosed the name of his client, but has called him, in various reports, a "Chinese art collector living in the United States" and an "anonymous billionaire from Shanghai." 
"He is a young-old customer of ours, very charming, very outgoing, very wealthy and he likes to stand out," the jeweler told the AP.
Sources tell us that if you ever meet a man with, say, a roll of gold leaf toilet paper or disposable toothpicks made from rhinoceros horns, or if you ever see someone using a small child as an umbrella—that's probably your guy.  
"For a lot of people around the world it may be the most expensive mask in the world and maybe that's a really big thing," Levy added. "For us, it's a way to protect the positions of the people in the factory in order for them to be able to support their families."
Follow artnet News on Facebook:


Want to stay ahead of the art world? Subscribe to our newsletter to get the breaking news, eye-opening interviews, and incisive critical takes that drive the conversation forward.