Valentino Will Partner With Nick Knight on an Immersive Couture Experience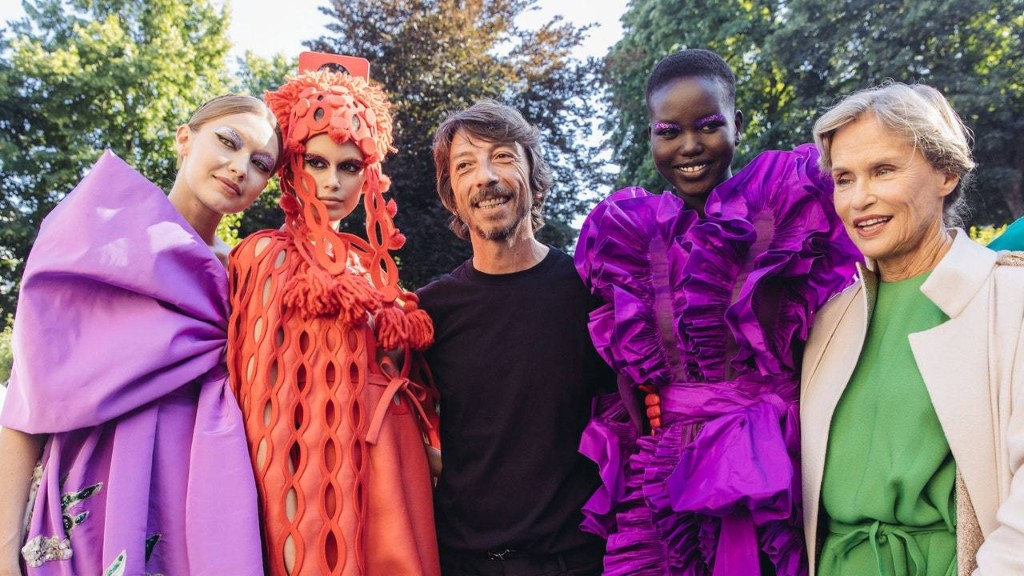 As we enter the summer of digital fashion weeks, brands are grappling with how best to adapt the drama and poetry of a live fashion show to screens around the world. Some argue vehemently about the lack of emotion on video. Others advocate for 3D technology and body mapping for an exciting new mode of communicating fashion. Even more would rather stick to look books and wait for the world to readjust to its normal cycles of official fashion weeks. Valentino is making a bold statement with an innovator in the online fashion field: Today the brand announced an immersive experience created by Nick Knight.
Set to take place at Rome's Cinecettà film stage (a space that previously hosted fashion shows from Chanel and Moschino) on July 21, the live event will "merge the human and digital worlds" and showcase the values of haute couture, as per a release. What does that mean exactly? You'll get a sense in a couple of weeks. In keeping with the Fédération de la Haute Couture et de la Mode's official digital fashion week July 6–8, Valentino will be debuting a video preview of this experience during its originally allocated time slot at 6 p.m. on July 8. That video, also produced by Knight, will shed light on the potential of a hybrid physical-digital showcase—"phygital" to use one of fashion's unfortunate new buzzwords.
With this partnership, Valentino becomes the first major brand to announce a rethink of fashion's digital potential. Despite the fact that Knight's platform Showstudio has been pushing the boundaries of fashion's potential on film since 2001, much of the industry has been slow to catch on to the power of the moving image. As yet, no other video artists, directors, or innovators have been announced to participate in fashion's virtual weeks this summer. That's a strange situation when you consider how quickly fashion has linked up with the art and music worlds on collaborations, events, and social media projects.
Boohoo's Tailspin Wipes Out $2.5 Billion in Market Value
Boohoo's stock, both fiscal and reputational, continued to plunge over the weekend as revelations emerged tying one of the ultra-fast-fashion brand's …

Billie Shepherd slammed for breaking lockdown rules with Charlotte Crosby and Jacqueline Jossa
Billie Shepherd has come under fire for flying out to Ibiza and seemingly breaking lockdown rules alongside Charlotte Crosby and Jacqueline Jossa.
The ladies have flown off for a new In The Style campaign and although a lot of fans were excited about an upcoming launch, others couldn't help but point out that they didn't appear to be adhering to social distance rules.
"Girls on tour!! So excited to be in Ibiza with @inthestyle and to celebrate a REALLY exciting week there is 40% off everything right now on the @inthestyle app✌🏻so much nice stuff so treat yourself ladies 💕," they all wrote on Instagram.
However it didn't take long for their followers to point out that they're all standing pretty close together considering we're meant to keep one metre distance.
"What happened to one metre distance? Social distancing hasn't stopped, irresponsible disappointments in one. Why are you promoting and encouraging people to ignore the rules," wrote one person.
Someone else said, "I love all three of you but OMG is no one else freaked out about the blatant disregard for the rules we're supposed to be following or have I massively missed another easing of lockdown????? Someone pls tell me 🤔🤔🤔🤔🤔".
A third commented, "So sad to see young influencers ignoring what's going on in the world, especially when you have young impressionable followers".
Another argued, "They are social influencers they should be influencing what to do, and not what you shouldn't be doing. Too many people follow celebs and copy what they do and can't think for themselves. They have a moral responsibility to lead by example not bad behaviour."
One more asked, "Social distancing???".
Check out: Billie Faiers' latest In The Style summer collection
We may earn a commission for purchases made through our links
1 of 8
CREDIT: In The Style
Whether you're getting dressed up for brunch, a wedding or a boujee Zoom call with your friends, you're going to want to wear this gorgeous dress.
2 of 8
CREDIT: In The Style
We LOVE this ruched dress; from the plunge neckline to the puff sleeves – we need it in our wardrobe.
3 of 8
CREDIT: In The Style
We love a co-ord because you don't have to put much effort into your outfit. You just need this cute top and the matching skirt…
4 of 8
CREDIT: In The Style
… You can complete this look by grabbing the skirt. It's the perfect outfit for a socially distanced picnic with pals.
5 of 8
CREDIT: In The Style
In need of a new outfit? Why not grab this dress. It has a plunge neckline, it's one shoulder and we love the drape detail.
6 of 8
CREDIT: In The Style
Blazer dresses are PERFECT for date night or dinner with the girls. Pair it with some strappy heels and you're good to go.
7 of 8
CREDIT: In The Style
This keyhole mini dress is a vibe and speaks for itself.
8 of 8
CREDIT: In The Style
This mini dress is perfect for the summer time (when the weather is warm). We love the ruffled detail – it'll add something to your outfit.
However others were quick to defend the trio with one person arguing, "They're working and in a social bubble, sure they get checked temperature etc at the airport so all correct procedures in place. Life is now slowly and thankfully getting back to normality".
Another added, "Don't worry about what other people are doing huns".
WATCH: Billie Faiers reveals how to apply false eyelashes
READ MORE
Shut up! Billie Faiers rumoured for Dancing on Ice
Charlotte Crosby mistaken for Sophie Kasaei as she unveils hair transformation
Gemma Collins launches In The Style pyjama collection and it's exclusively plus size
It was just the other day that Billie shared photos from Nelly Shepherd's Candyland themed party and it left some of her followers questioning whether they were all socially distanced because it appeared that more than six people attended the 'do.
And days before Billie was slammed, Jacqueline hit out at Zara over their clothes sizes in their shops.
"Loads of people asked me about my Zara haul because I went shopping the other night. To be honest, I had a mental breakdown yesterday basically because the sizing in Zara is offensive," she explained.
The former EastEnders actress went on to add that she was forced to return a lot of the clothes due to them being too small.
"I was shocked when I got home yesterday honestly. I'm a size 12 and the large wouldn't fit me from Zara.
"I had to get the extra large which is not a problem but you know people who are over a size 14, size 16, size 18, do they just not shop in Zara?"
The request could not be satisfied
The request could not be satisfied.
---
Request blocked.
We can't connect to the server for this app or website at this time. There might be too much traffic or a configuration error. Try again later, or contact the app or website owner.
If you provide content to customers through CloudFront, you can find steps to troubleshoot and help prevent this error by reviewing the CloudFront documentation.
---

Generated by cloudfront (CloudFront)
Request ID: 2l87v_LssyoHSixkP95xC3MH47yDwSLWM9_EQ10HY8XJj8QVjYNR6w==