'What's the point?': Paris fashion faces up to life after lockdown | Fashion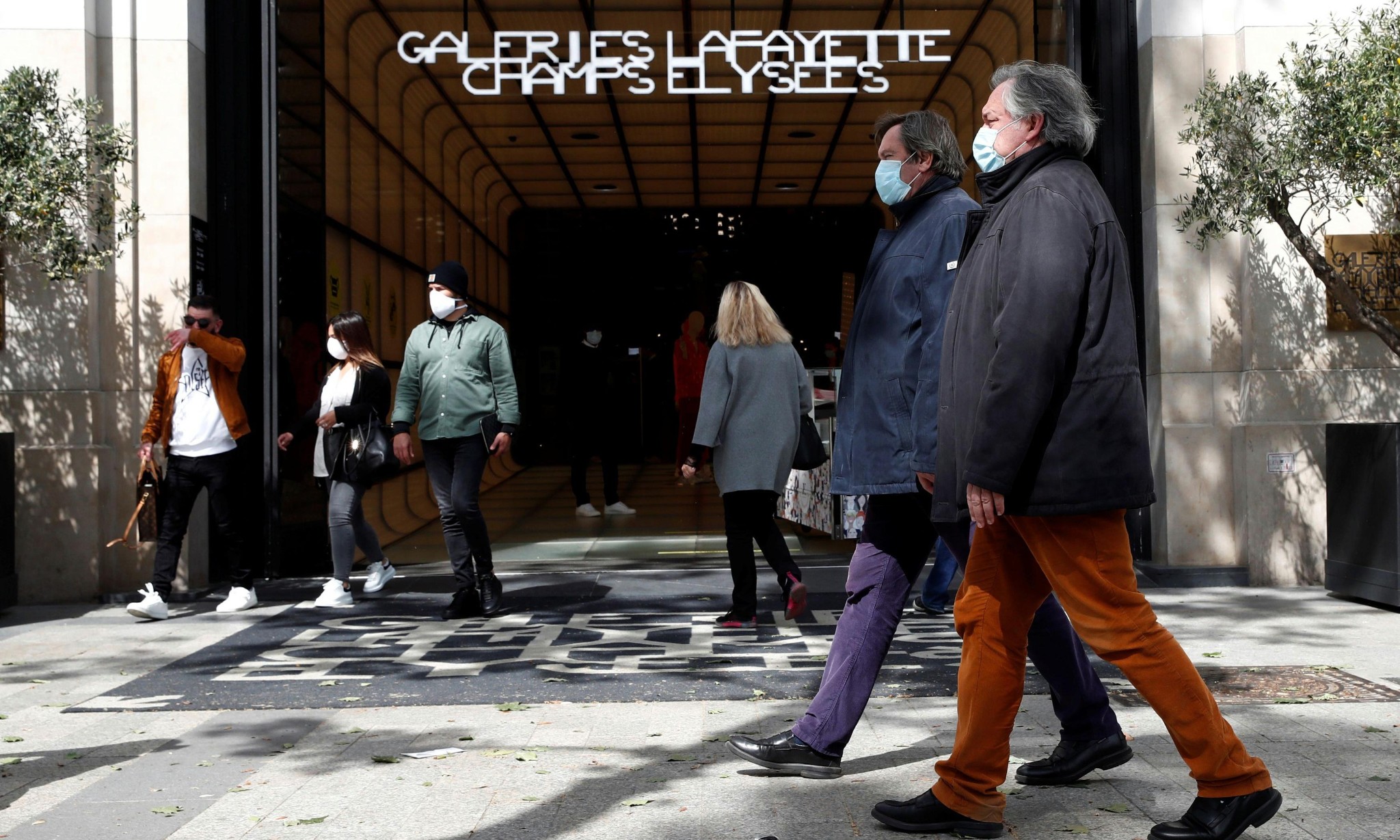 Since shops reopened in France last week, luxury fashion boutiques in the French capital have been revamping their security measures to create a transformed high-end experience.
In one of the first countries in Europe to open for consumers to such an extent, luxury destinations are becoming self-aware pioneers in inventing a new shopping environment. The challenge is "to make people today feel charmed as much as safe", says Jennifer Cuvillier, the head of style at the department store Le Bon Marché – no small challenge in the context of global luxury sales projected to drop by 50% this year, according to a recent report by Baines.
Shoppers are welcomed to Le Bon Marché by an eerily masked and gloved army of staff – 150 to be precise, one for each visitor at the store's maximum capacity in these post-confinement days. A shop assistant privately chaperones visitors through the almost invariably glass-shielded displays.
In an ambience lodged between a museum visit and a dystopian sci-fi movie, they follow the mandatory curated route so as to avoid any potential physical contact. The tills are shielded by acrylic screens, such as at Chanel on Rue Cambon.
The majority of the shops disinfect and quarantine any item that has been touched, for 48 to 72 hours. And, of course, the changing rooms are sanitised after every use. To counter these rather daunting measures, brands seem to be focusing on offering personalised and upgraded services: luxury labels including Louis Vuitton and Christian Dior have begun offering private shopping sessions.
All the efforts notwithstanding, a week after doors reopened, the initial rush seems to have faded. While on 11 May, crowds flocked to the boutiques on the Champs Élysées and Avenue Montaigne – a seemingly endless line of luxury-hungry shoppers awaiting the opening of Louis Vuitton – the situation has radically changed: Chanel, Céline and Yves Saint Laurent are all queue-less a week later, and the boutiques almost empty. Sales assistants at Galeries Lafayette Champs Élysées and Loewe both confirmed traffic had fallen significantly.
"There was an initial craze that didn't last," notes Rémy Faure, a hair colourist. "One of my clients went straight out on the 11th to buy an electric-blue Kelly bag at Hermès. But a lot of people have started thinking more critically about their life choices and needs during the confinement."
Serge Carreira, a fashion lecturer at the Paris Institute of Political Studies, says: "With the absence of tourists, who make up the large majority of luxury sales, boutiques are empty."
Shopping is not going away, he says, but it is changing: "Those who shop will do it differently, more determinately; it won't be a heat of the moment decision but something thought out."
Coming out of Galeries Lafayettes Champs Élysées, Samantha, 34, and Elena, 33, suggest that the slump in shopping is down to the fact that there is nowhere to show off any new outfits. "À quoi bon?" (What's the point?) grumbles Samantha. Theatres, cinemas, restaurants, cafes and bars are closed. "The only places to visit are shops," adds Elena, for whom lèche-vitrine (literally "window licking", as the French call browsing) is one of the few outdoor activities available in the city now.
According to Carreira, the slowness could be due to habits gained in the lockdown: "Shopping addicts shopped as much as they could during the confinement, many people have adopted the habit and, one can assume, don't see the point of going out to a city still with a ghost-like feeling."
What You Can Do to Combat Racism
The devastating current events—most recently the murders of George Floyd, Ahmaud Arbery, Breonna Taylor—are a much-needed wake-up call for many …

Inside The New Economy Where People 'Buy Nothing' and Give Everything
Lorie Gassie misses the library. Since the pandemic shut down her local branch, the Queens resident has a pile of overdue books in her apartment that she cannot return.
That's what brought Gassie to my stoop last week. I met her on Facebook, where we are both members of a Buy Nothing group aimed to create a little gift economy among its roughly 1300 members.  
My midnight bout with spring cleaning led me to post a few things on the page, including a coffee table book about the Met Gala. Gassie thought it would be good inspiration for her work as a costume designer; I wanted more space for my new money tree.  
Where To Buy The Best Second-Hand Designer Bags
All products are independently selected by our editors. If you buy something, we may earn an affiliate commission.
The pull of a designer bag is legendary. There have been totes we've yearned for more than our sixth form crush. It's totally legitimate to fall in love with an inanimate object, right? But even if you're not about to pledge allegiance to a handbag, you've got to admit there is magic in a designer bag in the way that clothes can't quite incite.
If you're searching for a little something to treat yourself to, post lockdown (or even as something to make your house-bound hours more exciting) there's nothing better than a new bag to beat the blues. Except it doesn't have to be new. Resale sites are one of the fashion industry's fastest growing categories and a second-hand bag is a brilliant way to save money. As we all try to shop more consciously, its also a brilliant way to shop sustainably. There is nothing more sustainable that something already in existence.
Some vintage bags are also proving to be safer investments than stocks and shares because bags are the accessory that appreciate fastest. Vintage preloved handbags have risen in value by an average of 8% per year over the last decade and also outperformed the price of gold. Kerching.
Despite those figures, if you're looking to get involved with your favourite brand, preloved is still the way you can do so, at a bargain price. Designer bags play on the brand's style signatures, which can make them easy to fake but on closer inspection you'll be able to see what is real or not. Check the hardware, leather, stitching, authenticity cards and serial numbers and ask the seller to provide more pictures or more detailed history.
Charlotte Staerck is co-founder and retail director of Handbag Clinic, which restores worn bags (everything from styles chewed by dogs or burned in fires) and also runs a resale platform. She advises, "Ask the year they bought their handbag and check the digits in the serial number correspond to the production year.
From Chanel and Bottega Veneta to Loewe and Louis Vuitton, these are the best designer handbags to invest in this season
If it's outside of that, it's definitely a fake. The hardware colour should match the logo colour on the inside of the handbag. Also, quilted Chanel handbags have 10 stitches per inch. It can sometimes be ever so slightly outside of that, but never by much, so if you count seven stitches, you know it's not authentic."
These are our favourite sites to browse designer bag bargains:
vestiairecollective.com – The biggest hitter in the preloved market with thousands of new items listed every week. Charlie Collins, founder of creativewardrobe.co.uk has tips to get the best bargains, "Use the app to set up an alert on your favourite bag and try the offer system to float up to 30% off with the seller. The longer items are on the site, the more you will benefit from reductions so create a wishlist to track your favourite items."
VC arrange pick ups and anonymous listings for the French Vogue team, apparently, and offer thorough authentication services before your purchases are sent to you.
handbagclinic.co.uk – All of the bags here will have had a vigorous zhuzh at the in-house restoration clinic before going on sale to ensure they completely pristine. You could find bargains with up to 83% off. Charlotte Staerck also revealed that the original Prada Nylon bags are in demand. "We sell vintage 90's small nylon Prada bags for around £150 – £350." We'll race you…
xupes.com – Founded almost a decade ago, and originally specialising in watches and jewellery, xupes.com have been selling bags since 2015 and date them all to the year of manufacture. At the time of writing there was a denim Dior saddle bag on the site for £299…
farfetch.com – As well as collating the coolest independent boutiques around the world, FarFetch.com also launched a resale channel last year, where verified designer bags from a handful of major names are up for sale online. Sellers get store credit and you get to save a bag from landfill. Win win.
bagista.co.uk – Specialising in designer bags, this is the site to browse if you're a bargain bagaholic. In season finds are listed with their current selling price point, so you can see how much of a discount you could score.
uk.designerexchange.com – With discounts of up to 85% this site has over 100 designer brands and more than 5000 items for sale but they also have bricks and mortar stores around the UK (although currently closed die to Covid-19) which you can visit for an IRL encounter with any potential purchase.